Happy Hot Summer!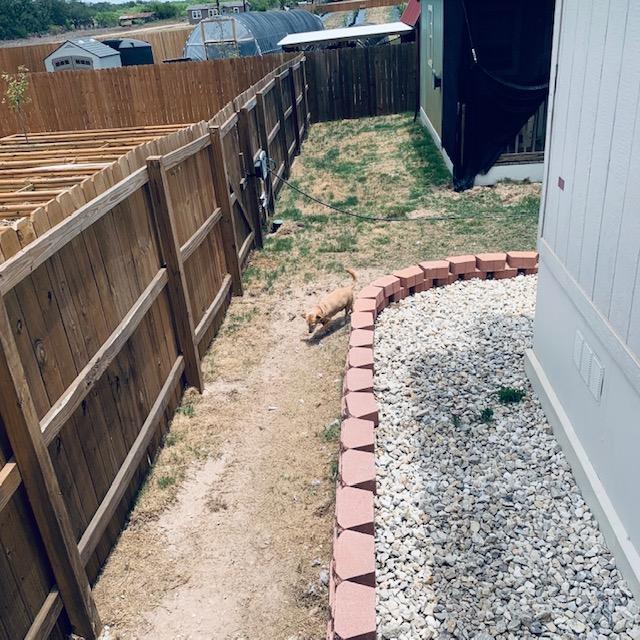 I hope you are all enjoying your summer. It has been so hot and dry here with temperatures at 100° plus for almost four weeks in a row. Everything is sort of dying and brown. We water almost daily but there is nothing like God's rain to make things grow. We finally got about four hours of rain yesterday afternoon after several months with no rain at all. In fact, we are in what is called an exceptional drought.

In the above photo, the brand new grass is already dead as it is so dry. Ethel is on patrol. On the left, you can see some of the brand new raised beds that have just been built. We will be using them this fall. You can see our greenhouse and several other structures.

We harvested a lot from the garden. However, because it got too hot too fast, a lot of the produce that looks good, tastes bad. For instance, our tomatoes are nasty tasting and our green beans looked great but were woody because of the heat.

We are still harvesting our watermelons, cantaloupes, squash, zucchini, asparagus, eggplant, and some greens. We just got a juicer this week to use some of the produce from our garden. We made pickles out of the cucumbers and zucchini bread from some of the zucchini. I will put some of our new recipes up on the website as time allows.

I am keeping our MeTV television ad here so you can enjoy it: dgstvcommercial2021 David's Garden Seeds® started showing our new TV commercial on MeTV and KSAT in the San Antonio and surrounding areas four weeks ago.

Our son, Matt, wrote the jingle at the end and he is singing and playing it on the commercial.

What is new on the farm? We have been putting in a lot of new raised beds so we don't have a lot of empty sandy areas. We would rather have lots of good looking plants and trees.

We will soon be putting in a beautiful light feature so folks can notice us as they go by at night.

It is time to start planning for your fall garden. We have brand new Texas Fall Seed Sets that come with 34 Non-GMO seed varieties chosen because they do well in Texas and right now, if you order online, you can save 25%! How? See below.
---
Seed Sale
Because it is summer and no one here can plant anything except okra or zinnias (they love the heat), we are having an online only 25% off sale so you can get ready for fall planting. Yes, 25% off! That is a lot of savings!!! Just use code LOCOHEAT at checkout at David's Garden Seeds.com. You can also come by and shop in our fabulous Farm Store for seeds, farm fresh eggs, preserves, home canned and pickled foods, pecan treats, shelled pecans, pecan flavored coffees and chocolates, seed germination kits, and more. Of course the 25% off sale is just for online shopping. We hope to see you soon. We will be closed on Monday, July 4 to celebrate Independence Day.

Our store hours are Monday thru Friday from 9am to 5pm and Saturday from 10am to 4pm. We hope to see you soon!

Happy Gardening,

Juanita aka Mrs. David's Garden Seeds®