Millies Baked Beans
Millie's Baked Beans

My grandmother, Mildred Pitcher, always made her Millie's Baked Beans for family gatherings. She never made enough of them because the dish was always emptied long before the end of the meal! This lady could cook and bake like nobody's business!

Millie's Baked Beans Recipe
You will need:
1 pound Navy beans (uncooked)
1 large onion (any color) chopped
1 large can crushed tomatoes in puree or 1 large can tomato paste
1 pound salt pork cut into then strips
1/2 teaspoon baking powder
1/4 cup molasses
1/4 cup brown sugar
salt and pepper to taste

Soak the Navy beans overnight in a pan of water with one teaspoon of salt.
Drain the beans and cover them with fresh water in a large pan. Add the chopped onion and the salt pork strips to the beans. Cook until the beans are tender. Add tomatoes, baking powder, molasses, brown sugar and salt and pepper to taste. Stir and simmer for 30 minutes.
Pour bean mixture into a large baking dish. Bake at 350 degrees Fahrenheit for one hour or until the top is browned.
Millies baked beans can be served hot or cold.

Return from Millie's Baked Beans to Favorite Recipes

---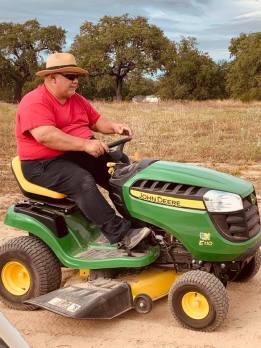 David of David's Garden Seeds® zipping along on his little tractor across the farm. He is having a blast!
---
We are David's Garden Seeds®. If you need great seeds, we've got about 1500 varieties to choose from.

---