Zucchini Casserole

Here is a family recipe for Zucchini Casserole that your whole family will enjoy. You've probably grown delicious zucchini but you didn't know what to do with it so now you can make a tasty side dish out of it.
Zucchini is a member of the squash family and is grown the same way as squash. It can be cooked the same as squash as well. At David's Garden Seeds®, we have a beautiful selection of zucchini seeds so you can try growing your own zucchini.

Zucchini Casserole Recipe

You will need:
2 pounds or 6 cups of garden fresh zucchini that has been washed and cooked in water on stove until tender
3/4 cup grated carrot (also best if garden fresh)
1/4 cup chopped onion (nothing says yum like fresh from the garden)
3 tablespoons butter

1 can cream of chicken soup
1 cup sour cream

Small package of stuffing mix
2 tablespoons melted butter

First, wash the zucchini, especially if you just picked it. There is no need to peel it as the skin adds pretty color to your dish. However, you can peel it if someone in your family refuses to eat the skin.
Now you need to chop the zucchini into bite sized pieces until you get six cups. Place in large pan on the stove. Cover the zucchini with water. Bring to boil and then cook at medium high heat until the zucchini is tender. This takes less than five minutes. Drain.
Grate the carrot and chop the onion. Add the 3 tablespoons of butter to frying pan, melt, and add carrot and onion and saute until cooked. Doesn't take long so stay at stove.
Spray or butter a casserole dish.
Mix together the squash, carrots, onion, the can of cream of chicken soup and the sour cream. Pour in casserole dish.
Mix 1 cup of stuffing mix with 2 tablespoons of melted butter. Sprinkle this on top of the squash mixture. Bake at 350 degrees Fahrenheit for 30 minutes or until the top is golden brown.
This is a dish that goes especially well with chicken breasts or thighs.
For a slight variation, add cooked chicken cubes and sauteed mushrooms to the zucchini mixture before baking and you will have a one dish meal for dinner. It is so good and smells so delicious while it bakes.

Let me know how you like this dish.

Return from Zucchini Casserole to Favorite Recipes

---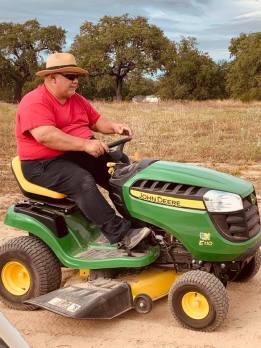 David of David's Garden Seeds® zipping along on his little tractor across the farm. He is having a blast!
---
We are David's Garden Seeds®. If you need great seeds, we've got about 1500 varieties to choose from.

---