Mrs. David's Garden Seeds®
---
Autumn Farm

This week on our autumn farm, we change from summer to fall. You will get to see our autumn farm. In south central Texas, there are no leaves falling, although a lot of our trees are already missing leaves, thanks to cutter ants. Those ants strip leaves off every plant they can find. They cut the leaves and drop the pieces in a pile for their ant buddies to carry off back to their nest. They are evil and have ruined almost all of the trees we have planted over the past year. Most of the time, the leaves grow back the next season if you can find the ant nest and kill them all.

Autumn Farm on 09/21/2020 - 09/27/2020

Monday, September 21, 2020
Tomorrow, we officially have an autumn farm! Yes, tomorrow is the first day of fall. We started out this morning cool at 71° Fahrenheit. It was overcast and there was a sweet breeze of cool air drifting by. I was in my jammies and robe at the breakfast table when the pouring down rain started. I waited too long to feed my chickens.
I actually had to wear a raincoat over my chicken feeding clothes plus I needed new chicken feed so I had to get that in the pouring rain. The chickens were all good. No new eggs today. Honestly, I don't expect anymore until late next month but since we found two this past Saturday, I need to check.
This evening, around 8pm when I went out to put my chickens away, one of them had laid an egg out in the run, against the wall so that is three eggs! It is almost dark out here on the autumn farm by 8pm now so I am fortunate to have seen it.

---
Tuesday, September 22, 2020
Happy Tuesday morning during this lovely autumn farm weather with early morning coolness! No new eggs at all today. Happy first day of fall, y'all!
After I fed the chickens, I headed back to the house and went to the front. I looked up and there was a spectacular rainbow up in the sky. It was incredible!
Work started and when I went out to the store, only Karen and I were here. David took everyone to a farm in Poteet to pick Southern Peas--Pink-Eyed Purple Hull to be exact. They brought back three large buckets!

This afternoon, we went to our doctor in San Antonio to get flu shots. The doctor also put me on some high blood pressure pills. I asked for some that would not cause hair loss as the last ones he had me on two years ago did. Honestly, I need to lose weight and the hypertension  will probably be gone. The flu shot medicine did not burn going in, but later on in the day, the muscle in my arm was sore.

Nacho with Top Notch Lawn Care has been putting in gravel and stone walkways all over the farm because the sand and caliche get so muddy when it rains. It is a muddy mess right now. He had to bring in three truckloads of stones and about 120 stone pavers and so far, it is looking good. Truth be told, we need a whole lot more to be able to walk this farm without being a muddy mess when we go to the animals and to the garden areas. There are so many weeds with stickers and we cannot seem to get rid of them.
For dinner, we grilled steaks and I roasted vegetables in the oven-potatoes, tomatoes, zucchini, carrots, and mushrooms.

I went out at 7:50pm to put the chickens away and they were already in bed.
---
Wednesday, September 23, 2020
Happy Wednesday! Today, the chickens turn 21 weeks old. Our rooster is huge and he is crowing a lot early each morning. I heard him loud and cloud when the sky was pink, before I even went out to feed them. The autumn farm weather is so nice with a cool down to 70° Fahrenheit so it was nice to go out and take care of the chickens. It stayed fairly cool all day with overcast skies.
We had to go to town twice today and by that I mean we had to make two 50 round trips into Pleasanton which is the nearest town to us with a Walgreens. I had to pick up my prescription plus the doctor wrote us prescriptions for another type of shot. Turns out you have to have an appointment now due to Covid. The earliest she had was at 4:30pm, five hours away. So we made the appointments and then looked at the used cars. We took one for a test drive but it had a hole in the muffler and the check engine light came on. We will go later in the week into San Antonio and see what we can find.
My arm is still a bit sore from the flu shot I had yesterday.

We went back and had our very expensive shots at Walgreens and then found out that this is part one of two and we have to go back for a second round for yet another $359.00 in November. That is ridiculous. I also picked up my new blood pressure pills.
No new eggs today at all. I know it is still early but since we have found three so far, I have to look everyday. Tonight, I did make a mistake. When I got out to the chicken coop at 7:50pm, the girls were all in bed. I closed the door and then turned my flashlight on. The chickens immediately thought it was time to get off and they proceeded to jump one by one off of the roosts and then started fighting. I quickly turned the light off and got out of there. They were still fighting by the time I got back to the house.
---
Thursday, September 24, 2020
Good morning! Happy Thursday! This morning at 11am, we have our monthly birthday luncheon for the David's Garden Seeds® team.
It was 66° Fahrenheit when I got up this morning. I stepped out on the back patio to a beautiful pink sky on our autumn farm before the sun came up at 6:40am and I could hear our rooster crowing at least five times! He is so pretty. In the cool air, it was a joy to go outside and feed and water the chickens. I checked for eggs but none today. The chickens seemed fine after last nights bedtime fight. One of the Rhode Island Reds would not leave the nesting box and she was moving the wood chips around. I thought maybe she had an egg in there but when she finally moved, there was nothing. Maybe she is fixing to lay today!
There were 20 of us for lunch and we all had a good time. We had three birthday people. The birthday folks enjoyed their lunch, birthday cards, gift, and cake.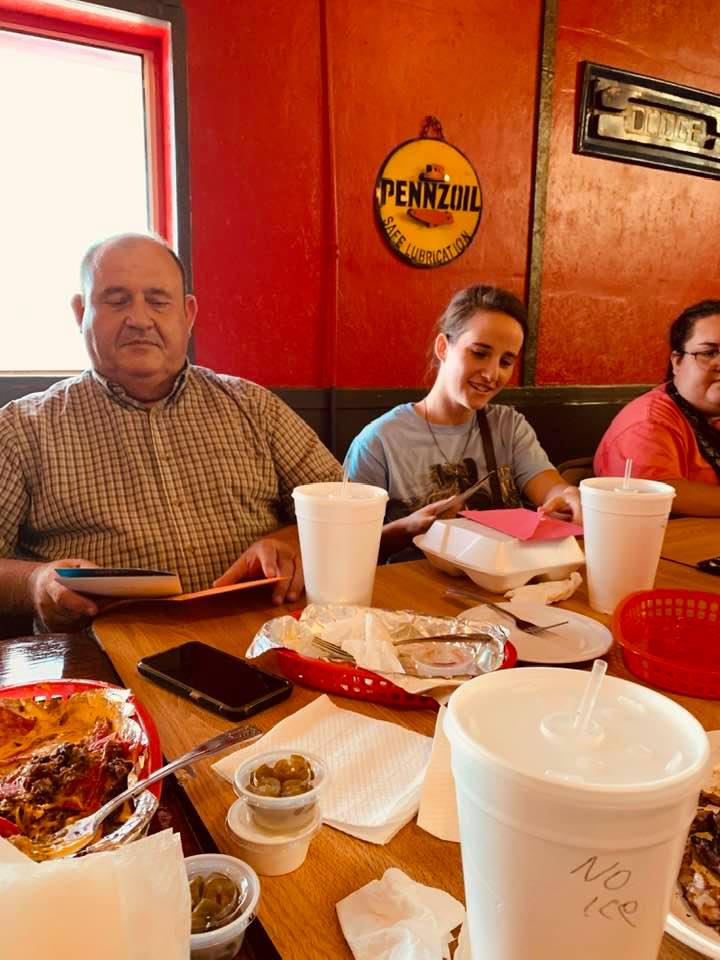 Sam and Linda were our two birthday team members. They are father and daughter and have worked for us through the summer.
---
Friday, September 25, 2020
This morning was an exciting day on the autumn farm! I got up, started some coffee, and put some canned cinnamon rolls in the oven. Then I went outside to feed the chickens. I let them all out of the nesting box area and went in to see if I could find anything. I checked 19 nesting boxes and found nothing but poop. Then I checked nesting box number 20, the last one on the top left--I found four eggs!

David and I went into San Antonio today to run some errands. We got everything done and got back just before 3pm. When I walked in, Karen was taking care of some customers.
This afternoon, I noticed that the hay field next door was being mowed. I can't wait for them to roll the hay.

This evening around 7pm, I took some cut up watermelon to the chicks and decided to check for more eggs. Much to my surprise, I found two eggs in different boxes so they laid a total of six eggs for us today! Not bad when laying is still a month early.
An hour later, I went outside to put the chickens to bed for the night and they were already all in bed. They are such good girls.
---
Saturday, September 26, 2020
Good Saturday morning! David made egg tacos for breakfast. Matthew helped me clean out the chicken coop and I found three eggs in three different nesting boxes. It took over an hour and we replaced the dirty wood shavings with fluffy, clean shavings for the girls to lay on.
Then I went out into the field/orchard and picked squash and zucchini. I also picked two strawberries, some grape and cherry tomatoes and some melons. We pulled up a bunch of dead plant vines. It was very humid and the sweat kept running into my eyes the whole time I was outside.

I cleaned up and went to Devine for some groceries and supplies and then ate a sandwich for lunch at home. The rest of the day was spent cleaning up the kitchen and doing laundry. Around 5pm, I checked on the chickens and took them some melons. I checked and found two more eggs.

We got a couple of pizzas from a place in Poteet and watched the Svengoolie movie. The chickens were already in bed when Lucy and I went out to close the door.
The neighbors rolled all of their hay into round bales in the evening. It was fun to watch but they only got about half of what they had in June.

---
Sunday, September 27, 2020
Happy Sunday! When I opened the door to let the dogs out, I noticed the air felt hot and humid, not cool and crisp as it felt this past week. I was so disappointed. I fed and watered the chickens and found only two eggs this morning. Then we got ready for church and went there.
After church, we grabbed some burgers with eggs on top from Billy Bob's Burgers. They were pretty good. David is out working in his office and I am working in the den where I can prop my leg up because it hurts. In fact, it hurt last night as well. I have laundry going and I need to figure out what to do with all of the squash I have.

---
Return from Autumn Farm to Farm And Business Life

David's Garden Seeds® Is A Trusted Brand
Since 2009, over 1,500,000 home gardeners, all across the USA, have relied on David's Garden Seeds® to grow beautiful gardens. Trust is at the heart of it. Our customers know David's Garden Seeds® stocks only the highest quality seeds available. Our mission is to become your lifetime supplier of quality seeds. It isn't just to serve you once; we want to earn your trust as your primary supplier.
---
Watch Our TV Commercial!
Sing Along To Our Jingle

 ♪♫♪♪ ♫ ♪ ♫♪♫♫
 ♪♫♪♪♫♫
Peppers and peas
And lots of yummy greens
You can't go wrong
With Squash This Long
At David's Garden Seeds
♪ ♫ ♪ ♫

Please like and subscribe on YouTube and come visit us at our Farm Store! The music on our TV ad was written, played, and sung by our son, Matthew Schulze. You can meet him when you come to the farm. He just might give you a tour. Ask him to grab a guitar and sing our jingle that he wrote.

---
We are David's Garden Seeds®. If you need great seeds, we've got over 1600 varieties to choose from.

---
Subscribe To Mrs. David's Garden Seeds® Newsletter For FREE!

Find out what is going on down on the farm by reading our blog and by subscribing to our free newsletter for all of the information going down at David's Garden Seeds® and on the farm. I love to share helpful information with you. Please let your friends know and y'all come on down for a visit when you get the chance. We would love to meet you!