Raising Rabbits On The Farm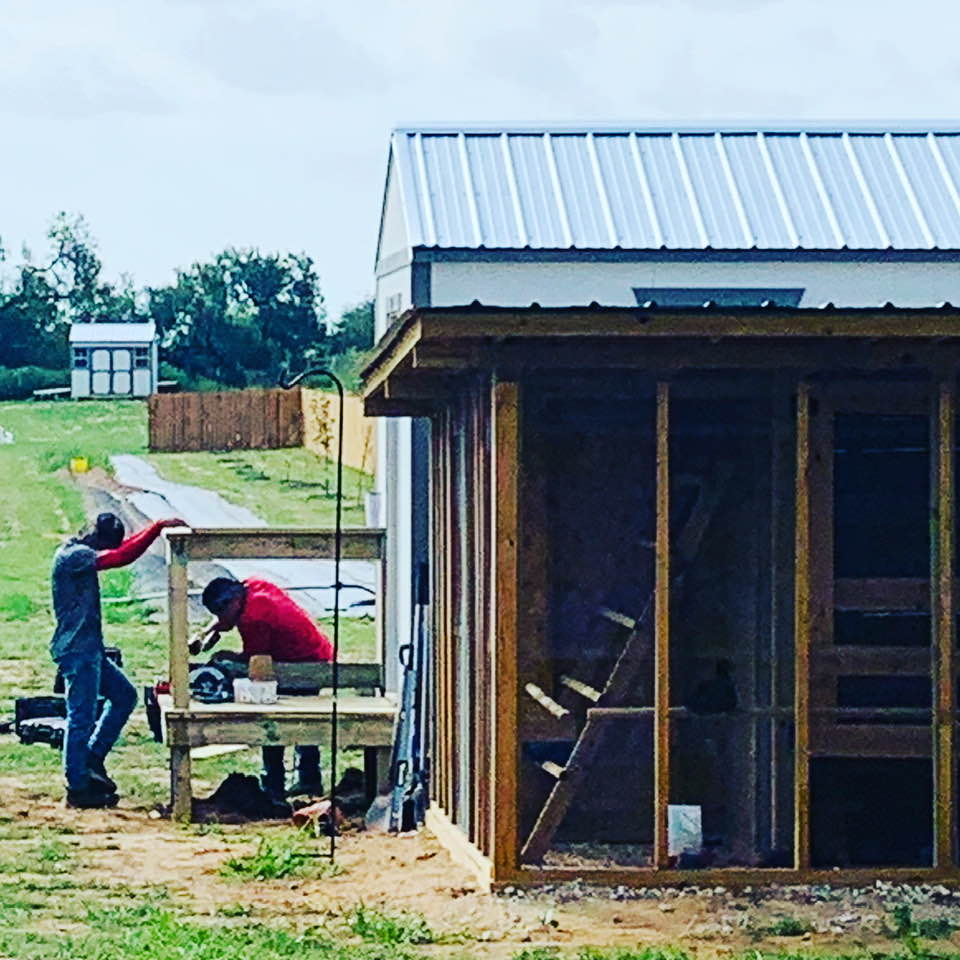 Raising rabbits in the tall white building behind the chicken coop will be nice once the A/C is on. Here contractors build a small porch with stairs on the rabbit hutch as it is raised on bricks.
David is going to start raising rabbits on the farm. He wants to raise and sell them for meat like he did when he was in high school. He would sell some and kill some for meat. I always thought of bunny rabbits as soft, cuddly pets. In fact, my first pet was Hoppy the brown bunny who died when I was just six year old. David never had pet rabbits. They had a purpose on his parents' ranch, just like all animals serve a purpose on any farm or ranch.

Raising Rabbits In A Rabbit House

David had a small shed built to house the rabbits. Right now, it is air conditioned and has three small cages that are suspended in the air. We visited the largest rabbit farm in Texas about two months ago and bought the cages there. This farm has a huge barn with about 2300 rabbits in individual cages that are suspended in the air. The entire barn is air conditioned as that cuts down on rabbit losses in the Texas heat. It was kept clean and did not have a bad odor. The man who owns it has several employees and they take care of the rabbits.

We also visited a small rabbit farm with about 30 rabbits in the town where David grew up. It was dirty and not air conditioned with mounds of rabbit manure piled up under each cage. Some of the rabbit cages were suspended from trees outdoors. It smelled. We decided right away that we don't want to do that with our rabbits.

David has developed a tray that will collect the highly sought after rabbit manure, which is great for vegetable gardens. It is good because it does not burn your plants. We plan to sell the rabbit manure as garden fertilizer.
We will start raising rabbits next week. We are supposed to go back to the largest rabbit farm in Texas and get our first rabbits on Tuesday.
I bought three raising rabbits books for David but I don't think he has had time to read them yet. It seems we don't have much time for reading. I know when I sit down to read in the evenings, I fall asleep.
I will be back to update this page once we get our bunnies.

Return from Raising Rabbits to Raise Chickens

---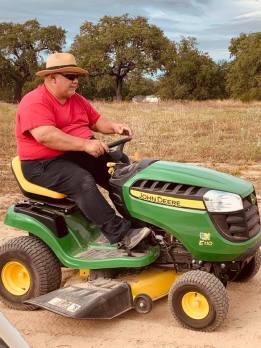 David of David's Garden Seeds® zipping along on his little tractor across the farm. He is having a blast!
---
We are David's Garden Seeds®. If you need great seeds, we've got about 1500 varieties to choose from.

---