Mrs. David's Garden Seeds®
---
Blanching Vegetables

Blanching vegetables so you can freeze your garden produce is easy to do. We do it every season with our garden veggies. Just get a good supply of Zip-lock bags in quart and gallon sizes. Any brand will do. Just make sure the bags seal well so your produce doesn't get freezer burn.
What is blanching? It is scalding the veggies in steam or boiling water to slow down the enzymes inside the veggies to preserve them in the freezer. This helps to prevent the vegetables from losing color, flavor, and vitamins and nutrients.
Most fruits can be frozen without blanching so if you have picked a lot of berries, or grapes, feel free to put them in a ziplock bag and freeze them just as they are.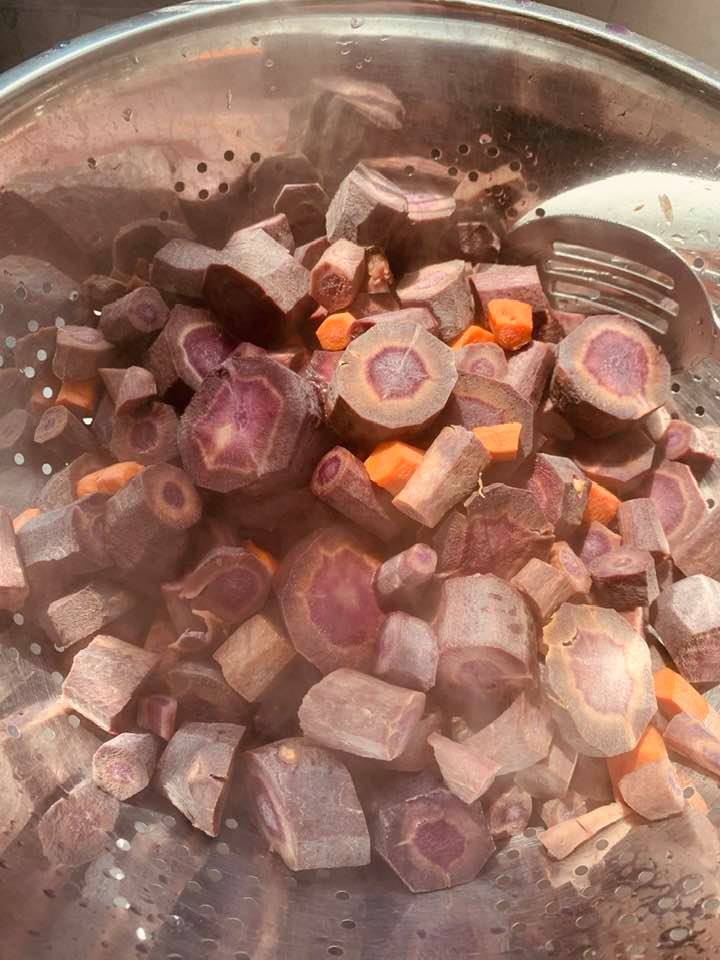 These purple and orange carrots were just blanched by me from our garden. They have just been drained.
Blanching Vegetables - How To Do It
Wash and peel your vegetables (if necessary). Cut out any spoiled or bruised spots. Then chop if necessary. Cut the ends off of ears of corn. Look for corn worms and cut the affected area off of the ear if you find some.
Boil the water.
Place the produce in the boiling water or in the steamer and begin counting the time immediately. This is called blanching.
Blanch for the specified amount of time. Some vegetables are blanched for just 60 seconds so it is important to watch your times closely.
Then immediately drain and plunge into ice water. Once cooled, put the vegetables in serving sizes in Zip-lock bags, seal and freeze. These will keep for six months in your freezer.
Blanching Vegetables Time Chart

Artichoke-Globe Type -- 7 minutes
Artichoke-Jerusalem -- 3 minutes for small and 5 minutes for large artichokes
Asparagus - 1 and a half minutes for small, 2 minutes for medium, and 3 minutes for large spears.
Beans-Lima -- 1 minute for small pieces.

Beans-Snap -- 3 minutes
Beans-Soy -- 5 minutes for pods. Then pop beans out of pod to freeze.
Beets-Whole -- Scald for 1 to 2 minutes, then cool and remove skins. Put in freezer whole or sliced.
Broccoli -- 3 minutes but cut off woody parts of stem first and discard.
Brussels Sprouts -- 3 to 4 minutes depending on size.
Cabbage-Wedges -- 3 minutes, Shredded --1 minute
Carrots -- 3 minutes
Cauliflower -- 3 minutes
Corn on the cob -- 6 minutes, Whole Kernel -- 5 minutes
Eggplant -- 4 minutes

Greens -- 2 minutes. This includes spinach and other leafy greens.

Herbs -- Do not scald. Place in freezer bags and use in recipes but they won't be suitable for garnish.
Kohlrabi -- 2 minutes
Mushrooms -- Add 3 teaspoons lemon juice to each quart of water to prevent them from turning dark and scald for 3 minutes.
Okra -- 3 minutes
Onions -- 3 minutes
Parsnips -- 3 minutes
Peanuts-In the shell -- 10 minutes, Shelled -- don't scald, just freeze in bags.
Peas-Blackeyed -- 1 minute
Peas-Green -- 2 minutes
Peas-Snow or Sugar Snap -- 2 minutes
Peppers-Sweet -- Don't scald, just freeze in bags.
Peppers-Hot -- Don't scald, just freeze in bags.
Potatoes -- 3 to 5 minutes, depending on size.
Potatoes, Sweet -- Do not scald. Bake at 350° until slightly soft. Freeze in bags.
Pumpkin -- Do not scald. Cut in half or quarters, depending on size. Bake at 400° until soft and scrape out of shell. Put in blender with a small amount of water and blend until smooth. Place in freezer bags and freeze.
Squash-Summer -- Sliced, 3 minutes

Squash-Winter -- Do not scald. Cut in half and place upside down on pan. Bake at 350° until tender. Use fork to remove from peel. Place pieces of squash in ice water to cool down. Freeze in bags.
Tomatoes -- Using firm, ripe tomatoes, core and cut. Then cook on top of stove until soft. Blend into puree or leave chunky and put in freezer bags.
Turnips -- 3 minutes
Zucchini -- 3 minutes

Your blanched vegetables are now perfect for use in soups, stews, casseroles, and sauces.
Always use a permanent marker to write the date you blanch them as well as the type of vegetable in the bag. Most freezer bags now have a white section on them for the date and variety.

Return from Blanching Vegetables to Freezing Strawberries

David's Garden Seeds® Is A Trusted Brand
Since 2009, over 1,500,000 home gardeners, all across the USA, have relied on David's Garden Seeds® to grow beautiful gardens. Trust is at the heart of it. Our customers know David's Garden Seeds® stocks only the highest quality seeds available. Our mission is to become your lifetime supplier of quality seeds. It isn't just to serve you once; we want to earn your trust as your primary supplier.
---
Watch Our TV Commercial!
Sing Along To Our Jingle

 ♪♫♪♪ ♫ ♪ ♫♪♫♫
 ♪♫♪♪♫♫
Peppers and peas
And lots of yummy greens
You can't go wrong
With Squash This Long
At David's Garden Seeds
♪ ♫ ♪ ♫

Please like and subscribe on YouTube and come visit us at our Farm Store! The music on our TV ad was written, played, and sung by our son, Matthew Schulze. You can meet him when you come to the farm. He just might give you a tour. Ask him to grab a guitar and sing our jingle that he wrote.

---
We are David's Garden Seeds®. If you need great seeds, we've got over 1600 varieties to choose from.

---
Subscribe To Mrs. David's Garden Seeds® Newsletter For FREE!

Find out what is going on down on the farm by reading our blog and by subscribing to our free newsletter for all of the information going down at David's Garden Seeds® and on the farm. I love to share helpful information with you. Please let your friends know and y'all come on down for a visit when you get the chance. We would love to meet you!