Mrs. David's Garden Seeds®
---
January Garden Chores

There are many January garden chores to be done to get your garden ready for spring. From cutting down dead plants to tilling the soil, you need to prepare your garden for spring planting just as soon as the danger of frost goes away.

---
January Garden Chores - 1/10/22-1/16/22
Monday, January 10, 2022 - January Garden Chores

Good Monday morning from the farm. It is cold out there at 49° at 9am. My throat is bothering me a bit and I sound horrible. This is day 13 of me being sick. The high temperature today is supposed to be 68°.
There is an incredible amount of orders to be pulled and filled and our team is out there doing it right now. Thank you all for choosing David's Garden Seeds®! We appreciate it more than you can imagine.
I believe I will work from in here again as I do not want to make anyone sick. Also, remember, if you are sick, stay home. Don't go somewhere and make others sick, no matter what it is you have. A cold may stay with you for just three or four days and you think "no big deal" but for me and other older folks, a cold can last over two weeks and I feel miserable. So yes, it is a big deal, especially when I can't go out and work and I need to stay stuck in my home for two to three weeks so as not to contaminate our work force.
Today would have been my father's 91st birthday. He passed away over 30 years ago at the age of 60. Time goes by so quickly.
Over the weekend, I finished fixing all of the broken links on this website. I had broken links because we switched to a new website last summer. At first, it did not occur to me that all of those web pages built before June of 2021 would have broken links. Now they are all taken care of.

Both of our new employees have started officially today. Nacho is here with a helper. Some of our outdoor guys just pulled up all of our new pepper plants in error so now we get to start all over again. This kind of thing happens every year, every season. It is frustrating.
Nacho hung up all of the welded art that we paid someone to make a few months ago. The bar got moved to the backyard, plus he did a lot of January garden chores that needed to be done.

I just took the trash out at 12:45pm and found the painted bar still sitting on the driveway. It needs to go out in the backyard. Look behind the red pickup truck. Someone just decided to dump a folded stepladder on the driveway, collapsed behind the truck. Why? Did his arms get tired and he could go no further so he just let go of it? Was he so hungry at lunch that he could not make it to the edge of the driveway? What exactly was he going to climb in this location? These are the silly things that keep me awake at night. This is just carelessness, an accident waiting to happen.
Now it is 2pm and I looked. The ladder has magically disappeared from the driveway so I have no idea who did it. I am glad it is gone before an accident happened.
The seed orders are still pouring in. Each time we get one, a bell on my phone rings. This is so exciting.
Our new outdoor crew is outback doing various January garden chores right now.

The new bar is behind the fire pit. You can see our new party lights on the fence behind the bar, another January garden chore that should have been done in December. LOL.
---
January Garden Chores

If you have fruit trees, like we do, January garden chores should include pruning them for better spring growth. There are books on how to do this.
Go through all of your garden tools in the shed and if you need to clean and/or sharpen them, do so now.
Dead head and prune rose bushes.
If you live in a warm climate, plant asparagus seeds and artichoke seeds. If you have previous asparagus ferns, chop them down to ground level. They should be dead by now from frost. Do not pull them up or you won't get new asparagus. Cut them down and clear the bed to make way for new spring asparagus.
Add compost to your empty garden beds. Then put mulch on top.
Cut your cover crops down and then till them under, mixing them in with the soil in your garden area. You could also leave them on top acting as mulch. Either way, they will replenish your garden soil with nutrients.
Choose your spring seeds by visiting David's Garden Seeds® here.
Plan when and where you will plant each variety in your garden.
In Texas, start your tomato seeds indoors so they will be ready when it is time for them to go into the ground.

That is all of the January garden chores I can think of right now.

---
Tuesday, January 11, 2022
Good Tuesday morning. It is so cold, 42° and the high will be 58°. I froze my tail off in the night and coughed a lot. It is day 14 of my sickness and I am still not ready to go back to work. Once again, thank you to the person or people who would not stay at home because they were sick. I love being so ill. (Not really--it is called sarcasm.)

Since I have been sick, I have been looking at more YouTube videos in the house while I work. For instance, one of the Mormon family vloggers that I used to look at decided to withhold Christmas from their two youngest children while allowing the older four kids to have presents. Why? Because they won't repent. The kids are eight and ten and were not allowed any Christmas presents. Do the parents really think this will make them be good? Wow. I unsubscribed. They are disgusting.
If it feels a bit warmer today, I need to go out to my greenhouse and start transplanting some things and then get the plants for sale up in the store. Yesterday, I noticed that all of the plant shelving outside the store is now gone so I have no idea how I will sell my plants now that I have no place to put them.
I have been noticing that air fryers are coming in much better shapes now than what we have. We got one when they first came out and it is huge. There are many pieces. We've used it like three times. I saw one yesterday that is shaped like a toaster oven and you pull a piece out and load it up with food. It looks much better. 
Another thing I have seen in videos is a freeze dryer for food. If you freeze dry anything, always put an oxygen packet in the mylar bag or jar or things will get moist again from the air. We don't have a freeze dryer but I would like to get one. They are expensive.
I have been watching different families build beautiful homes with all sorts of things that I have never thought of. It is very interesting to see all of the ideas people have.
Next week, we have a lot of appointments so I hope I am feeling better. I have had to postpone things that should have been done last week and this week.
I have some laundry going and I am working on the computer. I just finished folding laundry and I am freezing. I have the heater on but, so far, it is doing nothing. Okay, supposedly now it is working. I can hear it but I cannot feel it. We have high ceilings so I cannot feel air coming out. My end of the house is the coldest always and I don't know why.
At 12:10pm today, David called and told me that he had just seen our David's Garden Seeds® MeTV commercial. I turned on MeTV and at 1:48pm, during Bonanza, I saw the commercial. It looks good and sounds great. The jingle was written, played, and performed by our son, Matthew.
This commercial will be on MeTV all during the day, in the morning, afternoon, and evening so I hope you all get a chance to see it.
It stayed cold all day long.

At 4pm, I went out to collect eggs and check on all of the animals. The second female bunny had five babies today. They are pink with no fur and it is cold. I hope they live. When I was out there, the mama bunny was not in the little baby nest with them.

This evening, I saw the TV commercial two more times, once on the first Andy Griffith show and then on Green Acres.

January Garden Chores
David told me that one of the most important of January garden chores in Texas is to get all of your tomato seeds started in small pots in your greenhouse or in your home on grow mats which you will change to grow lights once they germinate. If Texans don't start their tomatoes in January, there won't be enough grow time before the sun gets too hot.
If you need to buy Non-GMO tomato seeds, you can get them here from David's Garden Seeds®.

---
Wednesday, January 12, 2022
Well, good morning! I had a miserable night. With every swallow, my throat hurt. I kept waking up in pain. Cough drops did not help much. I took some throat coat tea this morning and that has helped some. So I am still working from the house. It is day 15. Will I ever get better?

Sadly, all five baby bunnies died in the night. It was just too cold, in the 40s and the mother did not know how to keep them alive. So sad. January is just not a good time to have bunny babies.
It is 10:28am. So far, I have not seen our commercial on the air today. It is supposed to be on early morning, afternoon, and evening. Evidently, I did not have the TV on early enough.
I have been adding new seed varieties to the website this morning. We now have over 2,000 seed varieties. This spring, make sure you order a few new varieties to try. They could be your new favorites.
I started adding tags to all of our articles over on the new website so you can find them easier. For some reason, when they were moved from the old website, no keywords were tagged...I did a bunch of them tonight but it will take a few days to get it done.

---
Thursday, January 13, 2022
Hello and welcome to Thursday! Above you will find our brand new TV commercial. We hope you enjoy it and please subscribe to our YouTube Channel. The jingle at the end was written, played, and performed by our son, Matthew Schulze, who is an awesome musician. This is the same jingle we used for our radio ad a few years ago.

Linda has off today so I am back in the store after about three weeks of not being here. We had four different customers so far today and three of them came because they saw our commercial on MeTV! The commercial just started running this week.
At 5pm, we are headed into a Poteet business meet and greet that we were invited to so that should be good.
The temperature started out at 35° Fahrenheit and it is now 78° at 4pm. It has been a very busy day and I feel pretty tired now.
Another customer came in and bought some seeds. Then she left at 4:40pm and I closed the store. I got ready and we left at 5pm for Strawberry Pines for the Poteet businesses meet and greet. We pulled up and the gate was locked. David called and they told us that they had postponed the event due to Covid. What? No one told us. Nothing was on their Facebook page about the event or about it being canceled due to Covid because I checked. Then we texted the folks who sent us the information about the event from a few weeks ago and they did not know about it being canceled, yet they were not on their way to the event.
I guess it is just as well. My voice is still mostly gone from all of the coughing I did over the past few weeks so I would not have done much good trying to socialize anyway.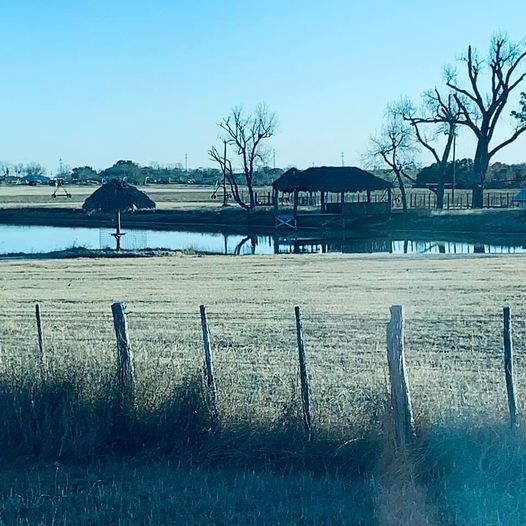 This is Strawberry Pines, where we were supposed to have a meeting this evening. Nice looking place.
We stopped for burgers and fries and now we are at home relaxing. Alexa just told us that there is a fire weather watch for this Saturday, January 15. Apparently it will be a good day for fires. That is awful to hear. Our store will be open on Saturday from 10am to 4pm.

Also, I found out today that next Friday, January 21, 2022 will be our David's Garden Seeds® birthday celebration so we will be closed that day from 10:30am to about 2pm. We have three birthdays that I know of. We do have some new people so I will need to check on their birthdays.

---
Friday, January 14, 2022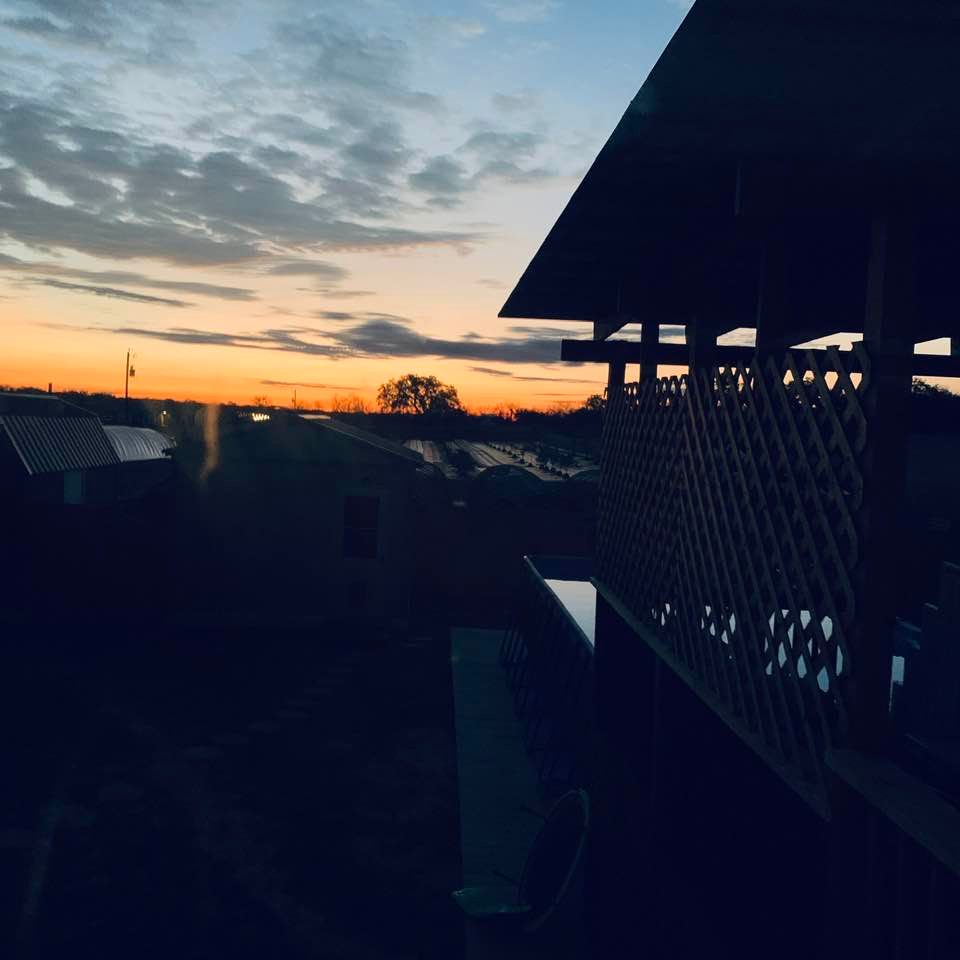 As the day dawns, you just know it will be beautiful! Greetings from the farm and warm wishes for a wonderful weekend just perfect for January garden chores.
It got down to 37° this morning so it is nice and cold. I have spent the early morning filing medical claims and paying bills. Fun times. Now it is 8:30am and I need to get ready to go to the store. Matt has taken the three girls (Annabelle, Lucy and Ethel) to be groomed as it has been a while. He will be back soon to get down to work.
It is now 40° and still rather chilly. There was a beautiful sunrise this morning so at least it does not look gloomy outside.
We have had a steady stream of wonderful customers come through this morning, one after another. Some have seen our TV commercial, others have heard our KTSA commercial, one couple has heard Bob Webster talk about us for a while, and one person heard our Pleasanton radio commercial. We are so happy to have you come out and visit us. Right now, we have a wonderful selection of spring seeds. Come visit us tomorrow from 10am-4pm at David's Garden Seeds®.
The day is just beautiful outside with a high of 82°. Right now, at 1:44pm it is 80° and the sky is all blue, just gorgeous. We have no one working outside doing January garden chores right now. Crazy, isn't it, but they are all off today.

Our beautiful new flags are waving in the warm breeze, welcoming everyone to David's Garden Seeds® Farm. It is the perfect day to do some January garden chores at 80°.
January Garden Chores
So far, everyone who has been in our Farm Store today has been talking about January garden chores, including planting tomatoes in the greenhouse to get them going early.
The day got windier, bringing a new high wind front for tomorrow. The mountain cedar is high and I am coughing again.

---
Saturday, January 15, 2022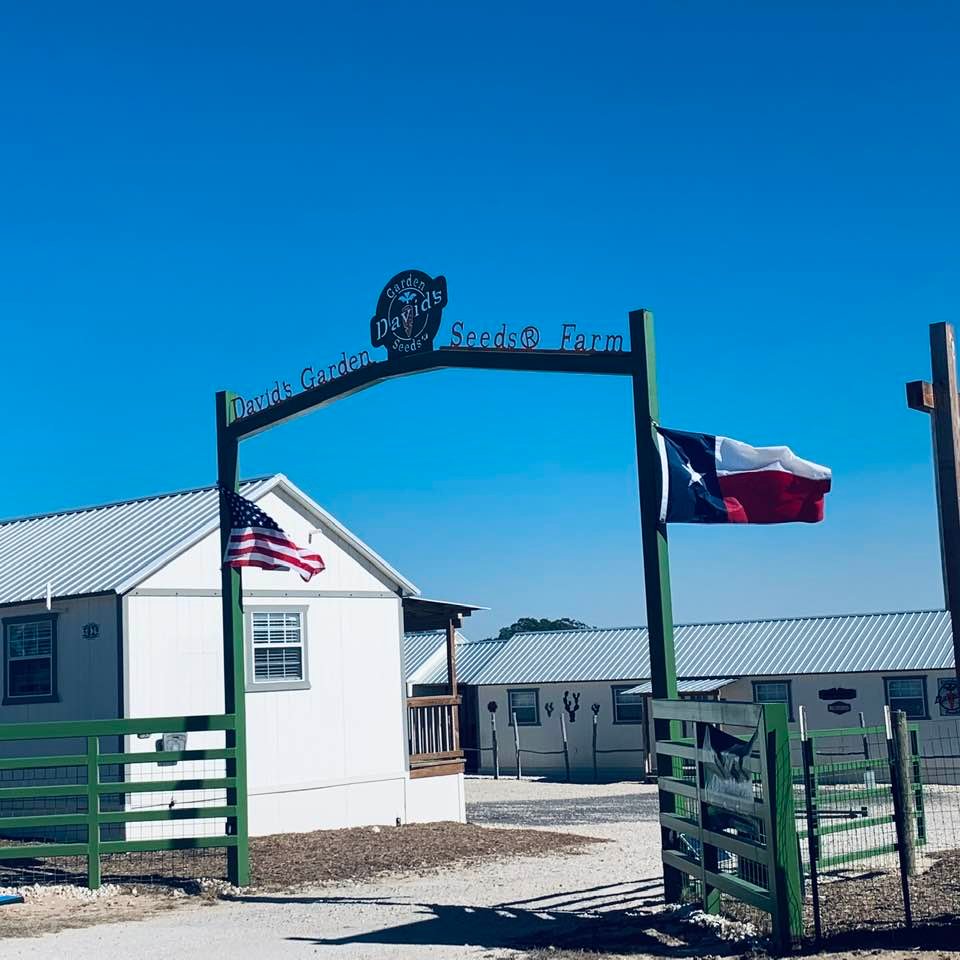 Welcome to David's Garden Seeds® Farm. The wind is blowing. Picking up everything when it is done will be one of our new January garden chores.
Good windy Saturday morning. I got up early and came out front to unlock everything and feed the fish. One of our crew who is out sick decided he wanted to work today so he showed up well before 8am to do some January garden chores. (I wonder if that is why at 7am I saw our big greenhouse door opening and closing in the wind. It was shut last night but I told David the door was blowing hard this morning. He ran out and shut it.)
As soon as I approached the Admin building to turn off the alarm, he got out of the car wanting to know if he could work. It was sometime after 7am. I said no, that he is sick and needs to go home. This high wind would make him even more sick and I don't need anymore sick people around me. He told me David said he could work. I called David and David said to send him home.
David's Garden Seeds® the business is closed on weekends unless we ask you to come in. We will never ask someone who is sick to come in. He works for an employment agency and missed most of the week because he called in for three days.
David's Garden Seeds® Farm Store is now open on Saturdays from 10am to 4pm but David and I take care of it ourselves for now. We can't get anyone to work the Saturday shift but that is okay. As we get busier, we will hire someone just for that day.
Anyway, he went home. David sent him a text after he left letting him know that he cannot work on Saturdays without previous permission and that he cannot come back to work after being out without a doctor's note. It really makes me upset that someone who isn't even an employee thinks he can come back to work after calling in for three and a half days. He needs a doctor's note this late in the game and we don't have people on the premises on Saturdays because we have enough to do without having to check and see what people are doing.
So I am in the store now but, so far, we have not had any customers. I have laundry going at home and I will be going back and forth, especially if no one shows up. Because of the high winds today, I can understand why folks would not want to drive out here. It is pretty bad with gusts up to 50 mph. It is 51° but feels much cooler because of the wind. We are not doing tours today because of the blowing sand. Our soil is sand and there is a lot of blowing sand next door and on our own property. We don't want anyone to get injured.
My father lost vision in an eye in North Africa due to blowing sand back during the Korean War. He was in the Air Force stationed, I believe, in Casablanca. He loved it there but never got good vision back because his cornea was scratched.
It is now 1:30pm and still very windy and a bit chilly at 56°. We have had several very nice families come over to visit us from the San Antonio and Boerne areas. They have either heard us on the Bob Webster show this morning on KTSA or they saw our TV commercial on MeTV. David has been stocking the store with our new pickled food items and we have already sold some of it.

We have six boxes of orders to send with the mailman if we see him. On Saturdays, he normally does not come to the store but goes back over to the house so we may not see him. In that case, he will probably have 12 or more boxes to take on Monday.
It is now 3:44pm and still no mailman. The winds are still blowing out of control. The pond is loaded with small branches and leaves from the oak tree next door. My ears are hurting because I keep going outside. I am fixing to close up the store and go take care of the chickens. It is so cold and windy.
We had several more families show up to shop. One said they found us through some Facebook garden groups.
The mailman never showed up the entire day. This happens in the country more than you think it does. His vehicle breaks down or he has an emergency and the post office does not send anyone else out with our mail. We have to wait until the guy can make it out. Meanwhile, I have six USPS boxes filled with orders that should have gone out today. Saturday hours at our USPS are from 8am to 10am and the guy doesn't normally show up until around 1pm so we had no idea that he would not come by until it was too late. I went out the gate and checked our mailbox three times today. The last time was after 5pm and it was empty.

January Garden Chores
There will be no January garden chores done today with the chilly high wind. One of the January garden chores on Monday will be to clean out the pond of leaves and sticks and also of a ton of algae growing in the pond. It looks bad. I hope it warms up a bit by then.

---
Sunday, January 16, 2022 - January Garden Chores

Early morning on the farm. The hoop house clips were mostly blown off with the high winds on Saturday. It will be a January garden chore to pick them up.
Good Sunday morning. It started out at 31° Fahrenheit. The pond is just filled with oak leaves and sticks from the huge tree right next door. This morning, it is totally calm, no wind. The wind popped all of the hoop house clips off and they are scattered all over the field area. They will definitely need to be picked up first thing Monday morning so this will be one of a number of January garden chores to be done. If you have storms in your area this month, clean up all of the debris from the storm. If I felt better, I would go pick them up when it warms up. I did not sleep well again so I feel very tired.
All of the animals are okay, but the pond is sort of messed up. Hopefully, we will get that cleaned out tomorrow morning.
I am still coughing like crazy. Hopefully, it is just the mountain cedar which is heavy at 3040 now that is affecting me. Mold is moderate at 670 today. It is day 19 of me being ill.
Today, I will just rest and maybe get better for a week of work. I won't be outside doing any January garden chores today.
Late this afternoon, when I went out to feed the fish, I decided to check the mailbox. Not sure if he did a mail run today or last night, but the mailbox was packed full. I pulled everything out and headed back inside the gate.

---
Return from January Garden Chores to Business Growth

David's Garden Seeds® Is A Trusted Brand
Since 2009, over 1,500,000 home gardeners, all across the USA, have relied on David's Garden Seeds® to grow beautiful gardens. Trust is at the heart of it. Our customers know David's Garden Seeds® stocks only the highest quality seeds available. Our mission is to become your lifetime supplier of quality seeds. It isn't just to serve you once; we want to earn your trust as your primary supplier.
---
Watch Our TV Commercial!
Sing Along To Our Jingle

 ♪♫♪♪ ♫ ♪ ♫♪♫♫
 ♪♫♪♪♫♫
Peppers and peas
And lots of yummy greens
You can't go wrong
With Squash This Long
At David's Garden Seeds
♪ ♫ ♪ ♫

Please like and subscribe on YouTube and come visit us at our Farm Store! The music on our TV ad was written, played, and sung by our son, Matthew Schulze. You can meet him when you come to the farm. He just might give you a tour. Ask him to grab a guitar and sing our jingle that he wrote.

---
We are David's Garden Seeds®. If you need great seeds, we've got over 1200 varieties to choose from.

---
Subscribe To Mrs. David's Garden Seeds® Newsletter For FREE!

Find out what is going on down on the farm by reading our blog and by subscribing to our free newsletter for all of the information going down at David's Garden Seeds® and on the farm. I love to share helpful information with you. Please let your friends know and y'all come on down for a visit when you get the chance. We would love to meet you!