Incredible Raisin Cookies
I began making these incredible raisin cookies at the end of seventh grade. I took a home economics cooking class that year and on the last day of school, our home economics teacher let us go through a ton of loose recipes and take some home. Yes, this was back in the day when girls took Home Economics in Junior High School and in High School. They were required courses and have served me well over the years.

Among all of the loose recipes that day, I found a recipe for cookies with raisins and oatmeal and tried baking them at home. They were good, but I decided to experiment and change and add things so this recipe has evolved for over 40 years. My mother still bakes them to this day and so do I. The plump raisins make them taste extra special.
Raisin Cookie Ingredients
You will need:
1 1/2 cups water
2 1/2 cups raisins, either purple or golden  (The golden ones make the cookies taste even better.)
4 cups flour
1 teaspoon baking soda
1 teaspoon baking powder
2 teaspoons salt
1 1/2 teaspoons cinnamon
1/4 teaspoon nutmeg
1 1/4 teaspoon allspice
1 cup (2 full sized sticks) real butter (Some of the butter is now cut into 1/4 cups instead of half cups so make sure to put in one full cup of butter)

2 cups white sugar
3 large eggs
1 1/2 teaspoons vanilla or almond extract
3/4 cup chopped pecans (optional)
Raisin Cookie Directions
ut the 2 and 1/2 cups of raisins in a pan with the 1 and 1/2 cups of water and bring to a boil. Cook the raisins for five minutes. Remove the pan from the burner to cool.
In a large bowl, sift together the flour, baking soda, baking powder, salt, cinnamon, nutmeg,and allspice.
In a second large bowl, cream the butter, sugar, eggs, and vanilla together. You can do this with a wooden spoon or a mixer.
Next, add the dry ingredients and the pan of raisins and water to the second bowl and mix together. An electric mixer makes this much easier.
If you are using nuts, add them now and mix in with a spoon. Pecans, walnuts, cashews, or almonds are all good in this cookie. My mother loves putting walnuts in them. My husband loves the pecans in them. They are also delicious without any nuts at all.
Grease a cookie sheet or spray with cooking spray. Drop cookie dough by teaspoon onto the cookie sheet 1 to 2 inches apart and bake for 12 to 15 minutes in a preheated 400 degree Fahrenheit oven. Cool and enjoy.

Enjoy these incredible raisin cookies. If you have any left, store them in a plastic container with a lid or in a Ziplock bag for freshness. These keep well in the freezer for a few months.
---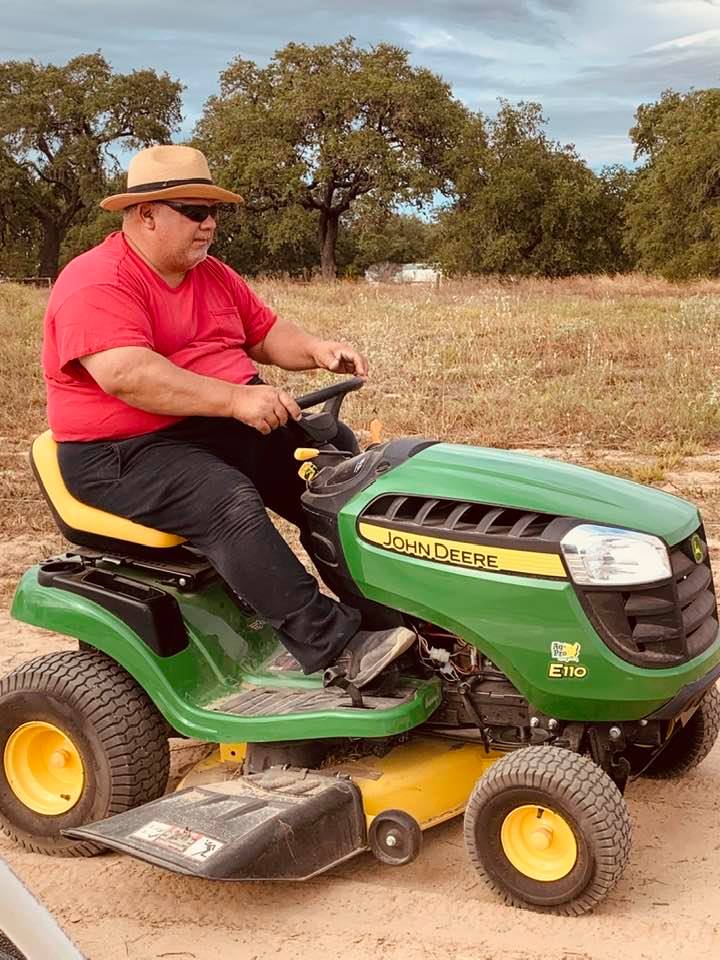 David of David's Garden Seeds® zipping along on his little tractor across the farm. He is having a blast!
---
We are David's Garden Seeds®. If you need great seeds, we've got about 1500 varieties to choose from.

Return from Incredible Raisin Cookies to Favorite Recipes

---