Mrs. David's Garden Seeds®
---
November Gardening Tips

This week, I will be giving you some November gardening tips as we begin to close out the final days of the year.

---
November  8-November 14, 2021
November Gardening Tips
Monday, November 8, 2021 - November Gardening Tips

Today started out chilly at 51° but soon got pretty warm and close to 80°. I set up the store and then went back to the house to finish processing the two pumpkins I baked yesterday. I had to peel the pieces and give the rind to the chickens. Then I put chunks of pumpkin in the blender with some water and pureed them. This took a while. When I was finished, I had two bags, orange pumpkin and white pumpkin for Thanksgiving baking. I froze both.
As soon as I put both bags in the freezer, my phone rang. It was David telling me that our friends from San Antonio, Anthony and Carolyn, were here at David's Garden Seeds®. Anthony is our San Antonio pastor. Some of their children used to work for us and they were wonderful. So I went across the compound to meet them and give them a tour. Anthony had not been here since Thursday, August 1, 2019, two days after we bought the property. We always have a good time when they are around! Anthony is also the pastor of the church we attend in San Antonio. If you are looking for a Bible teaching church with great worship music in the San Antonio area, try Freedom.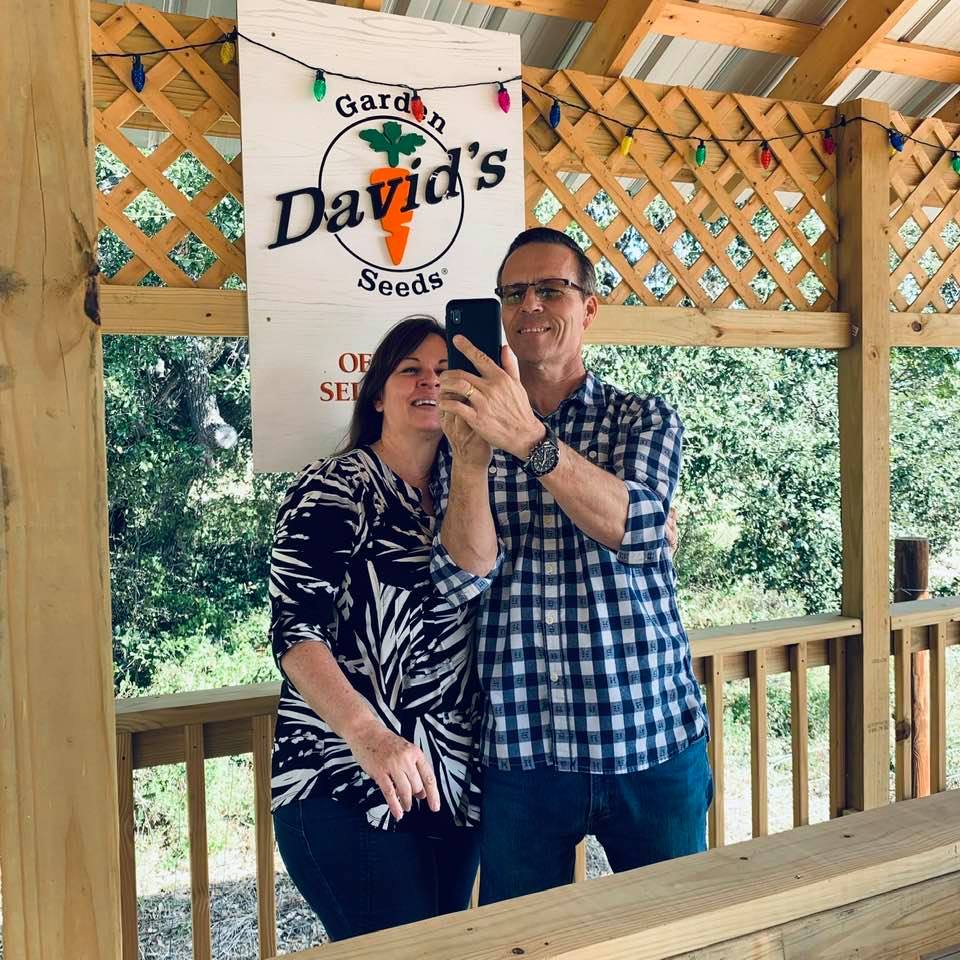 Our good friends, Carolyn & Anthony, in the process of taking a selfie at our official selfie station.
Nacho and his crew are here putting up the fence. He ran out of wood and had to go to Lowe's for some more. We gave him cash because just last week they gave him grief for using our debit card and fired an employee. Well, the cash was worse. They apparently thought him to be a criminal and they ran the cash through two different machines as he waited around, wondering what was going to happen. These people have given him so much grief about buying materials for us that he might not ever work for us again. He was gone for several hours. Finally he returned but they did not have enough wood to complete the project.

So we gave them a tour and had a nice visit. They left us around noon to go find Farm to Familia in Poteet for lunch. I went into the store and a previous customer who does hydroponics came in looking for a lot of lettuce seeds. Of course, we have plenty of those. Matthew brought me a plate of delicious Mexican food, the best I have had out here. It is from a place in Lytle but he could not remember the name of the place. As soon as the customer left, I chowed down. By now it was around 1pm and I was starving.
Shortly thereafter, our mailman showed up with my Cricut Maker. I went to the house and opened it. It looks amazing. My plan was to set it up as soon as work was over and I had gathered the chicken eggs.
Now David had been smoking a brisket that smelled amazing all day long. So each time I went in and out of the house, there was the delicious aroma. I could not wait to have some.
So around 4pm, David said the nursing home said his father would pass away somewhere in the next three days. Of course he told me. Then a bit later, another call was received saying he would pass within a few hours.

---
David's Father Is With Jesus Now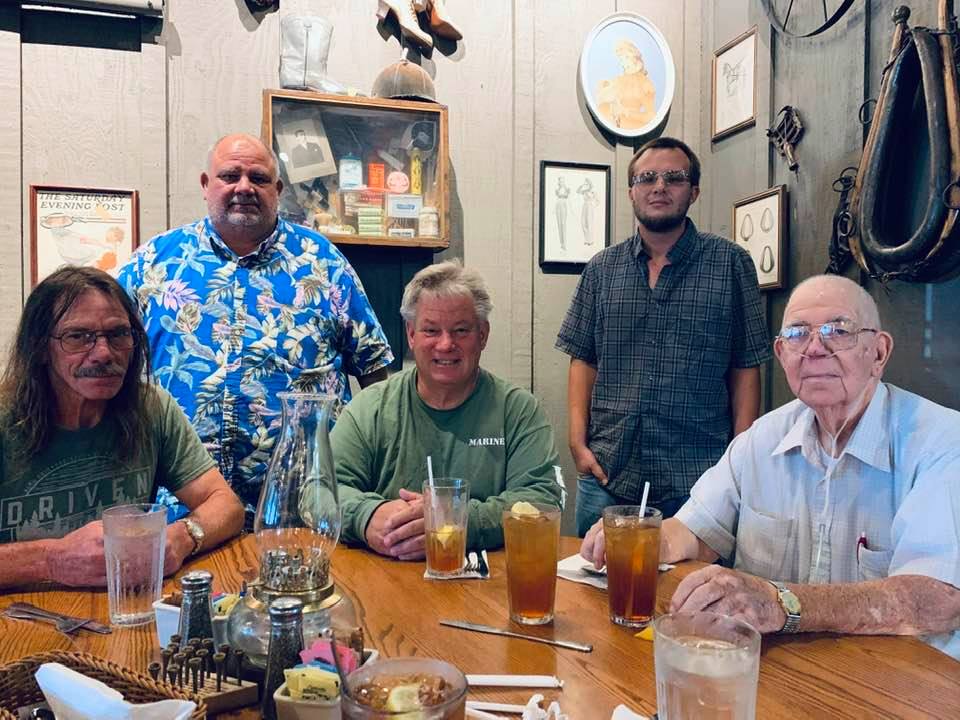 This photo was taken on Dad's 86th birthday in September. Left to right, Gene, David, Johnny, Matt, and Dad at Cracker Barrel in Uvalde.
It was 4:50pm so I packed up my stuff at the store and went to the house. As I got to the front steps, David was on the phone right there with the nurse. She said his father had passed away. He got a call from his sister saying his father passed away right before this.
David said we had to leave to go get his father's things from the nursing home. We called the Leakey funeral home to let them know to pick him up.
We took off without eating. David had been making a brisket all day on the smoker and it smelled so good. He gave it to Linda and we left. We filled up with gas and on some back road as it was getting dark, a deer came out into the road. We swerved and she ran into the right rear side of our truck. There are some minor scratches.

Two hours later, we arrived and it was pitch black outside thanks to the time change. I was so tired. We went through a lot before they would even let us in the nursing home, talking to two people before we could go through the doors. Then we had to sign in, put on fresh masks, and have a mounted on the wall thermometer tell us our temperature. After that, we walked down the hall. Finally, a nurse came and told us Dad was still in the room, uncovered, waiting to be picked up.
I stayed in the hall because I did not want to see him like that. David said he looked at peace. They had his chin tied up just like Jacob Marley in Scrooge so that his mouth wouldn't open. The nurse said they washed and shaved him after he passed away.
David and the nurse packed up what they could find. What they couldn't find were his cell phones, wallet, cash, and glasses. This was upsetting because we just bought him a new phone since his old phone was being cut off in December. The new phone was bought last Thursday. So we left.
Six minutes later as we were making our way out of Uvalde, the phone rang. The nursing home nurse had checked with the charge nurse and found some of the missing items. So we turned around and went back to the nursing home to retrieve the items. Now, my question is, why didn't they check with the charge nurse while we were there?
Interestingly, my father in law had $29 in his old, beat up, wallet. This is what David counted when he went to the nursing home on Friday to admit his father. Well, the $20 bill is gone but it was replaced by a $1 bill. Isn't that nice? His driver's license and all other cards that were in his wallet were gone.

Also missing is a brand new, white, still in the box Belkin charger that we bought for his new phone.

We finally got home close to 10pm and went straight to bed. We were both exhausted. It was a busy day with a lot to process.
November Gardening Tips
There were no November gardening tips today. I am sorry but sometimes things don't go as planned. We got back late so I had no free time to write and November gardening tips were the last thing on my mind after going to the nursing home.

---
Tuesday, November 9, 2021 - November Gardening Tips

Good Tuesday morning. I have been up for about an hour now, processing yesterday and enjoying the quiet. Then David and the girls woke up. Now it is noisy...
I just let the dogs out and the sky is a brilliant firey pink in the east. So gorgeous. Unfortunately, the camera never does it justice.

I am going to try out my Cricut this morning so I hope there are no problems. There already is one. David has been giving Molly Lasix because she has fluid around her heart. He gave it to Molly just now and Annabelle swooped in and ate the pill. That means she will be peeing all day long. Fun times.
On second thought, I went with David into Pleasanton so I did not get to try out my Cricut. I was so excited to use it and now I just don't have time.

This Saturday morning, we are attending a funeral at 10am in Utopia for Clyde, a good friend of David's father who passed away a week ago yesterday. Then at 2pm in Leakey, we will have David's father's funeral.
As I stated above, we had to go into Pleasanton and complete some errands as well as make phone calls, all concerning David's father and final arrangements.

We are getting lots of advice, most of it aimed at David but much of it sent to me from family and friends about what we post, distributing of goods listed in the will, and even when and when not to have the funeral.  What? Why aren't these people helping instead of criticizing everything? As to the will, it has to go through probate and that will take weeks but right now, we need to get the man buried. We wanted it to be at 3pm on Saturday because my father in law's friend's service is at 10am. The funeral home said no, that it needed to be at 2pm. This way, everybody doesn't have to drive all the way to Leakey a second time within a few days so that is what we are doing.
Linda was nice enough to bring in some of the brisket for us and it was good. We enjoyed some for lunch and again for dinner.

A Rant About Facebook And Control Freaks

As to David posting things on Facebook, David is a grown, 61 year old man and he can post whatever he wants to. I am not his mother and I do not tell him what he can and cannot do. If you do not like what he posts (or what I post) and you feel it should be privated on Facebook, just unfriend us and go on about your life. We don't tell you what to post on your page and I expect respect on your end. I sure won't go tell David to take something down because you don't like it. I have made posts before and all hell broke loose from family members and I won't go through that again. Unfriend is a good word. Block is even better.
This can apply to all of our readers and customers. If someone is trying to control your social media posts, just hit block. I have tried to reason with some folks before but it doesn't work.

November Gardening Tips

If you have a fall garden, make sure you are keeping up with weeding because once everything is harvested, you will need to clean the garden up and get it prepared for spring planting.
Once the first frost is over, if you are not overwintering your root veggies, pull them up and harvest them, provided they have been in the ground long enough and are a part of your fall garden and not your winter garden. Roots planted in winter gardens will be overwintered and harvested in late February and early March.
Add "do it yourself" compost to the now empty garden beds for spring planting.
Nacho finished up the portion of the back fence around the orchard and it looks good. He says he still has to build gates and put those up. He told me that he would build those at home and bring them on Saturday while we are at the funeral. We have known Nacho for a while. He is a personal friend and a brother in Christ so we trust him and are glad to have him here keeping an eye on things.

---
Wednesday, November 10, 2021
November Gardening Tips

So here it is, Wednesday morning. I woke up at 4am, unable to breathe. I tried some nose spray and it did not work so I got up and fed the cat at 4:30am since she was whining. I got myself some apple juice and I made a pot of coffee. I have been in my office working and getting things done. When I sit up, I can breathe. Then David got up and started working in the den. It is now 7:30am and I need to get dressed and ready for work.
Before my father in law passed away, I was thinking of Thanksgiving and Christmas. Now all of that is at the back of my mind. I still have not had a chance to turn on my new birthday Cricut. I was hoping to get a chance to make a few tests before Thanksgiving to give to the grandkids. We shall see.
The temperature got down to 65° and it is supposed to get up to 80° today so keep watering the plants you have growing if you live anywhere near us. My beautiful zinnias just keep on blooming. They don't have a clue that we are already in November! Also, there is a brand new bud on one of my rosebushes. I thought they were done for the year but Texas does not stay cold for long.

Holiday Decorating
Sometimes, November gardening tips turn into holiday decorating tips. While our new raised beds were being covered in weed barrier and mulch, our holiday decorations were going up at the same time.

I know this week we are talking about November gardening tips, but the guys have some of the Christmas lights out and the Christmas blow ups are up out in front. David told them this morning to start decorating.
The lights are starting to go up. A new nativity set has been ordered. Christmas is exciting.

November Gardening Tips
One of the most important November gardening tips is to trim up plants, bushes, and trees, cutting off any dead portions. Pull up dead vegetable plants and flowers and put them on the compost pile. In your fall garden, if it is still producing, be sure and pick your fruits everyday so it will continue to produce a lot until the frost comes. When the frost comes, pull the plants up and put them on the compost pile. Add fresh compost and mix it into the soil. You may want to cover the bed with weed barrier, which is what we have done for all of our beds to keep weeds to a minimum for spring planting.

---
Thursday, November 11, 2021 - November Gardening Tips

Happy Veteran's Day! Thank you to each one of our customers who have served in the United States Military. We salute you and we are proud of you.
We took David to lunch at Salt Grass for Veteran's Day and we met his sister there to give her David's father's personal effects from the nursing home. Per the will, she gets the personal effects. We had a nice time.
Christmas lights are still being put up around the David's Garden Seeds® compound and right now, Matt and Aaron are digging our pool out of the sand to take it down. We will have a deck built for the pool to help keep it level for next season. Hopefully, that will happen soon so we can put in a hot tub for Christmas. Yes, we want a hot tub to soak our tired muscles in after a long day of work. This would have come in handy a few weeks ago when my arms were in constant agony.
It has been a slow day in the store with virtually no customers. In fact, we have had one customer come in all week long. Two weeks ago, we had three to four sets of customers each day.
David has his truck getting serviced today. Tomorrow, I have to renew my driver's license. I wanted to go weeks ago but I had to make an appointment and tomorrow is the earliest and only pre-birthday appointment I could get. The paper they sent me did not say anything about needing an appointment, just that I had to go in to a DPS office to renew by my birthday. It said I could not do it online. I checked for surrounding offices and the one that is 25 miles away had the only appointment before my license expires. This is ridiculous. I hope everything goes well and I get there okay tomorrow...
We had a delivery driver dump two piles of mulch in our parking lot this morning.
This afternoon, we have to drive over to Devine to pick up some honey from a lady who got it special for David. Due to all of last week and this week's extenuating circumstances, he was not able to go and pick it up. And of course, I still have not gotten to try out my Cricut. I don't know when I will get to do that.
Don't forget that Thanksgiving is two weeks from today so I have to go shopping for that and start planning and cooking. We will have seven this year. I would rather go out but there is nowhere to go out here in the country.
This afternoon, we went by Mato Tomato in Devine and picked up some honey that she was holding for David and also got some vegetables.
Then we picked up the truck which was detailed and repaired so I got to drive my car home while David got the truck.

November Gardening Tips
Today, November gardening tips include planting trees and shrubs that are not tropical, at least in Texas. Even though we are in Texas, it can still get cold, sometimes below freezing.
Remember our Snowpocalypse in Texas this past February? It was so unexpected. What made it worse was the constant turning off of our power with 15 minutes on and two hours off so everything froze and nothing had a chance. Pipes broke, people were cold and uncomfortable, and it was horrible. Back East, they don't do that. Back there, you get to keep your utilities and heat on so your pipes don't freeze and burst.

---
Friday, November 12, 2021 - November Gardening Tips

Good morning! Today, I have to be at the DMV to renew my driver's license at 10:45am. It is by appointment only and three weeks ago when I made the appointment, this was the only appointment I could get before my license expires next Wednesday. The paper they sent me in the mail said I could not renew online.
Nacho came out and put up some gates this morning. Mike came out to close up some gaps he left on my new greenhouse. By the way, there are no vents so it is hot in there. David said he will put in some vents.
The guys took my pool down. The sand ruined parts of it, breaking the vinyl tabs that hold the metal legs as they were down in the sand so we had to order a new one yesterday. It is a good thing we did order it yesterday because they are completely sold out today. We still need to order a hot tub. Mike will come out and make a wooden base for the pool and hot tub.
My appointment with the DMV was at 10:45am. I arrived at 10:20am, checked in, filled out a form to renew and waited for them to call my number. There is a big banner outside on the building that says this office is seeing people by appointment only. It then gives the web address where you can make an appointment. A lot of people kept coming in and saying they did not have appointments so the people behind the counter would make appointments for them, keeping those of us with appointments waiting.
Forty-five minutes after my appointment time, they called me. I had everything I needed and got renewed. The biggest thing they need is a birth certificate. These people have had my birth certificate on file since I was 17 years old and got my learner's permit. Each time I renew, I have to prove to them once again that I was born. It is truly ridiculous. But I did it and paid my $33 and got out of there.
I needed to eat lunch but David said we needed to get the shopping done first. There were a lot of people at the Walmart in Pleasanton. We saw Dawson who worked for us and was supposed to be on a Mormon mission. It got postponed so we asked if he wanted to come back to work. The answer was no. LOL!
We bought Thanksgiving food and some regular groceries because it has been many weeks since we have been shopping. We got out of there and went across the street to Taco Bell and waited in a long line.
We got home and I got to put it all away. Matthew was kind enough to help me get it all in the house. Then I started washing laundry because the clothes David wants to wear for the funerals tomorrow are dirty. It is now 4pm and I have to get busy and get things ready for tomorrow as we will be leaving early. We are two hours away and the first funeral is at 10am. Then our funeral is at 2pm. My hope is that it goes by quickly and we can get out of there with no drama and get home and rest. We have been exhausted all week long and for the past three weeks when all of the driving back and forth to Leakey started. David needs to rest up. He has two cardiology appointments next week.
We will have people working here tomorrow and the store will not be open.

November Gardening Tips
Today's November gardening tips are to rake up leaves, dead plant material, and anything else you can find in your garden beds. Put it on the compost pile if it is compostable. If not, put it in the dumpster. Deadhead rose bushes so the plants will grow better in the spring. I still have to deadhead my rose bushes again because once I finished, all of my rose bushes bloomed again.
Another of our November gardening tips that will affect those in the warm south is to dead head all of your flowers that are still blooming like zinnias. Ours will bloom until the frost finally takes them out. We still have not had our first frost.

---
Saturday, November 13, 2021 - November Gardening Tips

I hope you all had a happy Saturday. We got up at 5:30am. In order to make it to Utopia for Clyde's funeral, we needed to leave here by 8am. So I got up early and made sure all of the animals were fed and watered and we looked decent. We arrived in Utopia about 20 minutes early and finally found the church.
Not much in the way of November gardening tips today except this: Always keep your lawn mowed. We got to the cemetery a bit early and they were mowing for the service. They really should have done it earlier so all of the dust wouldn't have been blowing around. It was quite windy the entire time we were there. I got very chilly sitting there.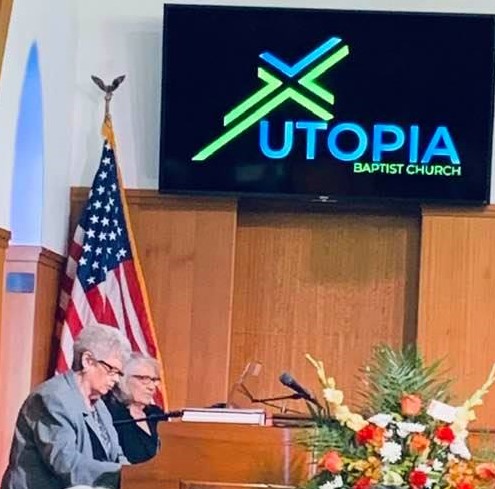 Clyde's widow, Ruth Anne, in grey is playing at the memorial service. David and I gave the flowers shown in the photo. It was a lovely service.
It was a very nice service for Clyde. We skipped the lunch and drove over to Leakey. We had lunch at the Subway there in the convenience store. We picked up Dad's mail at the post office and there was a ton of it, some of it bills.
There was some phone text drama about getting into the house since everyone thought David had a key. His brother had a key and a cousin had the other key. So the keys got straightened out finally.
We were first to arrive at the cemetery. Soon others showed up. A woman who spent the final night with Dad at his house showed up and gave David his father's wallet. This is the same woman who put the key to his house in her car on the day Dad was going to the nursing home. She finally gave the key to David that day but she did not give him his father's wallet so we thought it had been stolen.
I took the wallet and told her that I thought it was strange that she took it and did not give it to David when he got there. She said David wasn't there. I said David was there, packed him up and went with him to the nursing home. She did not even bother to apologize or let David know that she had it. Who does that? I have never even met this woman until today. David met her a little over a week ago. Wow...just wow.

We had a nice service for David's father. All five kids showed up and even a cousin. There were a lot of people there but the flowers did not show up until the service was over. The florist thought it was at 4pm but it was at 2pm. The flowers were very pretty. The big spray is from David and me.

Then we all went back to the house for a little while, for the last time. It will soon be under new management...
We had a peaceful drive home but arrived in the dark. I ran to feed the fish and then to the back of the farm to feed the guineas, rabbits, and chickens, and to collect the eggs using my phone as a flashlight. I got inside and found a bunch of mail and packages piled up on the kitchen table.

One of our team members volunteered to come throughout the day while we were gone to let the dogs out. She also brought the mail in. Thank you, Shay.
November Gardening Tips

Here are our November gardening tips for the day:
As long as it is warm, like here in Texas, keep on watering your plants, trees, and grass because if you don't, they will die. November is usually when the snows come and cover everything up in most places. Here in Texas and a few other southern places, this does not happen often. As long as the sun shines bright, keep the watering going.
And as I mentioned above, cut your lawn often as it will continue to grow in the warm weather. Nobody wants to breathe all of that in and make allergies worse than they already are here in Texas. If you are having any kind of outdoor get together, cut the lawn early in the day before people get there. Be kind to them. Most of us in Texas suffer from pollen, grass, and mold  allergies.
Best November gardening tips include wearing a mask if you have allergies and you are going to be outside cutting grass, weeding, or taking care of dead flowers.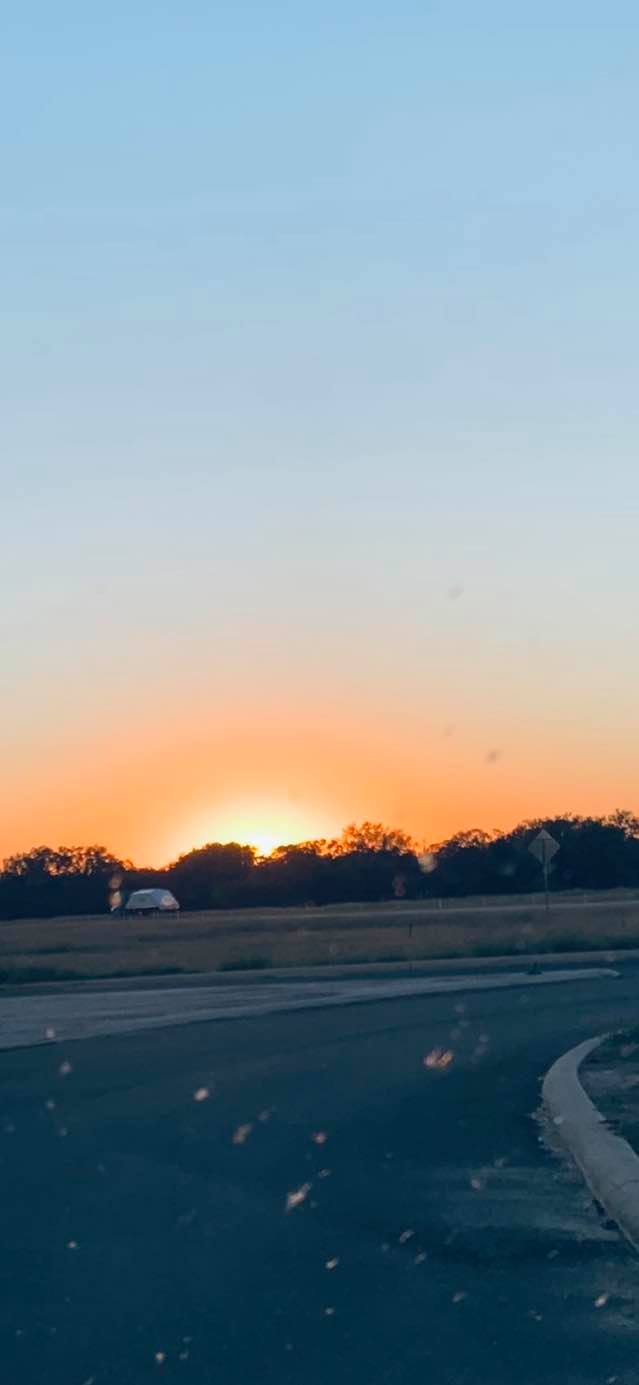 We saw an incredible sunset this evening on our way home. November gardening tips include watering and weeding while we have strong sunlight. Things just keep on growing in Texas.
---
Sunday, November 14, 2021 - November Gardening Tips

It always amazes me how many birds there are in Devine at the intersection by I 35. This is just a small portion. I wonder if they have any November gardening tips for us.
This morning, it is chilly, around 46° right now. I have coffee going and I need to go outside and feed the outdoor animals. I just fed the indoor animals. We are going to stay home today and just rest. Honestly, the last four weeks have been exhausting and it is almost like we have not had a moment's peace. Last night, David's phone kept going off from family members and business associates. I finally fell asleep on the couch to block it all out as we tried to watch Svengoolie. Then I woke up to see the end and fell back to sleep again and went to bed. I turn my phone off at night so I won't be bothered but David leaves his on.
It is 54° and I fed the outdoor animals. They were all so happy to see me. It is a beautiful, sunny day and it should reach the low 80s today. I am going to start walking again. It has been such a long time but I am feeling good right now.
I added four new recipes to the website for you to enjoy.

And now for our final November gardening tips for this week.

November Gardening Tips

Today's November gardening tips include mulching any plants that you will be keeping through the winter. Use fresh mulch or straw. This keeps moisture in and helps protect the roots of the plants from freezing. Of course, during another storm like Snowpocalypse in February of 2021, mulch will not help much. That was a solid week of frigid temperatures, something we have not had around here in over 100 years.
If you are in a very warm climate like we are, it is time to plant your strawberries. This is the second of our November gardening tips today. Let me explain. We live in the strawberry capital of Texas. One of the local strawberry farmers dropped off two boxes of strawberries for us to plant in our garden. He used all he could. He had some left over last year as well so tomorrow, we will be planting new strawberries. We are excited.

We hope our November gardening tips help you, especially if you are in a warmer climate like Texas, Florida, California, or Arizona. November gardening tips won't do much good in most of the rest of the country because it is much too cold and you may even have snow already. Most of the country will not benefit from our November gardening tips, especially if there is already snow on the ground.

Here is what we are doing next week.

---
Return from November Gardening Tips to Business Growth

David's Garden Seeds® Is A Trusted Brand
Since 2009, over 1,500,000 home gardeners, all across the USA, have relied on David's Garden Seeds® to grow beautiful gardens. Trust is at the heart of it. Our customers know David's Garden Seeds® stocks only the highest quality seeds available. Our mission is to become your lifetime supplier of quality seeds. It isn't just to serve you once; we want to earn your trust as your primary supplier.
---
Watch Our TV Commercial!
Sing Along To Our Jingle

 ♪♫♪♪ ♫ ♪ ♫♪♫♫
 ♪♫♪♪♫♫
Peppers and peas
And lots of yummy greens
You can't go wrong
With Squash This Long
At David's Garden Seeds
♪ ♫ ♪ ♫

Please like and subscribe on YouTube and come visit us at our Farm Store! The music on our TV ad was written, played, and sung by our son, Matthew Schulze. You can meet him when you come to the farm. He just might give you a tour. Ask him to grab a guitar and sing our jingle that he wrote.

---
We are David's Garden Seeds®. If you need great seeds, we've got over 1200 varieties to choose from.

---
Subscribe To Mrs. David's Garden Seeds® Newsletter For FREE!

Find out what is going on down on the farm by reading our blog and by subscribing to our free newsletter for all of the information going down at David's Garden Seeds® and on the farm. I love to share helpful information with you. Please let your friends know and y'all come on down for a visit when you get the chance. We would love to meet you!