Mrs. David's Garden Seeds®
---
Winter Garden

While your winter garden grows, start planning your spring garden. Always stay one step ahead of the crowd. Plan, plan, plan. Spring seeds will go quickly. So order as soon as you can so there is a good selection of your favorite garden seeds.

We took the Halloween decorations down and put up a few Thanksgiving and Fall decorations along 2504. They are short so you can't see them well.
---
Winter Garden - 11/01-11/07/2021

---
Monday, November 1, 2021 - Winter Garden

Happy first day of November and welcome to my birthday month, baby! Yes, I have a birthday coming up in 16 days.
David and I left the farm early to go to San Antonio for blood work and an echocardiogram for David. The building is filled with construction and people are yelling at everyone who comes into the lobby. We had to go through that twice today because we chose to use the restrooms. Instead of being allowed to go to Quest Lab and then to the third floor for the echocardiogram, we were shouted at across a room and harrassed by two female employees two different times.
Once all of that had taken place twice, we went on about our business and then finally got out of there and came home.
Honestly, the two employees should have a table by the door instead of shouting across a large lobby. It was very annoying to be shouted at. The lobby walls were lined with chairs and guests so I know they were all annoyed of being shouted at and of having to hear everyone else being shouted at. What was management thinking?

Three trucks full of electricians are digging trenches in my backyard and adding outlets to my greenhouse. Nacho is here doing work out back to a giant raised bed. David sold our brand new zero turn mower and the guy came and picked it up today while we were gone. Then the mailman just brought a huge tray of envelopes filled with seed returns from Amazon. He scanned every single one in my store, on my counter, in front of me. There were at least 50 and I got to hear every beep. At the same time, we are taking down Halloween decorations, putting up Thanksgiving decorations, and filling the pond. On top of it all, my shoulders are just killing me. Fun, fun times.
We just heard that a family friend up in Leakey has passed away. Clyde had been ill and on hospice. My father in law is also on hospice now. It is always a difficult time when loved ones pass away, but especially so when it is near the end of the year with holidays coming up. But we know he is with Our Lord and Savior, Jesus Christ.

Winter Garden
What do you plan on putting in your winter garden? Will you be planting a winter garden? Our fall garden is producing good things each day and we are getting nice harvests. The winter garden goes a bit further and includes root crops that you can overwinter as well as certain cool weather greens.

Our pond is full again. I just read online that frogs love lights. We have lights in our pond so I had the lights put on a timer. The article said that if frogs find a light source, they just sit there and wait for the bugs to come to them. If it is dark, they have to go frog hunting so maybe that will help a bit. I will see.

---
Tuesday, November 2, 2021 - Winter Garden

Today was a day full of driving. I had to cancel my foot surgery because we had to drive all the way over to Uvalde Hospice to pick up two medications that my father in law is out of. David's brother would not go get them and the nurse won't be out until Thursday. This is unfair. I had the surgery planned for over two weeks.
So we left around 8:30am and got to the Hospice place. Of course, we had to put on masks and get temperatures taken which is ridiculous. The nurse asked me if I feel hot or if I have been coughing. I wanted to say, "No. If I am sick, I will stay home. I am not an idiot."
We got the two medications that my father in law is out of and that the nurse did not bother to bring out with her this past Thursday. How is this our job? The Hospice is getting paid by the government to provide services that they are not providing. Of course, everything is due to covid.

Then we met in a room with the social worker who happens to be the brother of one of David's best friends. Who knew? So he and David talked about treatment options for David's father. They are supposed to be sending an aide three times a week to be with my father in law as well as a weekly nursing visit. The weekly nursing visit and a social worker once in a while is all he is getting. It is up to us to find him help. The VA may be able to help some but we have to apply first.

We left for Leakey. We got there after 1pm and still had not had lunch. To our surprise, Dad was not in his chair. He was in the computer room with his emails. He was doing quite well. He fought with some passwords and talked with David about where things were located. When we left, he was still at his computer, seeming to be just fine, such a change from Saturday. He is rallying and does not seem like a man who is dying right now.

We cannot find anyone in the whole town of Leakey who will stay nights with him for pay. The Hospice does not have enough employees to make visits. My brother in law, who is staying with Dad but has to sleep at night, said he would do it for pay. So we left Leakey thinking this whole thing was settled.
Right after we got home, two hours later, my brother in law texted David that he would not be able to watch him for pay at night and that we (down here in Poteet two hours away) would have to find someone else. We asked several pastors if they know of someone who could do it and they have said no one will do it.
We got home and found that a lot of posts all the way to the top of the orchard have been cemented in for a side privacy fence from the top of the driveway. However, Nacho has already been here two days this week.
My shelves for the greenhouse were delivered just before 5pm by FedEx, right after almost everyone left. Jay and Matt had to handle the delivery.
My arms are feeling a lot better. Just my shoulders are hurting now.

Winter Garden
More winter garden seeds are going in the ground each day around here. The giant raised bed in the orchard is almost ready to be planted with winter garden seeds. It is 360 feet long.
Meanwhile, my birdhouse gourds and luffa gourds are drying on the vine. Some are still flowering and growing. Bees are constantly back there, pollinating. They are also all over my zinnias outside the farm store. You would never know by looking that it is November and time to put your winter garden in.

---
Wednesday, November 3, 2021 - Winter Garden

Good morning! The coffee is brewing and I am ready for a slow day where I get to stay home today. I just checked and there is nothing on my calendar. We don't expect any contractors today.
Matthew's car is finally supposed to be ready at the mechanic shop today unless the new engine does not work properly. It has been in the shop for over three weeks. Due to covid, it has taken a long time to get the engine.
---
Rant About Giving And Getting
You know what I hate? Someone who spoils a nice post by trying to teach me a lesson. I recently put up a post about being appreciative on Facebook. It says "This holiday season, appreciate the fact that if someone gives you a $30 gift and they make $10 an hour that they put three hours of their life into giving you a gift. The gift does not have to be over $100 to be a good gift"
So someone I used to go to church with, who moved away about 36 years ago, responded on Facebook saying I should be giving without expecting anything in return. I did not make the post to get anything in return. I very seldom get any gifts unless I buy them myself. I have everything I could ever want and then some so why would she turn my post into a selfish thing? She doesn't know me now. She moved away long before I ever got married. I was a teenager.
So what does she mean? She doesn't know this but we give and give and give and we don't expect anything in return. Most of the time, we don't get anything. For example, it is almost my birthday. Last year, I did not get anything from our employees and I am not expecting anything this year. Even though we give everyone $100 out of our personal pocket on their birthday, and we buy them and the entire team a delicious steak lunch and a cake, we don't expect them to do the same for us. Even the card they all sign and give to us on our birthdays was bought with our money, LOL!

I just found the post response from this "friend" to be so ugly to me. It makes me look so greedy. I finally took it down this morning so I thought I would rant about it here.
Okay, the rant is over...

---
So it looks like the shelves David was able to get for the greenhouse will be put together today. Then we can clean up my front deck, which is where I have been storing all of my plants.
I have been thinking about getting one of the Cricut machines for my birthday. I do love to craft. I am watching videos about the Cricut. If I can make our company logo and put it on things, I think it will be good for business.
The shelves for the new greenhouse have been put together and the guys even moved my plants from our front porch into the greenhouse today. It is overcast and raining on and off.
Matthew's car is finished and working well with a new engine.
The guys harvested corn from our fall garden today and they shucked it and blanched it. I got a few ears to eat for dinner tonight. It was nice not having to do all of the work!
I found out that Clyde's memorial service will be on November 13 in Utopia. Not sure why, but it reminds me of a really good movie that was shot there, Seven Days In Utopia. If you haven't seen it, watch it!
This afternoon, some chilly air came in and some rain. Later on this evening, it rained pretty good.

---
Thursday, November 4, 2021 - Winter Garden

Good rainy morning! It was 51° when I got up. It is now 9:43am and still raining. I am in our farm store because my assistant is always off on Thursdays. My ring doorbell is going off. I think it is the maid but internet service sucks out here so I cannot see. I just sent one of our folks off in the rain to see who is there. I have already put the girls in my craft room.
So it is pouring heavier. I just finished paying three bills for my father in law. His oldest son who does not work and has been staying with him does not want to stay with him. Dad signed the vehicle over to him, the one that he wanted David to have. He changed his mind when the oldest son said he would stay with him if he could have the vehicle. This morning, Dad called David asking if he can get the vehicle back. We told him two weeks ago that was not a good idea but he did not listen. We have asked all around Leakey and have put up ads asking for a caregiver for the nighttime hours. No one will do it. We will pay cash but not one person will help us out. It looks like the next step is a VA nursing home because there is no one else to sit with him at night.
The John Deere is broken again so Matthew is on his way to Pleasanton to buy more parts. What on earth are they out there doing to it?
I have fresh eggs in the store fridge if anyone wants them. $3.25 a dozen for some beautiful, farm fresh eggs right now. First come, first served.
It is 11am and still chilly and raining. I am in the farm store, wearing a hoodie and feeling cold. I am watching Sunday night's episode of Alaskan Bush People, wondering why on earth the family is wearing stupid face masks while driving in their own vehicle. They are a joke, in my opinion, and have been for the entire time they have been on TV.
The VA just notified David that they will come and take Dad to the nursing home tomorrow. This is the best thing for him because he will get good care, instead of constant falling because no one will help him.

---
Friday, November 5, 2021 - Winter Garden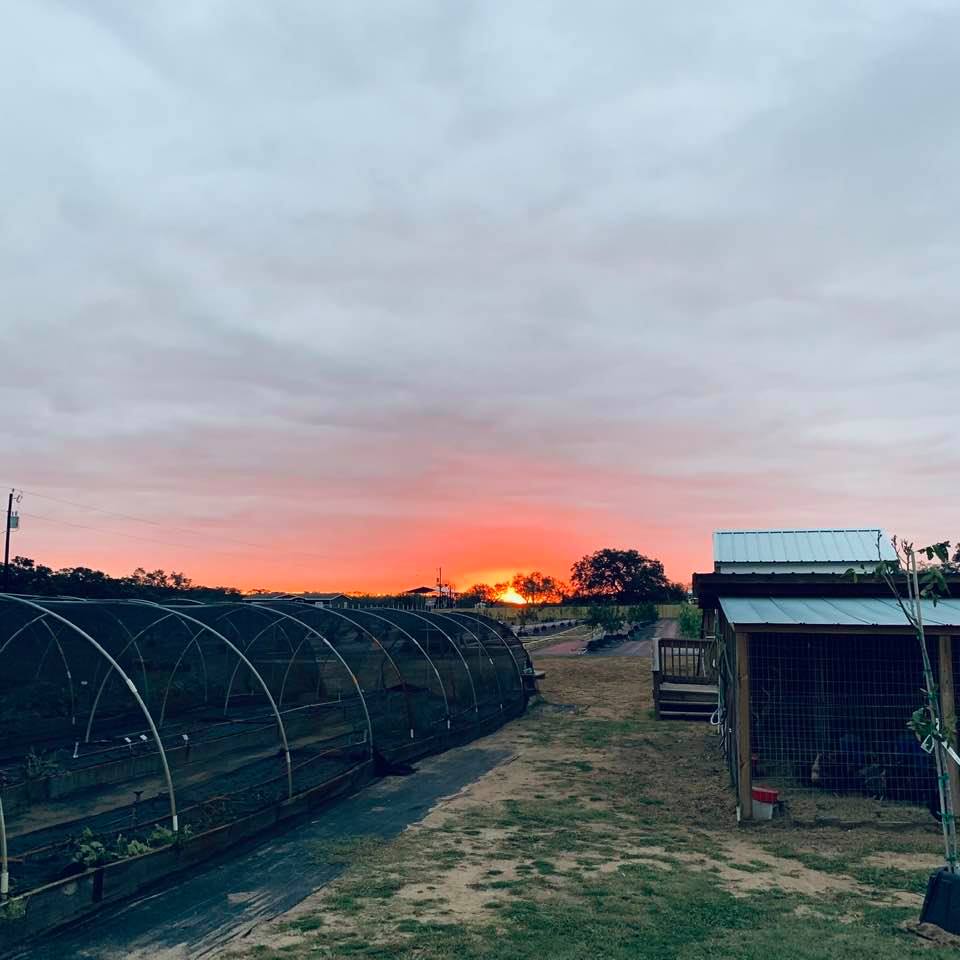 What a beautiful sunrise this morning! I took this shot from the porch of our feed deck. I live in a beautiful place!
Good morning, fellow gardeners! This morning, David and Matthew went to Leakey to pack up David's father for the nursing home. They are coming for him today. This will be the best course for him since he won't be alone at night to fall and not be cared for. He is already on Hospice Care and because he is a veteran, he qualified for the VA Hospice Nursing Home program. Unfortunately, the hospice did not have the nurses and aids to send out to the house so he was being seen for about two hours, once a week by a nurse and that was it.
It is chilly this morning, at 51°. I fed the fish and chickens, rabbits, and guineas, not to mention the indoor animals. I unlocked the place while it was still dark but after tomorrow night, that won't be an issue for a while since we turn back the clocks.
A few of our guys are spreading soil that was brought in, working in the giant 360 foot raised bed that runs the length of our orchard.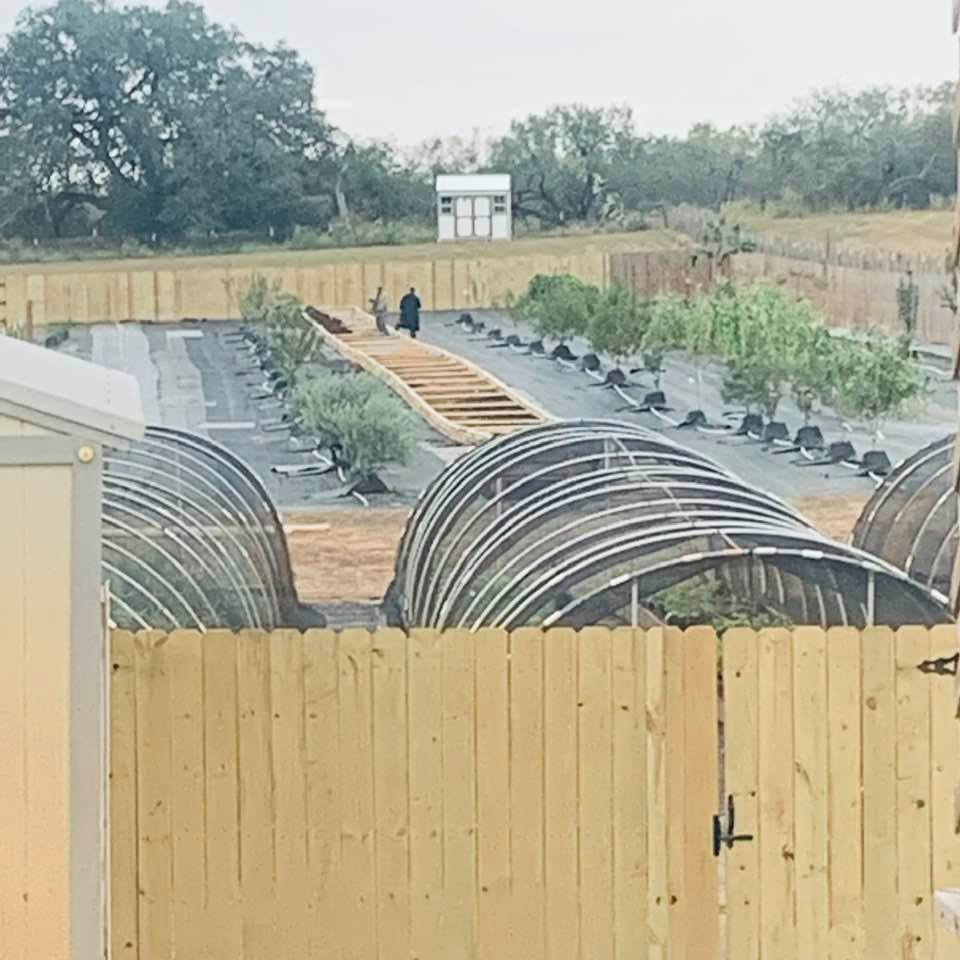 Aaron and Joshua were out there smoothing out soil in each of the sections of the giant raised garden bed. That will be good for a winter garden.
The sky is overcast but we are not supposed to have any rain today. I finally decided to get a Cricut Maker for my birthday. I have been watching videos of what I can do with it. It sounds like a good moneymaker. I used to have my own Etsy shop but I did not do very well with it because I did not have much time to devote to it since I was busy working David's Garden Seeds® full time. I think I can make David's Garden Seeds® items to sell in the store and on the website. That will be helpful. I ordered my Cricut this morning. I am excited about it!
I am adding products to the new website. It has been a strange week. Not one customer after we had so many last week...
We finally had our first customer of the week this afternoon, a local who bought three packs of seeds. He was a very nice man with whom we enjoyed talking.
David came back home after a very early morning. He is exhausted. Life is not easy at times, especially when you have to make hard choices about what is best for a parent who is dying. David did his best to see that his father gets the good care he deserves.
Now let's talk about your winter garden. Depending on where you live, your winter garden can be a vibrant one. You will want to include lots of root vegetables and overwinter them to add hints of sweetness. They will do great unless you are too far north, in which case everything will die in the freezing weather. Here in Texas, your winter garden will survive unless we have another horrible Snowpocalypse like in February of 2021, a once in 100 hundred years event.
Aside from root vegetables (carrots, onions, shallots, bunching or green onions, turnips, radishes, parsnips, beets, kohlrabi, fennel, and leeks), you will want to include Swiss chard, broccoli, cauliflower, kale, cabbage, lettuce, collards, various greens, mustard greens, and spinach in your winter garden.

---
Saturday, November 6, 2021 - Winter Garden

Good Saturday morning! David and Matthew left early around 5am to go to Uvalde to take phone cord chargers to Dad at the nursing home and then to go out to the house in Leakey to clean up. There is laundry there to be done and the refrigerator is filled with old foods to be cleaned out.
I have been planning out web pages through the end of the year for this website. The year will just fly on by now that we are in November. My birthday is in two weeks and the week after that is Thanksgiving. Somewhere in this month, we need to decorate for Christmas and do some Christmas shopping, not to mention everything else that we already do every single day. The holidays can be overwhelming.
When I fed the chickens late this afternoon and gathered eggs, I noticed my bench out by the coop covered in some garbage. Who thinks this is a good idea? I paid Nacho to build the benches so I could sit on them, not as holders for junk. I pay our employees to work and keep the place neat out back so I can enjoy it.

Tonight, we set the clocks back an hour and gain an hour to sleep. Yay. Honestly, I am so sick of the time changes. I have completed a lot of household tasks this morning. I have some laundry going but the great thing is that I just finished folding and putting away six loads of laundry from earlier this week. These loads were all over the bedroom in clean trash bags.
I still have to bake my pumpkins that were decorating the farm store stairs. I will turn them into pumpkin puree for Thanksgiving.
We watched Munster Go Home on Svengoolie in color and it was weird to see The Munsters in green color. When I was a kid during the original run, The Munsters came on in black and white, not color. That show only lasted two seasons and honestly, as a kid, I found it extremely ghoulish. That show and the Adams Family. Both were shown in black and white and both were morbidly weird. I also found Halloween morbid and only went along with that for the free candy.
---
Sunday, November 7, 2021

Good Sunday morning. Last night, we set the clocks back an hour. I had a hard time falling asleep and I got up four times in the night. I finally got up at 5:30am and officially started my day. David was up earlier because he was gone when I got up and there was freshly brewed coffee. Yes, I have a good man!
So I fed the cat and the dogs and let the dogs out to go potty. It was 44° and chilly. While I was out feeding the fish, the pink sun came up in all its glory.

I did my reading homework for the day. If you don't remember, I am enrolled in Jon Acuff's class, Full Potential. It ends on December 31.
Today, some of my Cricut accessories come a day early. I ordered the Cricut and accessories for my birthday so they would all show up tomorrow. Unfortunately, Amazon cannot do what they say they will do so there is the possibility that while I am out at church today, my stuff will come. I would prefer that people are here when I get expensive deliveries.

Winter Garden Crops
Some of the vegetables that could be in your winter garden are pictured here. Aren't they beautiful?
So our winter garden crops are in and will be overwintered. David says the carrots, beets, and turnips will come up sometime in February. The other winter garden items are broccoli, cauliflower, Swiss chard, cabbage, and kale. They will be harvested when they are ready. Yes, they are more fall but some might not be done until it is actually winter.

---
We went to church and a couple was having a big fight on the sidewalk directly in front so that was interesting and a bit scary. Apparently someone called the police because it got quiet and then we saw a few cop cars circle around.
After that, we went to Dollar Tree to see if there were any materials to use for Cricut since I am getting one tomorrow. There were none but I did pick up some blank cups and things like that to experiment with. Then we came home, had a quick lunch and now I am processing pumpkins, an orange one and a white one. I will make pumpkin puree for Thanksgiving goodies.

The weather got up to 76° so it is quite warm right now.

---
Return from Winter Garden to Business Growth

David's Garden Seeds® Is A Trusted Brand
Since 2009, over 1,500,000 home gardeners, all across the USA, have relied on David's Garden Seeds® to grow beautiful gardens. Trust is at the heart of it. Our customers know David's Garden Seeds® stocks only the highest quality seeds available. Our mission is to become your lifetime supplier of quality seeds. It isn't just to serve you once; we want to earn your trust as your primary supplier.
---
Watch Our TV Commercial!
Sing Along To Our Jingle

 ♪♫♪♪ ♫ ♪ ♫♪♫♫
 ♪♫♪♪♫♫
Peppers and peas
And lots of yummy greens
You can't go wrong
With Squash This Long
At David's Garden Seeds
♪ ♫ ♪ ♫

Please like and subscribe on YouTube and come visit us at our Farm Store! The music on our TV ad was written, played, and sung by our son, Matthew Schulze. You can meet him when you come to the farm. He just might give you a tour. Ask him to grab a guitar and sing our jingle that he wrote.

---
We are David's Garden Seeds®. If you need great seeds, we've got over 1200 varieties to choose from.

---
Subscribe To Mrs. David's Garden Seeds® Newsletter For FREE!

Find out what is going on down on the farm by reading our blog and by subscribing to our free newsletter for all of the information going down at David's Garden Seeds® and on the farm. I love to share helpful information with you. Please let your friends know and y'all come on down for a visit when you get the chance. We would love to meet you!