Our new website, www.davidsgardenseeds.com is live! Please visit the new website for a better seed shopping experience!

Payroll And Taxes

Don't try to do payroll and taxes all by yourself. David did all of this at first and every two weeks, it was not fun. After a few years, we hired our first accountant to help us and to take care of figuring out payroll hours and payroll taxes, as well as sales tax, income tax, unemployment tax, and so much more.
If you do not have an accountant but you have your own business, definitely hire an accountant. Save yourself countless headaches.

---
Payroll And Taxes - June 14-June 20, 2021
Monday, June 14, 2021
Good Monday morning! Happy Flag Day! Yes, today we celebrate the beautiful red, white, and blue, the flag of the United States of America! I know it is no longer cool or politically correct to be proud to be an American but I am proud to be an American and I proudly salute our great flag and all that it symbolizes!
So the electric gate did not open this morning. Matt had to stand out front and let everyone in. I am not sure what the gate installer did on Saturday night to it, but it was nothing good. One of our outdoor crew was tasked to fix it and he did. It closed this evening so I think we are good.
I went into San Antonio with David for his dental appointment this afternoon. We had to swing by a pool shop to get a new hose for our above ground pool. The thing had cracked so the pool was filled with dead bodies. Nasty. We got the hose on and now we need to clean it up for company coming this weekend.

Payroll And Taxes Talk
Payroll and taxes doesn't just mean writing paychecks and taking taxes out. It means we have to write a separate check for all payroll taxes and deductions, not only for what the employees pay out of their checks, but also the amount of taxes we have to pay for each person. Most people don't realize that employers have to pay taxes on top of the employee taxes for the people plus we have to pay unemployment taxes, property taxes on both the outside of the business and everything on the inside of our business. Honestly, it is totally ridiculous how much we have to pay out every two weeks and whenever else they bill us.
I know our employees think we are rich, but what they don't realize is how much we pay out for their benefit. Sometimes, there is not enough money left for us to get a check but it is our business. We have to pay payroll and taxes and if there is not anymore money, then David and I don't get paid. This happens several times a year and yet we have grumbling employees who are mad they don't get a raise when they ask for it. They will never understand until they open their own business. This is probably why most people would rather work for someone else.

---
Tuesday, June 15, 2021
Good Tuesday morning. It is another hot, humid day. The electric gate opened this morning so it is working very nicely.
We are transitioning over to a new website. Right now, when you go to www.davidsgardenseeds.com, you arrive at our current website which is really https://www.davids-garden-seeds-and-products.com. I have www.davidsgardenseeds.com parked until we have the new website. Right now it points to https://www.davids-garden-seeds-and-products.com so that is how you end up there. Soon, it will not point to our original site but will be its own site with articles and a much more user friendly e-commerce site. It will not use the difficult PayPal with its disappearing shopping cart.
The new site will be a Shopify site with Shopify as the payment processor. This will make it easy to shop, look in your cart, go do something else, and then come back to your cart. With PayPal, I know you can't do that. We will make the entire online shopping process smooth for you. This should happen in just a few weeks. We have an awesome local company who is rebuilding our website.
This morning, I contacted our current website host, SBI to ask them to release the parked name URL that I have owned for years now so we can get the new site up and running. This company is in Canada and they take their time in responding to emails. Emails are the only way to contact them unless you want to prepay them for a phone call. We actually emailed them on May 25 and they said that I would have to provide some other information before they would entertain the thought of releasing my parked website name. I am hoping that the information I provided them today will meet their requirements. So far, no response and it has been over an hour.
I finally got a response saying the card number is not correct so they cannot complete it. I sent her another and will wait again. How am I supposed to remember what business card was used a year ago to renew a Name Park It?
To get the other card number, I had to go in the house. I checked on Molly in the den and I am sorry that I did. She completely tore everything up.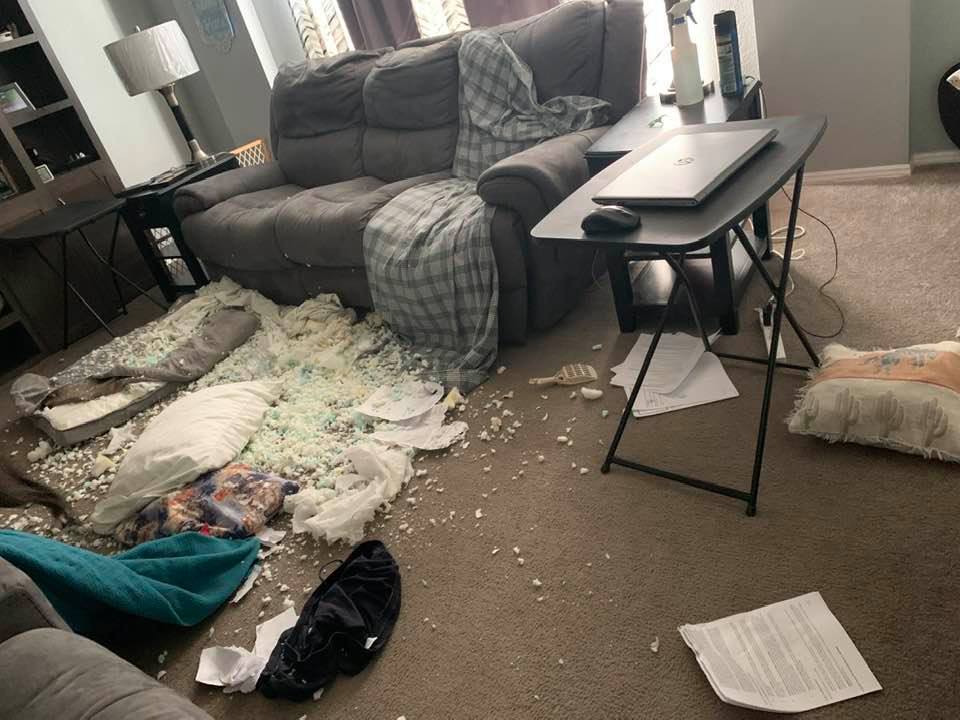 Molly had a field day in the den this morning. Destroyed the last dog bed, shredded an insurance policy, killed the cat litter scoop...She doesn't worry about payroll and taxes at all.
So they finally released the domain. Then they sent an email with a user name and password that did not work so the people putting our new site together could not get in to move our URL to the new host. After several hours of trying to figure all of this out, I reset the password and lo and behold, it let me in. I texted the website people but they are in a meeting with someone else now. I expected transferring the URL from SBI would be rough but so far, it is nothing short of a ridiculous nightmare.
The guys refilled the pond and flooded out the lights in the pond and in the gazebo. I could see three fish early this morning and now it is dark so I can't see them. I hope there are still four, but I fear a snake has taken another fish. But who can tell when it is pitch black in the pond with a black liner. Nacho has talked about putting white rocks at the bottom but he has not had the time.

Wonderful news late this afternoon. It was almost 5pm and I went to the pond to feed this fish. There were five, including the last koi that I thought was gone! We have not seen him in over a week!

I was happy to see the monster A/C unit blowing cool air on the chickens this afternoon. It has been miserable out there.
This afternoon, the outdoor crew set up the A/C for the chickens. It has been hot and humid, up to 98° Fahrenheit so far and it is just too much for the chickens. This makes it feel so much better. Last year, we did the same thing.
The crew put water in the pond as it had evaporated quite a bit so it is looking better. They also let it overflow which shorted the lights out. After the wires and outlet dried out, the lights came back on. 
The riding mower is dead again. This time it needs a new starter. So it is parked by the gazebo where it died.

An evening shot of the store, gazebo, commercial kitchen building and the riding mower. Normally it is put away, but it died in place. Needs a new starter and the store was out.
Then I closed up shop and noticed that the plants outside of the store for sale were all bone dry. At this point, everyone had gone home so I had to fill a gallon jug four times over in the kitchen and get things watered. Two plants died in the heat, completely shriveled. This goes to show that no matter how many people you have or how much you pay them, things will not get done. Since we sell plants and seeds for a living, keeping the plants alive is important but they are on the bottom of someone's priority list.

Let's Talk About Payroll And Taxes

Payroll and taxes will most likely be your biggest business expenses if you decide to start your own business. Sometimes, your profits are seasonal as ours are. So you need to learn to save money for your payroll and taxes during the good, profitable months of the year. That way, when lean times come, you will be able to pay your payroll and taxes without having to lay people off.
---
At 11pm tonight, there was a loud clap of thunder and then it poured. I am not sure for how long, but when I finally fell asleep, it was coming down in buckets.

---
Wednesday, June 16, 2021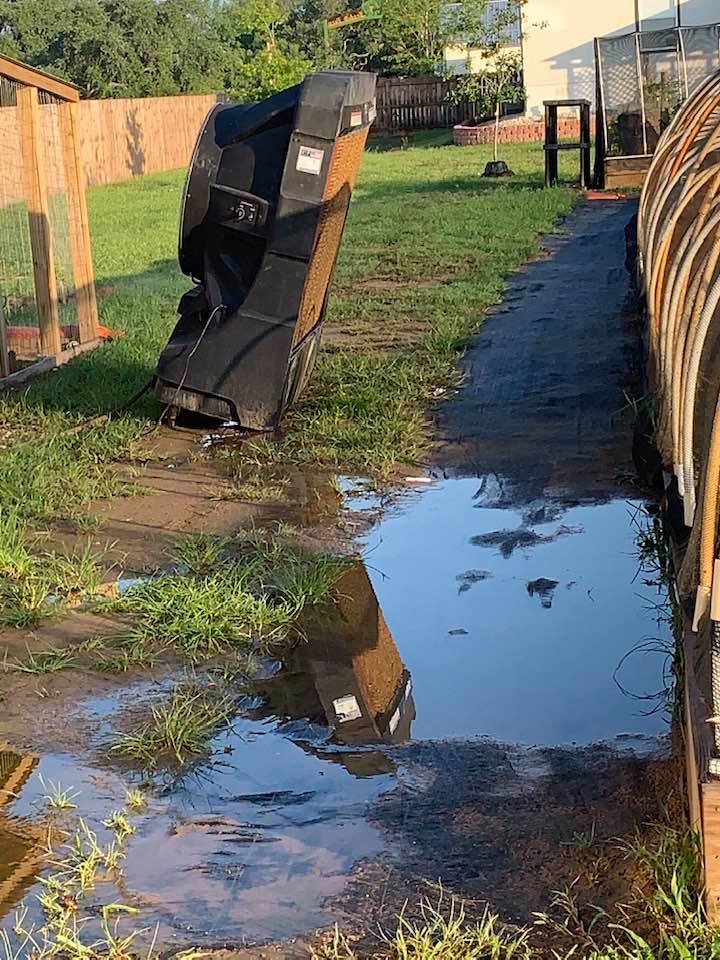 The A/C for the chickens sank into the sand last night when it rained. It then poured water out of it over night until I turned it all off this morning. Now we are flooded again because it was not installed correctly.
Good morning. It has been a busy day already. I went out to feed the chickens and found the giant air conditioner put out for the chickens had sunk into the ground and water poured out from it all night long, flooding the area again. When they put out the A/C yesterday, they should have placed it on plywood instead of in sinking sand.

I have had to hunt seeds down that I took to Production on Monday. I should have had them in my hands on Monday and then I was assured I would have them yesterday which did not happen. So I marched my happy self over to Fulfillment and grabbed a handful. Funny how they got put away but no one brought any over to me. I am the reason they even got counted. Then I marched over to Production to let them know I am not happy that I did not get my seeds on Monday or on Tuesday.
It seems some of the new people we hired do not understand that when I ask them to do something, it is not an optional thing. I think I am going to have to get my broom and hat out of storage and let them know who they are dealing with.

I had to put the hat on three times already today so I will just keep it out...I never had to wear my hat in San Antonio, but I will be wearing it a lot now.
New Website Coming Soon!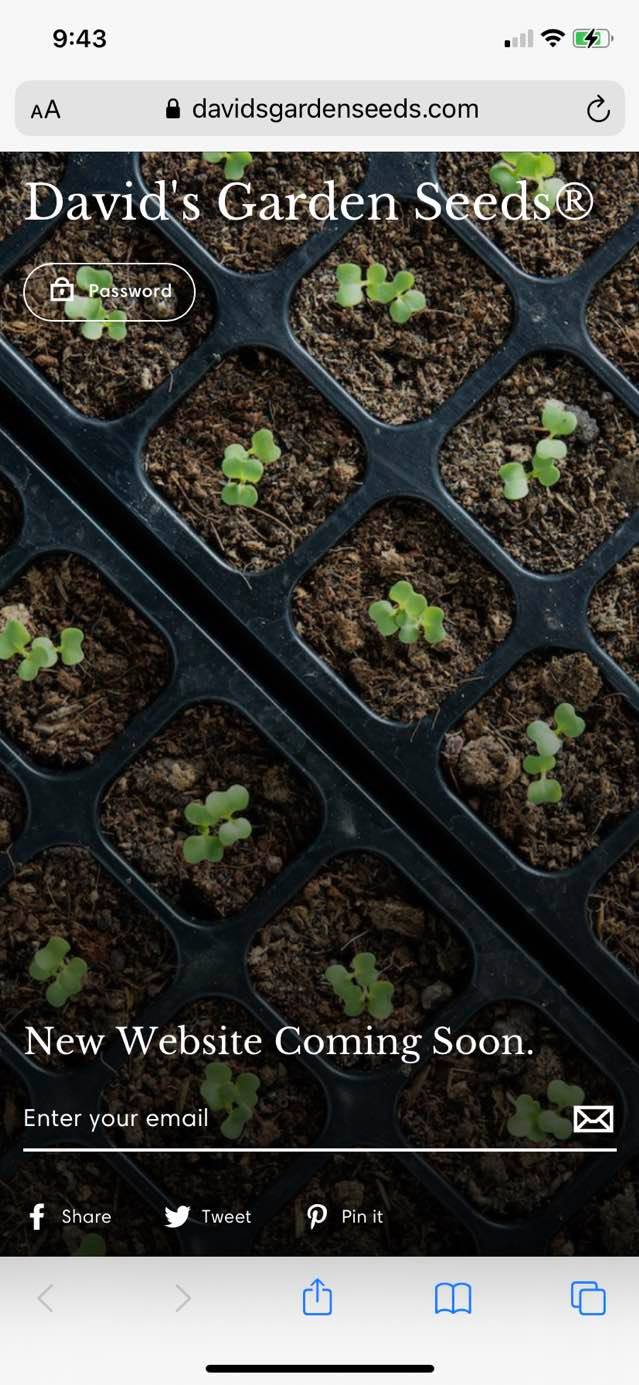 Exciting news! We have our final prelaunch website meeting tomorrow. DavidsGardenSeeds.com goes live on Friday! We are so excited for you to see our beautiful new website with easy navigation and an easy shopping experience.
We are living the old website for a brand new, updated, modern, beautiful, clean site. This has been almost 12 years in the making. We have been using SBI, the old website company, for about 15 years or so, building informational websites to bring in some side money. Looking at some of the new e-commerce sites, we realized that we are way behind the times so starting on Friday, we will be caught up!
I got seven eggs today, not many at all.

Payroll And Taxes
If you start your own job, payroll and taxes are two of your biggest payouts so you must do a budget. If you are just starting out, you may be the only one on the payroll and taxes must be budgeted out every time you write paychecks. For us, payroll and taxes are paid every two weeks. Our accountant figures out the check amounts after taxes for each employee and then lets us know how much more we have to write a check for that includes all of the payroll deductions plus our matching contributions for taxes and 401K matches.
We offer a 401K plant with a matching 10% to our employees after they have been with us for six months. Most of our employees do not take part in it so they are leaving retirement money on the table. They do not understand what a 401K is. Some have been falsely told by church leaders that a 401K is evil because it is gambling so they cannot participate. We know this because they have told us. Out of 20 of us, only 7 participate.
A 401K is a retirement account so you can live comfortably once you stop working. Social Security pays very little which is way many elderly people live in poverty. A 401K allows you to keep on buying real food at the grocery store instead of learning how to prepare Alpo 100 different ways because that is all you can afford.

---
Thursday, June 17, 2021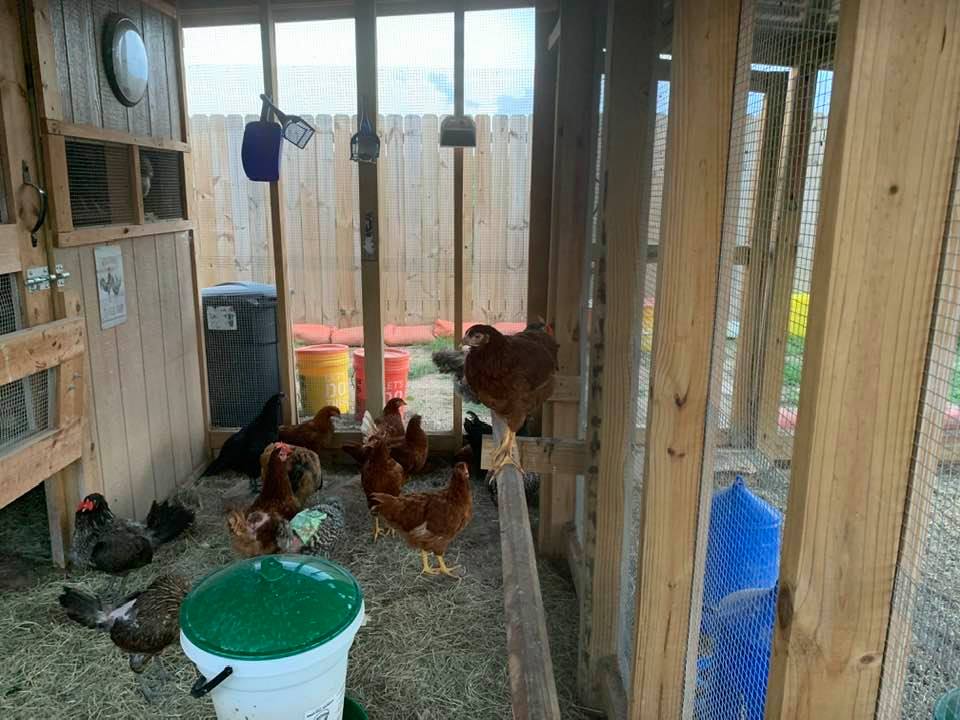 Our chickens are enjoying the air conditioning and they are not worrying about bills, payroll and taxes.
Today was another miserable, hot and humid day. It has been up in the high 90s every day this week, cooling down in the 70s at night.
This morning, we headed up to Devine, Texas to Marken Media, the people who built us our new website. They trained us on the new website and we got things set up and ready to roll for going live tomorrow. It looks like they will be coming out to the farm and we will go live at 10am Central time. We are very excited for this new website. To take a look tomorrow at 10am, just go to www.davidsgardenseeds.com and you will get to see the brand new website with us!

The heat, as I stated above, is just miserable. This week, we put an air conditioner on the chickens. Last year, it really helped our chickens. This year, it feels good in there, but yesterday I found just nine eggs. Today, there was one egg out of 23 hens of laying age. The heat really does affect the chickens' laying ability.
Payroll And Taxes

This page is supposed to be about payroll and taxes for small business. As you know, David's Garden Seeds® is a small business that pays its fair share of payroll and taxes. We did have to layoff several people this week because business has slowed down.
Also, Amazon has started a new policy of refunding customers who do not return the unwanted product they purchased. It used to be that Amazon would cover the cost. Now, we the sellers lose out on the product, the money we get for the product, plus the cost of return shipping if the customer decides to send the product back. This is costing us about $5000 a month in losses. It truly is ridiculous and it hurts small businesses. This is why we need to get away from Amazon. They keep changing the rules and paying less out...
I went out to put the chickens away at 8:40pm this evening and I could hear a tractor next door. They are cutting their hay! The air feels cool now and smells sweet. I love it when they cut and when they roll the hay.

---
Friday, June 18, 2021
Well, good morning! Our new website is live! A big thank you goes to Marcus and Kennan, who built our website (Marken Media) came over this morning and toured the farm with their beautiful children.
The website looks sharp and I am already getting compliments on it! Check it out if you haven't seen it yet! I just filled our first two large seed orders from the new site and it was fun! Now I am going through and changing to the new website address on all of the social media.Thank you to our new customers for your orders!

We had a bit of a personnel problem this morning so we had to play musical team members. We have a new Fulfillment Manager, Caleb. Congratulations to Caleb. We ended up moving four of our team members around.
The guys out back cleaned out the chicken and guinea cages and I am thankful. Thank you to Jerry, Phil, and Dawson. I have not had time to do it with all of the added responsibilities. We have several important things to get taken care of this week regarding medical stuff as well as getting the new website information together. Plus, we have some family coming to spend the weekend with us. We are sending our two grandchildren to church camp and they will leave on Monday. They are so excited!
Today, I got five eggs! I know it is not much but I got five times as many as I got yesterday.

---
Saturday, June 19, 2021
I am all suited up in my chicken boots and apron. It is hot and humid, in the high 90s every day this week.
Today it was nice not to have to open the store for business. I did laundry and packed for a trip to the hospital next week.
I went out before 7am to feed the animals and I hosed out part of the chicken coop to get chicken poo off of the wood. Then I put fresh wood shavings in the nesting boxes as they are filled with poo. The guys were supposed to clean the entire chicken coop yesterday, but they did not.

The electric gate is now opening using the key pad! You can see our neighbor's hay field is all mowed.
I discovered early this morning that the electric gate does not open on the weekends now. That means the mailman could not get in. So when I saw that he had come to our house, I went out and used the keypad so I could get out of the gate to the mailbox. To my surprise, for the first time, the gate opened and closed. I got the mail plus a package that Amazon left at the fence.
Payroll and taxes, payroll and taxes, that is all that happens...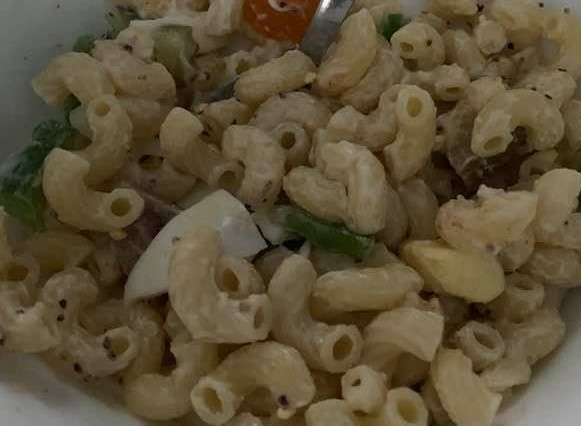 This macaroni salad is delicious. I added green pepper, cherry tomatoes, garlic, sweet pickles, green olives, boiled eggs, and Miracle Whip.
For lunch, I made a delicious macaroni salad, enough for company tomorrow as well as enjoying today.
I got five eggs again today and the air conditioner is on.
The Svengoolie movie was pretty good. It was about a vampire set out in the old west, but had different rules than most vampire movies.

---
Sunday, June 20, 2021
My father, Richard Peter Yorgensen, proudly served in the United States Air Force back in the 1950s during the Korean War.
Happy Father's Day to all of the gardening dads out there.

We got up early today to run into San Antonio, not to go to church, but to go for some pre-operative testing, namely the Covid test. We had to park out behind the hospital in the line for testing and the nurse came up to the car window when it was our turn. She shoved one cotton swab up one nostril and then up the other, causing tears and pain. At least she didn't draw blood. Then she said the rest of the preoperative testing would be done on the day of surgery. Corona has changed everything.
We got home and had lunch. Then I heard a noise and looked outside. Our neighbor chopped the hay on Thursday and Friday. Today he is baling it into rolls. It looks so cool.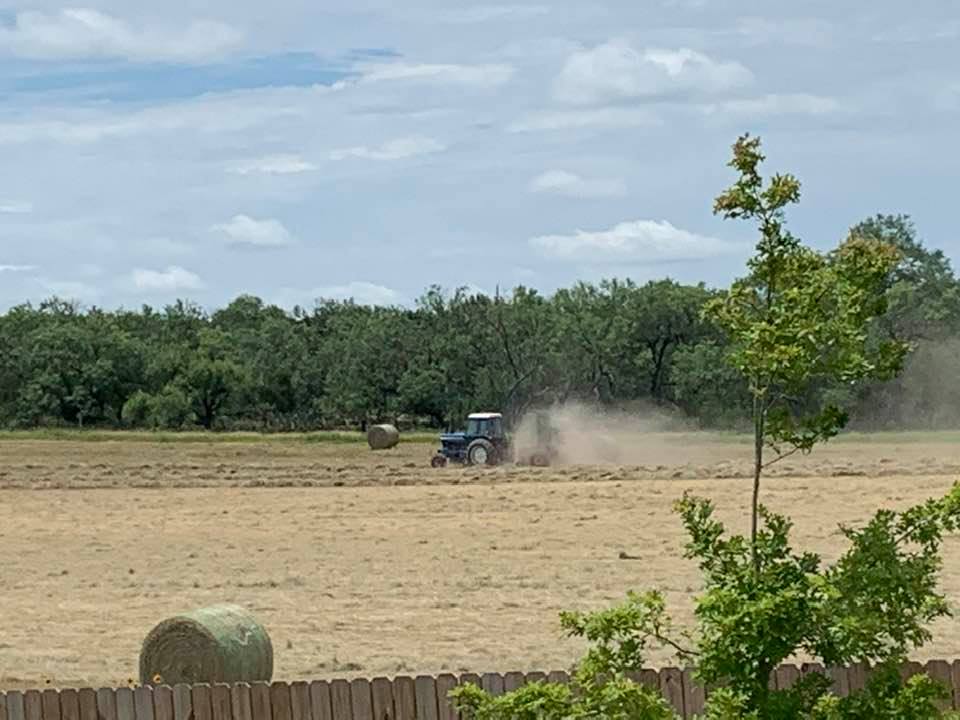 We are waiting for Jeremy and Felisha to get here with Holley and Max. Holley and Max start church camp tomorrow for the first time ever. They will go with a Baptist church to Alto Frio Camp in Leakey, where David grew up. It is a beautiful camp with both a pool and a river to swim in.

Tomorrow is another payroll and taxes day. Because it is payday, paychecks must be written as well as a check for taxes. Payroll and taxes happen every two weeks. There is no escaping payroll and taxes, the two biggest expenses that are paid by most small businesses.

---
Return from Payroll And Taxes to Farm And Business Life

---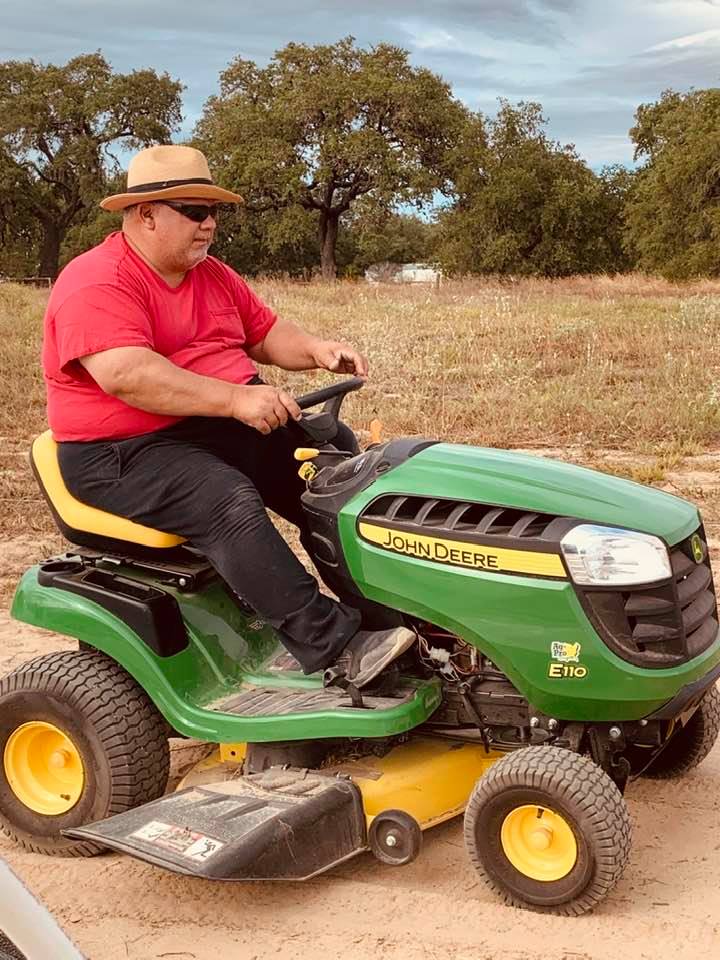 David of David's Garden Seeds® zipping along on his little tractor across the farm. He is having a blast!
---
We are David's Garden Seeds®. If you need great seeds, we've got about 1500 varieties to choose from.

---
Subscribe To Mrs. David's Garden Seeds® Newsletter For FREE!

Find out what is going on down on the farm by reading our blog and by subscribing to our free newsletter for all of the information going down at David's Garden Seeds® and on the farm. I love to share helpful information with you. Please let your friends know and y'all come on down for a visit when you get the chance. We would love to meet you!