Make A Crochet Blanket

Yes, you can crochet blankets! Most are simple with repetitive stitches. The only thing "difficult" about crocheting a blanket is that it takes a lot more time and a whole lot more stitches to make than a simple scarf takes.
A granny square crocheted baby afghan that I crocheted recently. It is made with thin acrylic yarn in the colors of white, pink, green, blue, and yellow.
There are many crochet blanket patterns to choose from. Start simple, such as a granny square baby blanket, a doll blanket, or a double crochet lap afghan. These beginner types of blankets do not take too much time as they are much smaller than a blanket would be for a full sized bed.
It is not difficult, but it does take some time. Don't get overwhelmed at the thought of how big a blanket is. Just concentrate on one stitch at a time, making one row. Then think about completing the row. If you keep this up during your spare time, mostly while you watch TV, your blanket will be completed in no time!

Small Granny Square Crochet Blanket
For your first project, make a traditional granny square blanket for a doll or a baby. Keep it simple and use just one skein of yarn. This can be a solid color, a variegated yarn that changes color every few stitches, or a Caron Cake (I really love Caron Cakes!) which changes colors after several rows.
Go to YouTube and watch some crochet videos and then some videos on slip knots, chaining, and making a granny square. Once I have made some, I will put them up here for beginners.

I use a 5.5 mm crochet hook which is also known as a size I-9 in the United States. I typically use acrylic yarn which washes easily without fading, stretching, or staining. There are so many brands of yarn now that you can pick one that not only looks pretty, but feels soft to the touch instead of harsh and scratchy.
Return from Crochet Blanket to Crochet Ideas

---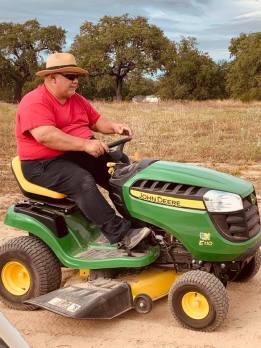 David of David's Garden Seeds® zipping along on his little tractor across the farm. He is having a blast!
---
We are David's Garden Seeds®. If you need great seeds, we've got about 1500 varieties to choose from.

---