Mrs. David's Garden Seeds®
---
Selling Seeds

We are now crazy busy selling seeds for spring planting. We sell seeds all year long, but as soon as Christmas hits, the sales go up and continue until about May, when sales fall back a little and then pick up in August for fall planting.

Selling Seeds - 1/3/21-1/9/21
---
Monday, January 3, 2021

This morning, David packed up Max and took him home. We did not want to do that, but I feel too bad to take care of him and we don't want him to get sick. I told him he was a good boy and that he didn't do anything wrong but that we didn't want him to get sick. He did not understand and he cried a lot. I feel so bad for him.
Today, I worked from home in between naps coughing my head off. It was not a fun day. I understand that Nacho was here with his crew doing some work.
After a long, three day weekend, there were several hundred David's Garden Seeds® orders to be filled and shipped out and our people took care of it. Linda manned the store plus helped to pull orders. I am stuck in the house for a while as I definitely don't want to get anyone sick. So far, David is okay.
The temperature was supposed to get down to 29° but it was 25° by 7am. Fortunately, the fish and chickens are fine according to Matthew. I did not go out to see. Matthew said there was no ice on the pond so that is a relief.
Customers have been coming here like it is going out of style. Linda is selling seeds like crazy.

---
Tuesday, January 4, 2021

Happy Tuesday! Selling seeds is the best career move we ever made. We love providing quality Non-GMO seeds to our customers.
Well, there is nothing like a new year to make selling seeds a snap! The orders are pouring in for the spring gardens. We thank you all so much. Make sure you get your order in early because if this continues, we will run out of all of the all time favorites like we have done the past two years.
I finally packed up the rest of Christmas. My son came in and took the empty tree down for me. The living room looks gigantic without the sectional and without the Christmas tree.
The temperature hit 72° which is amazing considering yesterday it was 29°. I did a lot of computer work in my home office today which helps in selling seeds.
I found out that David already had my frost dead zinnias in the two beds in front of the farm store pulled up today. After that, weed barrier was put down so we will have to burn some holes in it to plant new flowers when it gets a bit warmer for spring. I have not yet decided what I will plant this season.
The snapdragons and the zinnias were just awesome but I think we should try something new. We do carry a lot of flower seeds. Having the snapdragons and the zinnias on display last year really helped with selling seeds when customers came in asking what flowers did well in our area.

---
Wednesday, January 5, 2021
Good Wednesday morning. It is 40° and will hit 78° today. We have a 9am job interview which I will not get to attend because I am still sick. I think I had a fairly decent night, getting up between the couch and the bed about four times. The coughing seems to be a lot less this morning. I am so glad about that.
Our crew is doing a great job at getting all of the orders out. Selling seeds is easy. Pulling the orders correctly requires precision at that volume of orders. The orders have ramped right up starting the day after Christmas.
.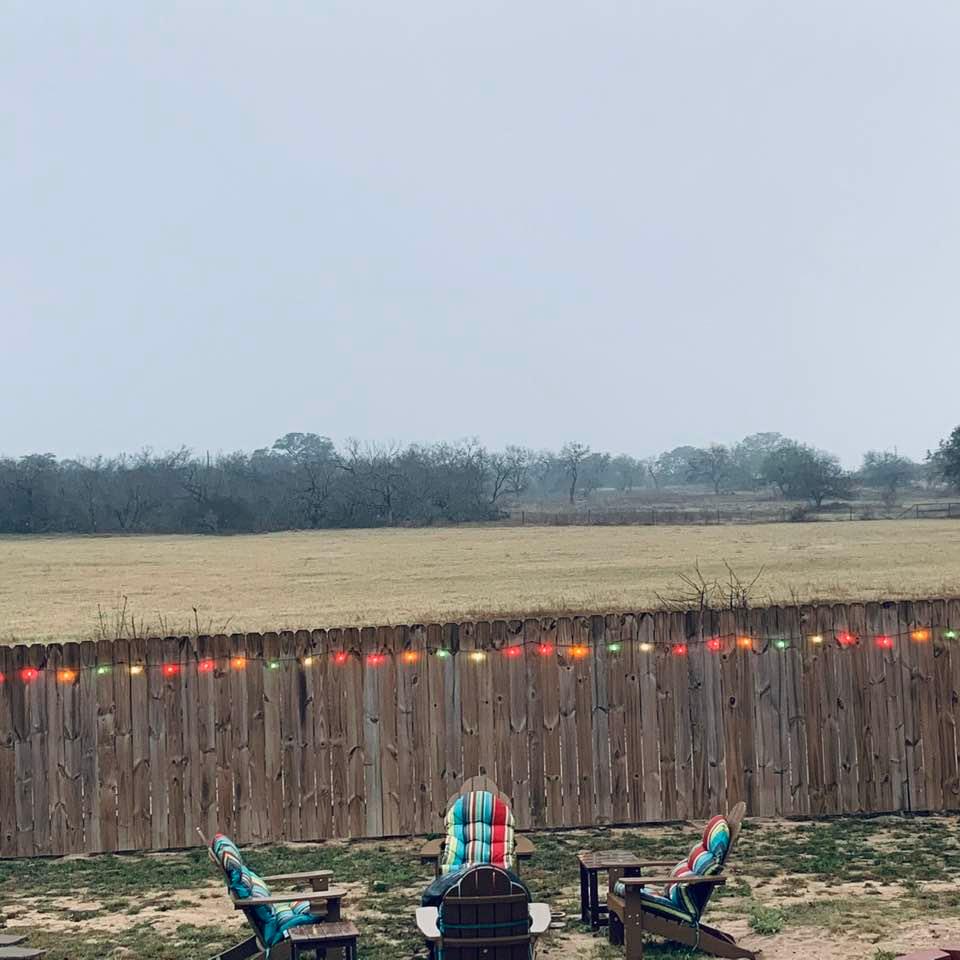 The party lights really light the firepit up at night. We did not have a chance to use it yet because we got sick.
This afternoon, Joshua put together the party lights that I bought to be hung on the fence out by the firepit. He hung them and when it got dark, they looked amazing. I am very pleased. It got up to 78° here so we are having third summer.

I spent the day updating this website because the links on pages built before June of 2021 point to the old website which does us no good. The main purpose of this blog is for selling seeds on our business website. Selling seeds is our bread and butter. We have no other income at this point.

My cough started back up this evening
---
Thursday, January 6, 2021
I woke up coughing at 5:15am. Plus I was up and down all night long. Fun times. It is now 10:30am and my coughing is under control with medicine and I am drinking Throat Coat herbal tea. I also took a spoonful of local honey which felt amazing on my throat. I had to fix our website, David's Garden Seeds® all morning and now I am again updating this blog's links on the older pages since our old website no longer exists. This blog exists primarily to point people to our business website.
It started out at 40° this morning and it is now 59° so it is warming up rapidly. The high will only be 70°. It is supposed to drop down to 37° overnight. Soon it will be hot and humid again and we will feel like we are roasting.
The seed orders are pouring in. We are grateful to everyone who is ordering seeds from us and to everyone who shares our company with their friends and family. Selling seeds that are quality, Non-GMO seeds is our business and we are passionate about you receiving fresh seeds that are hand-packed in Texas right here on our farm. Our seeds have never been to China to be counted. Our envelopes are created and made right here on our farm. Everything we do, we do right here on the farm.
Well, it warmed up and I fixed a lot of links today on this website. In fact, I fell asleep at my desk doing so. We had a lot of visitors over in our store today. Many thanks to Linda for taking good care of our customers all week long while I have been sick. Linda even worked today on her day off. No one asked her to. She is a valuable employee, selling seeds, even on her day off.
And while we are thanking people, many thanks to our son, Matt, for giving tours to our customers all week long, as well as everything else you have had to do for me, including bringing me medication and food.

---
Friday, January 7, 2021
Good Friday morning. It is 36° outside and I have been coughing my head off again. When will this be over? I am so glad that David took Max back on Monday. He would have been so bored all week long, not to mention sick, because I have not left the house and all I do is cough and sleep. I got one text from him on Monday evening and it said "Mad Max" and that was it.
The coffee is brewing and the heater is on. Today is trash day and I have a full kitchen trash can. I finally took that out before the trash man got here.

It is 5pm and is bitterly cold out at 45°. I am freezing in the house. Apparently, we have a radio ad running on a station in Pleasanton and Linda said that four of the customers we had this week mentioned they came because of the ad. I heard the ad and I am embarrassed of it. It is childish and features Garrett the Carrot, something the ad writer made up. I hate it but David thought it was good. It is not. Today the radio manager came out for some money and he said we would need to redo the ad because it is childish. Thank God.
Also, today, David received an ugly email stating the same ad is annoying and sounds like Betty White. What? She said she will never come here because we had the nerve to put an ad like that up. Trust me, we did not do it. I am so humiliated over it. That commercial was shot well before Betty White died and why on earth is everyone so obsessed with her? How can it be a surprise that she died? She was almost 100 years old. This should not come as a surprise, people. By the way, I am a Betty White fan, especially her work on the Mary Tyler Moore show. Sue Ann was incredible!

I am thinking the radio station is receiving bad feedback and that is why he wants it changed. They will make a new one instead of using the one they got from Marken Media. Again, I applaud this radio manager.
Late this afternoon, Nacho showed up to finish painting the bar that is still standing out in the driveway. He brought a helper but all he did was walk around the yard. Then David paid Nacho and he left a little after 5pm. Everyone else was gone so I walked on over to our store for the first time all week long. Everything is in order. We will be open tomorrow from 10am to 4pm so if you would like to come and shop for spring seeds, we have everything you need.
Selling seeds has been a snap this week with so many customers coming out to the farm and so many others ordering online. Thank you all again.
We hired two new people this week and let one temporary worker go. Actually, David was going to keep her after all, but she went to lunch and never came back so that is that.
One of the new people he hired started this afternoon, making some things in the kitchen. The other person will work three days a week only (his choice). We need less part timers and more full timers.

---
Saturday, January 8, 2021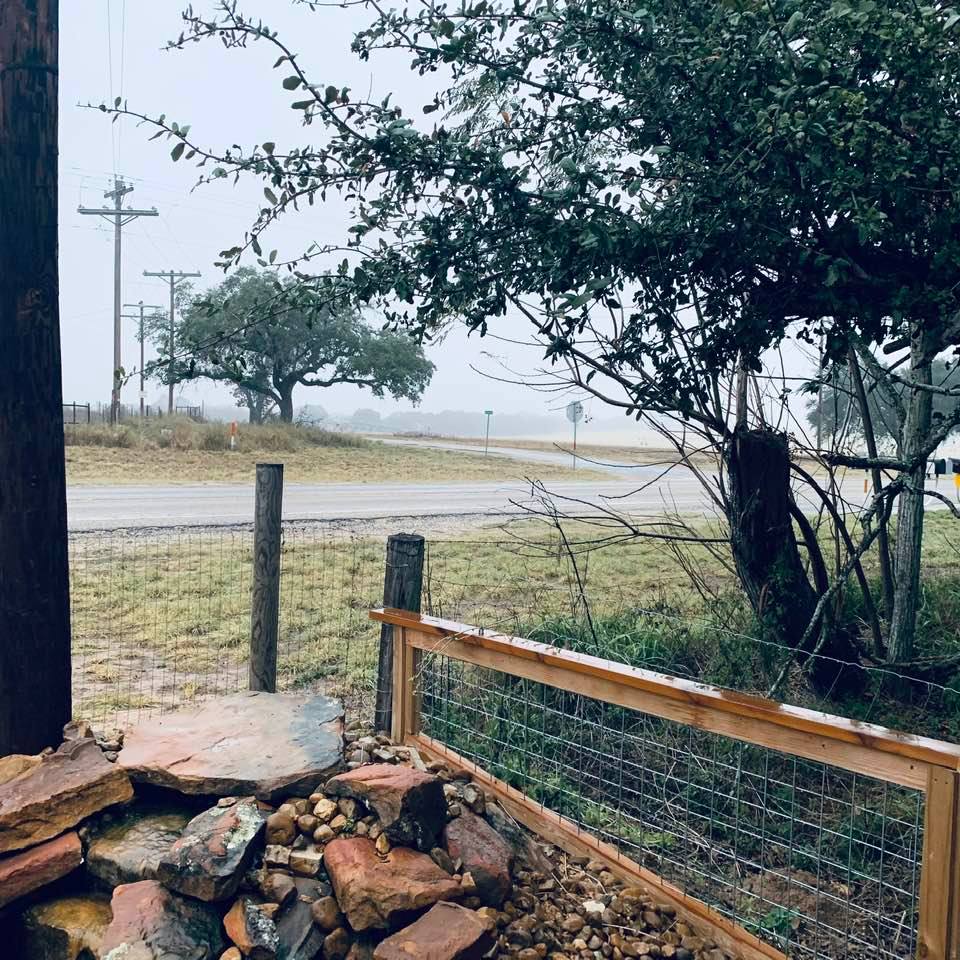 Our pond falls rocks looking across diagonally to the grass farm and everything is wet and foggy. Selling seeds is our livelihood and we bring the best Non-GMO seeds we can find.
Good foggy, wet Saturday morning. Since Matt is not here on Saturdays, I had to go open everything and feed all of the animals. We will open at 10am today and stay open until 4pm. If you come by, first I apologize for the horrible radio commercial on in Pleasanton, TX but we had nothing to do with it. Second, the radio station has received complaints about it and they are making a new radio commercial.
Soon a different radio commercial will be playing in San Antonio on KTSA for David's Garden Seeds®.
Sometime in the coming week, you will begin to see our ads on MeTV in the San Antonio area. This commercial was shot back in September. The jingle you hear was written, played, and performed by our son, Matthew Schulze, who is an incredible musician.
All of our commercials are designed to inform locals that we exist and are out here on a beautiful farm that you can visit. So come on by. You probably won't want a tour today because the ground is muddy.
The store is open and waiting for you. I know, the weather is not all that great; it is wet and foggy but you wanted us open on Saturdays and we are so we expect to see you in the store on Saturdays. Selling seeds on Saturdays...let's make it a catch phrase.
The biggest complaint we hear from customers is that we are not open on Saturdays selling seeds. To be fair, we have opened many times each year selling seeds on Saturdays for weeks at a time since 2016. Each time, we get very few, if any, Saturday customers. Once in a while, we will have two or three families on a Saturday, but on most Saturdays, we have zero customers so we shut down on Saturdays. Today, we were open for almost four hours when our first family showed up. They were very nice, from San Antonio. David waited on them but then he needed some help with our new payment system since he has never used it before. I had to go over there. It worked great.
About 45 minutes later, we had another family show up. In the meantime, we have been getting a lot of mail orders, a lot more than usual, but it is the season for selling seeds for spring.

I got a lot done at the store while waiting for customers. I took down the Christmas border on the bulletin board. I erased the Christmas chalkboards and put up spring planting signs. I took down the Christmas letters and put up spring planting on the letterboards. I found the lollipop candy jar and put it back up on the counter. I wiped down both candy jars. The candy in the jars is complimentary, by the way. I pulled out our seed germination and seed recommendation papers for each order and put them back up on the counter.
I checked on the fish and can only see three. Not sure if they are alive and hiding or if they did not make it through the freeze. Last Friday, December 31, I counted 12 so they should all be there except it got down to 25° on Monday morning. I have been too sick to go out and check on the fish.
Our three baby bunnies are getting big and will soon go in their own cage. Meanwhile, the female rabbit on the right is about to give birth. Hopefully, it won't be too cold for the babies.
Today, I have been combining a spoonful of honey with the juice from 1/4 of our Meyer Lemons and it has been very good for my throat. I feel so much better but I sound horrible, with not much of a voice.
Now it is 3:12pm and we just had our third family here to buy some seeds. I definitely feel better but I still sound awful. I don't have much of a voice from all of the horrible coughing over the past 11 days.
Three for today was it. David came in the house at 4:08pm and I went over and closed the store down and took the cash. I checked for the fish and found six only. I do not understand why they are not eating.
I went out back and decided to check on the plants in my greenhouse. Good thing I did because a bunch of plants were all dried out. I was too sick to even think about them. I watered everything very well and then went out to take care of all of the animals. It is 58° right now and time for dinner. It is almost 6pm.
We grilled steaks and watched Frogs which was the Svengoolie movie. We saw it before but I think we must have turned it off previously. Freaky movie.

---
Sunday, January 9, 2021
I froze all night long but it is 52° so I am not sure how that works. David is still asleep and I have to go out soon to feed the outside animals. It is already 7:30am but it is not very light out.
It is now 8:15am. I unlocked the place and fed all of the animals. The fish are there but they are not eating. It is strange.
I came back in and put some Pop N Fresh cinnamon rolls in the oven. I had them for Max but he went home early. David is still sleeping and he has my cold now. My cough is still pretty strong but it should be over by now. Today is day 12 for me.
Now let's talk about selling seeds while breakfast bakes. Selling seeds on our website is pretty much automated during this time of the year. I put out about six tweets, Facebook posts, and one or two Instagram posts a day and people are flocking to David's Garden Seeds® to order seeds.
Since our people left on Friday afternoon around 4:30pm, we have 49 orders for seeds on Shopify and 463 orders on Amazon plus all that will come in today. We have to fill all of these tomorrow. We are no longer doing the Fulfilled By Amazon because there were too many problems with Amazon constantly changing the rules. We actually want people to start shopping on Shopify because we don't have to give about 50% to anyone like we do on Amazon.
So if you buy our seeds on Amazon, switch over to our website because the prices are less expensive. Either way, you are getting our seeds on our farm. Time to go check on breakfast.

Breakfast was good with lots of coffee. We are staying home from church today so as not to pollute our parishioners. I am beyond the point of polluting but I sound horrible so I don't want to scare people. I could not just sit there for more than an hour without coughing my head off. I will just rest and get geared up for selling seeds tomorrow.

---
Return from Selling Seeds to Business Growth

David's Garden Seeds® Is A Trusted Brand
Since 2009, over 1,500,000 home gardeners, all across the USA, have relied on David's Garden Seeds® to grow beautiful gardens. Trust is at the heart of it. Our customers know David's Garden Seeds® stocks only the highest quality seeds available. Our mission is to become your lifetime supplier of quality seeds. It isn't just to serve you once; we want to earn your trust as your primary supplier.
---
Watch Our TV Commercial!
Sing Along To Our Jingle

 ♪♫♪♪ ♫ ♪ ♫♪♫♫
 ♪♫♪♪♫♫
Peppers and peas
And lots of yummy greens
You can't go wrong
With Squash This Long
At David's Garden Seeds
♪ ♫ ♪ ♫

Please like and subscribe on YouTube and come visit us at our Farm Store! The music on our TV ad was written, played, and sung by our son, Matthew Schulze. You can meet him when you come to the farm. He just might give you a tour. Ask him to grab a guitar and sing our jingle that he wrote.

---
We are David's Garden Seeds®. If you need great seeds, we've got over 1200 varieties to choose from.

---
Subscribe To Mrs. David's Garden Seeds® Newsletter For FREE!

Find out what is going on down on the farm by reading our blog and by subscribing to our free newsletter for all of the information going down at David's Garden Seeds® and on the farm. I love to share helpful information with you. Please let your friends know and y'all come on down for a visit when you get the chance. We would love to meet you!