Banana Bread Recipe

I have been making this banana bread recipe for years. I occasionally use other recipes to make banana bread but none have been as moist and flavorful. I found this one long before I got married and have added to it. My favorite addition is raisins. You can leave them out and eat it plain, or substitute nuts. Add an even mixture of nuts and raisins for the best bread.

My Banana Bread Recipe
A pan full of mini banana bread loaves that I recently baked. I wrapped them and sent them home with guests.
This banana bread recipe is always a big hit with my family. It is great for breakfast, after school snacks, and holiday snacking while the turkey is roasting.
You will need:
A loaf pan, 4.5 inches by 8.5 inches by 3 inches
1/3 cup shortening (I use Butter Flavored Crisco)
2/3 cup sugar
2 eggs, slightly beaten
1 and 3/4 cups flour
2 and 3/4 teaspoon double acting baking powder
1/2 teaspoon salt
1 cup peeled, mashed overripe bananas (2 to 3 bananas)
1/2 cup raisins or chocolate chips (optional)
1/2 cup nuts, any type (optional) (I prefer pecans)

Preheat your oven to 350 degrees Farhrenheit. Grease or spray the bottom of your loaf pan with baking spray.
Peel the overripe bananas and place in a bowl. Mash them with a fork until almost liquid like.

Beat the shortening until creamy and glossy either with a hand mixer in a large bowl or in a stand up mixer bowl for two minutes at medium speed. Gradually add the sugar, beating until it is light and fluffy after each addition. Add the eggs and beat until the mixture is thick and looks pale lemon in color.
Sift the dry ingredients together in a separate bowl. Add this alternately with the liquid bananas to the batter, a small amount at a time. Blend thoroughly after each addition. Add raisins, nuts, and/or chocolate chips. Note: This bread is delicious without adding anything.

Turn the batter into the loaf pan. Bake for 60 to 70 minutes, until a toothpick inserted in the center of the loaf comes out clean. Let the bread cool in the pan for 20 to 30 minutes. Makes one loaf.
Slice and serve with butter or cream cheese. Your family will love it! Enjoy.
This banana bread recipe is great to serve for breakfast or as an afterschool snack. I make it all during the holiday season for my family and guests to snack on while the turkey is roasting or while the big game is on.

---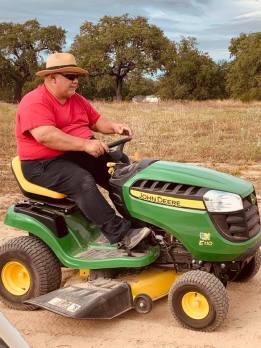 David of David's Garden Seeds® zipping along on his little tractor across the farm. He is having a blast!
---
We are David's Garden Seeds®. If you need great seeds, we've got about 1500 varieties to choose from.

Return from Banana Bread Recipe to Favorite Recipes

---