Mrs. David's Garden Seeds®
---
Beef Wellington Recipe

Here is the recipe for Beef Wellington. We first heard of it while watching one of Gordon Ramsay's shows, Hell's Kitchen. David and I love that show. So we wanted to try it. Gordon makes everything look and taste delicious. Now this is not his recipe but a recipe that we found online after trying several. We modified it to what we like and it came out amazing.
This takes a lot of work so I recommend making this dish in two days. The first day, prep and the second day put it all together.
The most time consuming thing is all of the chilling you have to do and the chopping.
I think it would be wise for you to chop the mushrooms and shallot into little pieces and cook in butter the evening before you make it. Then, brown the meat on all four sides, chill, then coat with mustard and chill. Let it all chill overnight.
The next morning, shingle the prosciutto and mushroom mix and then wrap the meat up in it and let it chill while you prepare the puff pastry. Then let that chill and finally bake it all in the evening when it is time for dinner.
This is an expensive dinner, mainly because the piece of meat cost us $66 at the butcher shop. You will need to buy frozen puff pastry which is not easy to find. I finally found it by the frozen pies, under the Cool Whip in the freezer section. Good luck. I thought about making my own but the recipes I found online all said that we would not be able to get the puff pastry flaky enough for the recipe if we tried making it from scratch.

Beef Wellington

As you may have read above, beef Wellington is something we never heard of until we say the cooks making it on Hell's Kitchen several years ago. So we found a recipe and tried it. Recently, we found another recipe and tried it again, changing it up a bit to what seemed a little more flavorful. Want to try it? It comes out delicious. You will need: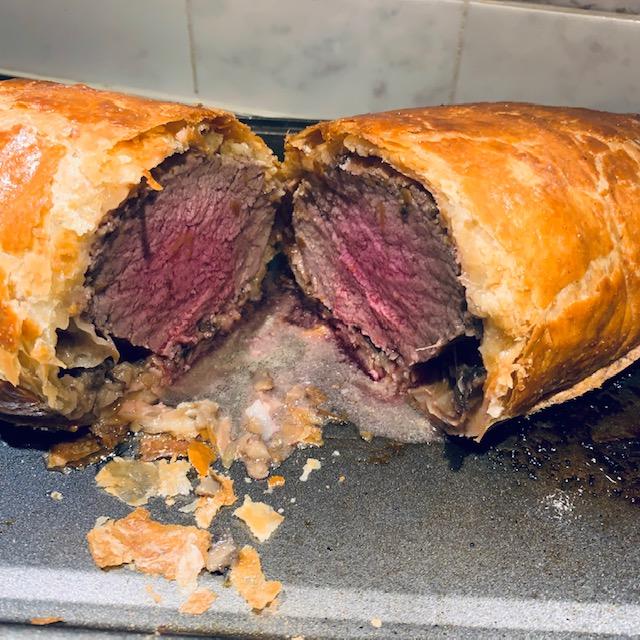 This is the beef Wellington I made on 12/4/22. I should have wrapped the pastry tighter around the meat. It was so good!
Kitchen twine

2 pounds center cut beef tenderloin cut
Salt
Ground black pepper
Extra virgin olive oil
2 tablespoons dijon or honey mustard (We used honey mustard and it was great!)
1 and 1/2 pounds of mushrooms, chopped small
1 shallot, chopped small
Leaves from 1 thyme sprig (I pulled a sprig of fresh thyme from one of my plants in the greenhouse and it was really good!)
2 tablespoons real butter
12 thin slices of prosciutto
All-purpose flour for rolling out pastry dough
14 ounce package of frozen puff pastry, thawed out
1 large, farm fresh egg, beaten for egg wash on pastry
flaky salt to sprinkle on egg washed pastry

Unwrap meat and tie it in four places with kitchen twine to hold the shape. Season the meat with salt and pepper.
In a cast iron skillet over high heat, sear the meat in olive oil on all sides, about two minutes for each of the six sides. Cool on a plate. When it has cooled, cut off the twine. Put mustard on all sides of the meat and let the meat cool in the refrigerator.
Chop up the mushrooms, shallots, and thyme leaves fine. Melt the two tablespoons of butter in a skillet and add the mushroom mixture. Cook over medium heat for about 25 minutes, stirring occasionally. When the liquid has evaporated, remove from heat. Season with salt and pepper, transfer to a bowl, and let cool in the refrigerator.
Put two long strips of plastic wrap side by side on a counter, overlapping so it is long enough and wide enough to completely wrap your piece of meat. Place the pieces of prosciutto, overlapping each other like shingles to wrap the meat in. Now get the mushroom mixture, also known as duxelles) and spread it over the shingles of prosciutto evenly.
Remove meat from the refrigerator and season it for cooking. Place it in the middle of the prosciutto shingles and fold them over with the plastic wrap until the meat is completely covered by the shingles. Tuck the shingles in and do not remove plastic wrap which is the outer coating right now. Put it back in the refrigerator.
*****At this point, I would stop and let that be it for either the night before you serve or the morning of because this takes hours in the kitchen.*****
When it is closer to mealtime, preheat your oven to 425°.  Lightly flour your counter or cutting board and spread out the thawed puff pastry. Roll it into a rectangle that is slightly bigger than your beef so it can wrap all the way around. Take the meat out of the plastic wrap and put on the edge of the puff pastry. Roll it in the puff pastry and seal the edges with a fork to seal it well, including the ends.
Place meat on a foil lined pan. Now brush the pastry with the beaten egg. Sprinkle with the flaky salt.
Bake the beef Wellington until the pastry is golden brown and the center registers at 120° Fahrenheit for a medium rare piece of meat, which is how it should be eaten. This takes between 40 and 45 minutes. Do not overcook. Let the meat rest for ten minutes once you remove it from the oven. Then slice it up and serve. We served ours with garden fresh green beans and mashed potatoes. It was delicious!
Return from Beef Wellington to Our Favorite Recipes

David's Garden Seeds® Is A Trusted Brand
Since 2009, over 1,500,000 home gardeners, all across the USA, have relied on David's Garden Seeds® to grow beautiful gardens. Trust is at the heart of it. Our customers know David's Garden Seeds® stocks only the highest quality seeds available. Our mission is to become your lifetime supplier of quality seeds. It isn't just to serve you once; we want to earn your trust as your primary supplier.
---
Watch Our TV Commercial!
Sing Along To Our Jingle

 ♪♫♪♪ ♫ ♪ ♫♪♫♫
 ♪♫♪♪♫♫
Peppers and peas
And lots of yummy greens
You can't go wrong
With Squash This Long
At David's Garden Seeds
♪ ♫ ♪ ♫

Please like and subscribe on YouTube and come visit us at our Farm Store! The music on our TV ad was written, played, and sung by our son, Matthew Schulze. You can meet him when you come to the farm. He just might give you a tour. Ask him to grab a guitar and sing our jingle that he wrote.

---
We are David's Garden Seeds®. If you need great seeds, we've got over 1600 varieties to choose from.

---
Subscribe To Mrs. David's Garden Seeds® Newsletter For FREE!

Find out what is going on down on the farm by reading our blog and by subscribing to our free newsletter for all of the information going down at David's Garden Seeds® and on the farm. I love to share helpful information with you. Please let your friends know and y'all come on down for a visit when you get the chance. We would love to meet you!