David's Garden Seeds®
---
Planting Green Beans

Spring is the main time for planting green beans unless you live in Texas. If you are in Texas, you will plant them again in the fall! Of course, the first thing you need to decide is whether you want to plant bush beans, pole beans, or both like we do.
Bush beans stay short and produce beans quickly. The beans are usually small to normal length in size. Pole beans grow tall so they need a trellis or a fence to grow up on. Some of the pole beans can be regular length or up to 20 inches long, depending on the variety.
David and I plant both and we always try to include green, yellow, and purple when we are planting green beans.

---
Planting Green Beans - 3/28-4/03/22
Monday, March 28, 2022 - Planting Green Beans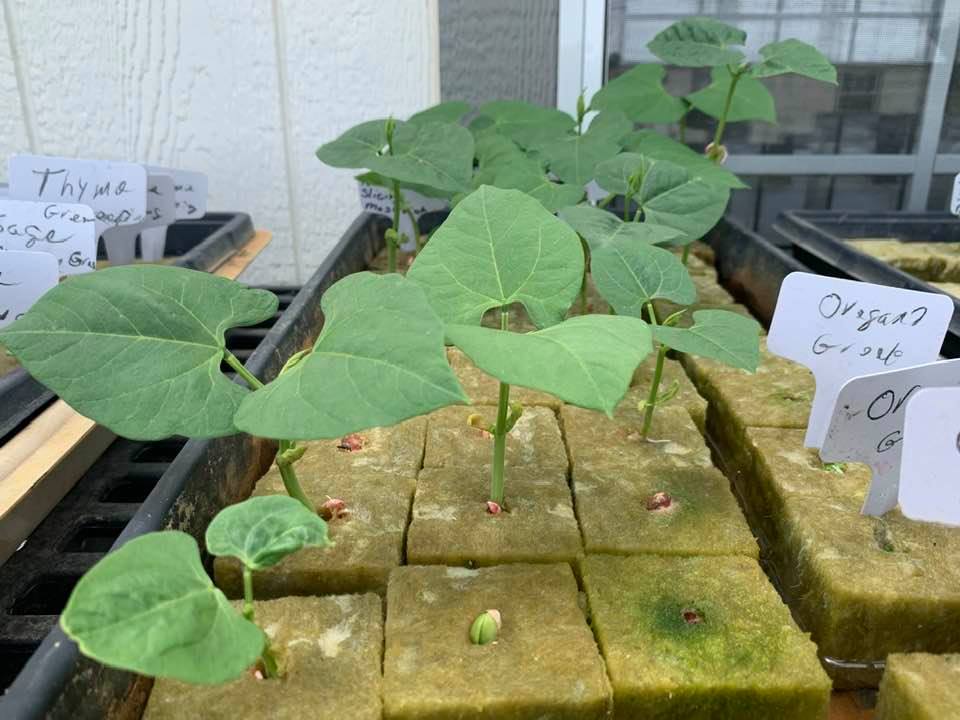 Planting green beans is a wonderful thing to do in the spring and again in the fall. There is nothing like the taste of a fresh green bean, raw or cooked.
Good Monday morning and welcome to a new week with David's Garden Seeds®. It is 6am and we have already had one call in. David is getting ready to leave for jury duty today. Matt is here getting instructions from David on how to run the place without him. Nacho is coming out to do some more planting green beans, putting in raised beds, and fixing two gates that no longer close.
For weeks, we have been planting green beans and many other things around the property but David wants us planting more green beans and other things.

This is a raised bed of bush beans by our driveway. We are in the process of building still more around the property.
We let the other outdoor guy go because too many strange things were going on, like hoses being disconnected all over the property, the rabbit no longer having drinking water in his cage, and lying about me saying I did not want him to water my hanging plants unless he took them down and put them in the parking lot first during business hours. I did not tell him that. I water my plants up on the store porch all the time. I don't want my plants taken down. The colors get all mixed up as to where I want them. Also, the parking lot is for customer cars and now we get a lot of customers. I don't want my $30 a piece plants to be hit by cars.
The temporary agency told David they had been calling the outdoor guy all weekend but could not get hold of him. David tried reaching him but he would not answer. So we posted Matt at the entrance this morning to wait for him. Sure enough, he showed up and said his phone was broken. Matt told him to go talk to the employment agency because he no longer works here. He left with his ride with no incident.

David has jury duty this morning so Matthew is in charge of planting green beans out in the back forty. It is a bad time for jury duty when there is so much to be done around the farm and business and with people missing because they are not doing the work expected of them. Also, today is payday so I have a lot of checks to write and bills to pay. I hope David gets dismissed early in the day so we can get everything taken care of here.
There won't be any early dismissing. He said there are about 100, kind of a small crowd compared to what they call for jury duty in San Antonio. David said close to half of them stood up to talk about being excused. Wow. It is after 11am now and they are still excusing people. Apparently, if you wear an F Joe Biden shirt, it works because they dismissed one for wearing his. Who in their right mind would wear one of those to court or anywhere else?
It is now 11:30am and I guess they are finally doing something over at the courthouse because I have not heard from David.
Nacho and Matt are out back planting things in the back forty. Nacho did not bring a helper this time.
Well, right around 4:30pm, David texted to say he was chosen to sit on a criminal jury. He got home after 5pm and noted that some of our best sellers were not listed manually today on Amazon so we lost out on thousands of dollars. Of course, if he had told me, I would have done it but he did not.
The puppies are doing well, taking their medications with their kibble. Pamela is a very messy eater, throwing kibble all over the floor. Pamela is neat and clean, not knocking kibble out. The second dog kennel came today and it is huge. I went into Amazon on my phone and found the kennel I bought last year. Then I clicked Buy Again and the one they sent is gigantic. Silly me! I thought they would send the exact same item since I clicked Buy Again but they decided we need a bigger kennel so that is what they sent. LOL. It fits both puppies very nicely with plenty of room for more. Lucy walked in last night and loved it.

Planting Green Beans
Here is a great article written by David on planting green beans, specifically how to grow bush beans. Enjoy!

---
Tuesday, March 29, 2022 - Planting Green Beans

Good Tuesday morning. David will be leaving for jury duty soon and I will get to do everything again today with the puppies. Jury duty should be for people who sit at home all day long with nothing to do, not for people who have busy lives. People commit crimes and then those of us who did not, have to waste our time and decide whether or not they should be put in prison. That is so messed up.
My nose is so clogged this morning. I am not sure what is in the air, but I cannot get my nose to unclog. Well, so far, no one has called in. I had planned to get some planting done yesterday but I was the only one in the store for most of the day since one called in and the other was out pulling orders.
I had to make several corrections to orders that our people messed up on. A big one was signed off by both of my assistants. The customer wanted four packs of catmint. They sent her four packs of catnip. So we lost four packs of catnip plus another $3.58 shipping label. We made nothing on this sale. In fact, we lost money having to buy two shipping labels.
Nacho will not be here today. Matthew is taking care of outdoor things today. Matthew cleaned out a bit of algae in the pond but in order to do a good job, he needs to get on down into the pond. He did not bring boots or extra clothes today. I am filling the pond now as it has really gotten low. The wind has picked up so each time I step outside, my hair gets blown like I am in a tornado. It is ridiculous.
So far, I cannot fix Shopify today as it appears to be down. I sent out a Mrs. David's Garden Seeds® newsletter this morning and I have been transplanting some plants that are not doing well outside.
I need to plant a lot more but I am sort of stuck in the store. David called on his jury duty lunch break saying he is bored of sitting there listening to people talk. David falls asleep if he has to sit and listen. He naps every Sunday in church unless he is doing the preaching so I have no idea how he is staying awake in a courtroom.
We have had several sets of customers, one with a little boy about three who just kept running around the store and out the door. They just kept asking him nicely to stop and to stay here but he did neither.
This afternoon, David texted me to call some number so I called, not knowing what I was getting into. This lady wanted to buy our artichoke seed set but said Amazon would not be able to ship them for six weeks. She needs them by Monday. I told her to just go to our website, davidsgardenseeds.com and get them there. Then I would mail them out. They could not figure out how to type in a website address. I had to spell it out and they thought it was difficult. They finally found the site and then they began hunting for the artichoke sees.
After David got home tonight, he was going through all of his emails and came across several where our people are sending out the wrong items on orders. I used to check every website order before it went out and we seldom had that problem. Several weeks ago, David changed things up and it is happening every day now. So starting today, I see every website order before it is mailed. People aren't really reading the orders. So we are having to redo orders and pay for more postage and we are losing money. This afternoon, I checked about 50 orders and I found five mistakes. That is a lot.

Planting Green Beans

Before you start planting your green beans, make sure that you check Companion Planting guides for beans. Below is some good companion planting information:

Beans love to be planted with broccoli, carrots, cauliflower, corn, cucumbers, peas, rosemary, strawberries, Swiss chard, tomatoes, thyme, sage.
Do not plant beans by chives, garlic, leeks, marigolds, onions, or peppers.
For more on Companion Planting, see the articles on this website.

---
Wednesday, March 30, 2022 - Planting Green Beans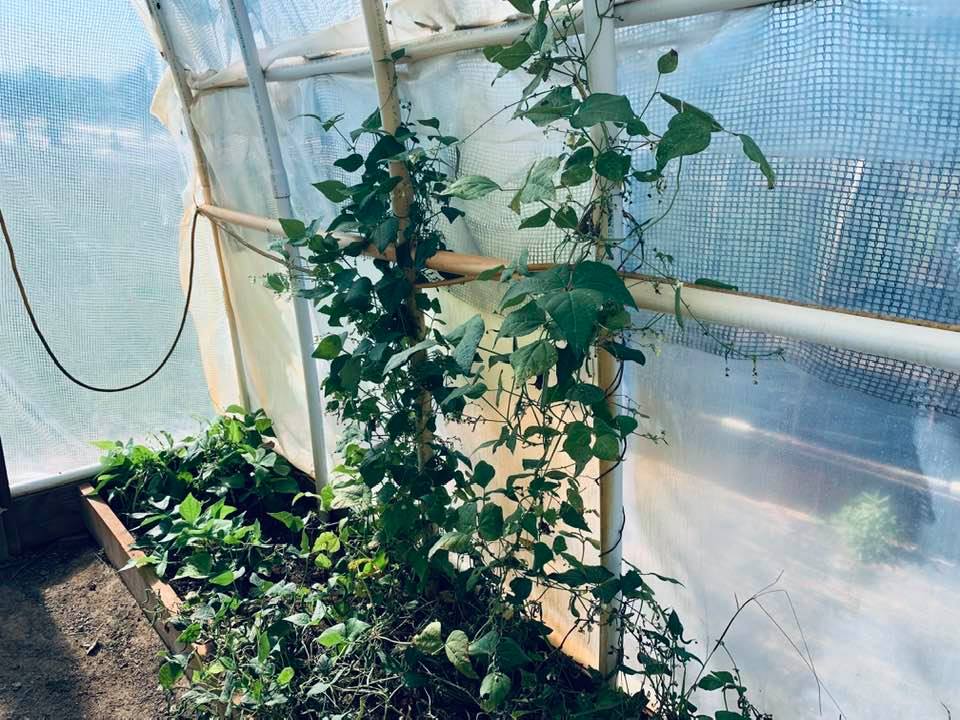 Here are some pole beans growing up the poles in the hoop house. Planting green beans can be done anywhere and you don't need anything fancy.
Good morning! David is off to jury duty again. The plumber is coming today to put timers on faucets in the back forty. The barbecue guy is coming for money to buy hot dogs, hamburgers, and brisket that we are paying for at the Natalia Football Stadium this Saturday at 6pm. There is a free concert with free food and sodas so swing by if you live anywhere near the Devine or Natalia area for food from David's Garden Seeds®.
Matthew is supposed to be planting. I need to open the store in less than one hour. It is exhausting to be me right now.
We finally had our first customer today, our plumber who has been putting timers on the watering systems all over the grounds...He wanted two Rue plants and we had some in the greenhouse. I am not sure what is up because we have not had any customers in here today at all other than the plumber...It is hot and windy with a blue sky...
David called at 4pm and said the trial and deliberations are over. He is on his way home from three days of jury duty but at least it is over. Matt has been planting out back with Brendon but they are finished now. We have been getting the orders out and restocking the store. No other customers other than our plumber today. I wonder why.
Maybe South Central Texas is all planted out for the spring. If business does not pick up for the rest of this week, we may stop the commercial until August when it is time to prepare for fall planting. I would like to shoot a new commercial that we are actually in this time.
We got a letter in the mail today from David's cardiology group. David sees two cardiologists. Apparently, cardiologists specialize in different things. He has a regular one that was assigned to him when he had his surgery in June of 2021. Then that cardiologist assigned him to also see a specialist so we have seen him twice with another appointment coming up in May of this year. Last time we went, which was November of 2021, this cardiologist told the both of us that at night we sit on our fat asses instead of exercising and walking. This is true. However, I am not even his patient so where does he come off talking like that to me? For that matter, we pay him so where does he get the right to speak like that to David. We have never before been spoken to like that by a professional.
Back in February when we saw the first cardiologist, I told him what the specialist cardiologist said. He said he was shocked and he apologized for what the specialist said. Well, to make a long story short (too late for that, ha ha!), the letter we received today said this specialist is leaving the group as of April 15 so we won't have to see him. That is good. I don't want him telling me ugly stuff again. I accompany David on all of his doctor visits so I know what is going on. If I don't go, I ask David what the doctor said and David says nothing.
It is now 4:30pm and still no customers. It is windy out but hot at 86°.
David got home close to 5pm. Now he is off doing recon at the Natalia Football Stadium for the free Christafari concert there on Saturday night at 6pm. We will be feeding you hot dogs, hamburgers, brisket, and soft drinks so come early.
Our people are planting green beans all over the property. Some are coming up by the parking lot in raised beds. When you come to the farm, be sure and notice the raised beds up front where we have been planting green beans, mostly bush beans.


---
Thursday, March 31, 2022 - Planting Green Beans

Look at these beautiful pole beans, long and slender, they are tender and ready to be cooked for dinner!
Good Thursday morning! I have fed all of the indoor pets. David is in the den, playing with the puppies. He does not have to go to jury duty today and he is excited. While he was gone, he got a ton of packages, most of which I dragged from his office to our living room last night and he still has not opened one of them.
I know he has to go to Sam's today and get more meats and things for Saturday night's concert at the Natalia Football Stadium by Devine. If you don't have plans, go to the free concert and meet David. He will be there giving out a lot of food that we bought and paid for.
Meanwhile, there have been a lot of mistakes with orders. As of yesterday, I will see all orders before they are mailed out. I am so embarrassed that orders are going out wrong. We have had a lot this week. This means we are making zero money. We are losing money having to pay people to screw up our orders and mail them out again. No more.
All of that to say I apologize if you were sent the wrong thing. I let my helpers know I am not pleased.
Today in the store, Shay will be assisting me. It is Linda's day off. Hopefully, we get customers again. We have not had just one customer like yesterday since the end of January before we started showing our commercial.
I just went outside and opened the greenhouse. It is going to be a warm one. Right now it is 50° Fahrenheit. It is hard to believe that today is the last day of March. Where did the month go? So far today it is not windy but it was calm yesterday morning as well.
It is time for me to walk over to the farm store and open it up for business. Will you be coming out to see us today on the farm? Maybe you will catch some of our people planting green beans. Have you been planting green beans where you live?
So today we had our first set of customers. They left and two more sets of customers came in. Then another set. I was ringing up one of the ladies and it went smoothly. Then I tried to print the receipt. Nothing. I was out of paper. I put the paper in upside down so nothing would print. I finally figured that out but then I could not close the top part of the little printer. After some help from Shay and Brendon, we got it closed. It still wouldn't print. Then Brendon said it had to be turned off and back on again. Finally, we got it done. I apologized to everyone having to wait and I apologize again if you were here waiting.

---
Friday, April 1, 2022 - Planting Green Beans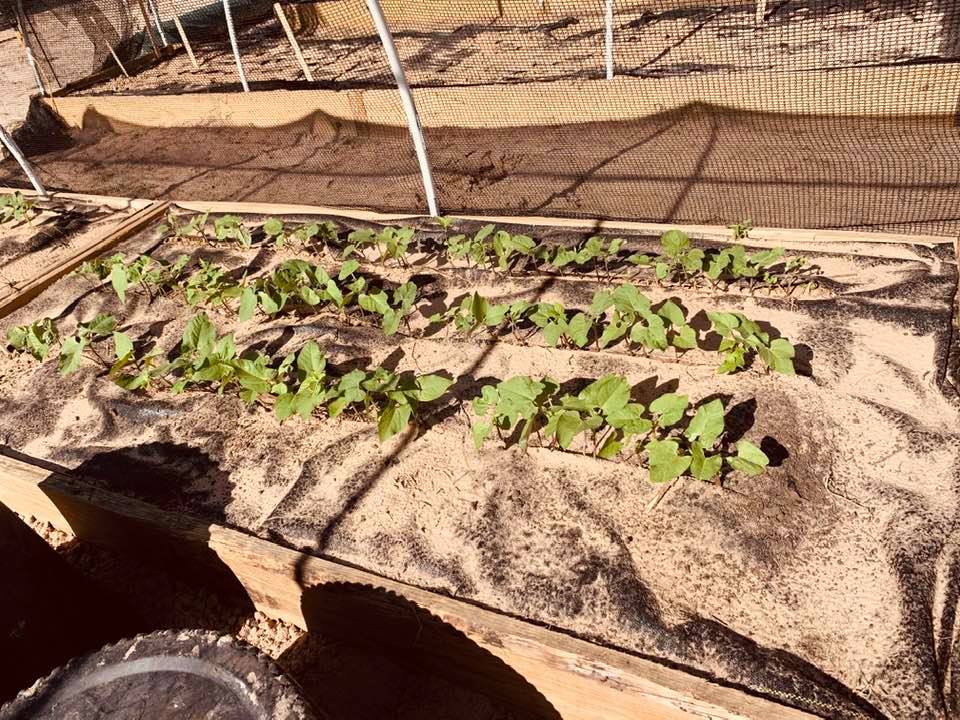 Green beans do well in sand. This is in one of our hoop houses out back. The beans love the sand which is our native soil here.
Happy April Fool's Day! It is 9:50am and so far we have had zero customers. I am thinking we won't have many over the next ten days because of Fiesta, a huge eleven day party that goes on in San Antonio every year. They have not had it for the past two years because of corona but I saw on the news last night that they are back and they are early. Normally it is not until the middle of April but they started on March 31!
We don't do Fiesta because the events are way too crowded. We lived in San Antonio for 20 years and we hate crowds. Also, the heat came just in time for Fiesta so there is that.
The Poteet Strawberry Festival should have started today, but they are not having it until the middle of April. Good thing because the strawberries are just not ready yet. Not sure how they would know because all of this is planned out a year in advance.

FREE Concert With Free Food And Soft Drinks Courtesy of David's Garden Seeds®

If you are looking for something to do that does not involve crowds and is free including free food, we are sponsoring a free concert out at the Natalia Football Field starting at 5:30pm tomorrow night. See this Facebook page for details.
David and the team have loaded up a bunch of ice chests, drinks, chips, tables, chairs, fans, charcoal, etc for tomorrow night's food and concert in the rented U-Haul we got. Yes, we purchased all of the food and drinks for you to enjoy during the concert.

---
Getting Rid Of Grass, cover Crops, And Most Grain Seeds

David just let me know that we are dropping all of our grass and cover crop seeds and most of our grain seeds. We will carry Hulless Streaker Oats and a new wheat product that is not yet on the website and that is it.
I did add the wheat to the website today but it comes in the 14 ounce size only.
We have had a lot of customers today. It is 4:30pm and my feet are killing me. We have sold a lot of our seedlings and a ton of seeds. We made a lot of new friends locally today as well as from San Antonio and surrounding towns.
We filled a lot of orders. The mailman came early again and brought us a $4 IRS refund check. LOL! Why waste the postage for four bucks?
It is now almost the end of the workday. It is 83° and my feet are killing me from being on them for so long helping customers. I cannot wait to take my work boots off and put on other shoes to go out and take care of the animals.
I have one dozen eggs left in the fridge but I did not bring over yesterday's eggs yet. We close in 15 minutes.
Matthew was out back this morning planting green beans and other seeds. I had to water all of the plants in my greenhouse this morning before I opened the store.
At 4:30pm, I sold the last dozen eggs. Good thing I did not bring the newest eggs to the store today. Now I will have three dozen to sell tomorrow.

---
Saturday, April 2, 2022 - Planting Green Beans

Kentucky Wonder Wax Beans are yellow and delicious. When planting green beans, plant some yellow and purple as well. Make gardening fun.
Happy Saturday. It is 3:15pm and the store will soon be closing. It is a hot day out there, bright and sunny at 90° Fahrenheit. We have had a busy customer day and have sold lots of seedlings and plants, not to mention eggs and seeds.
I sold a lot of bush beans today so this weekend, a lot of people are planting green beans!  I also sold two dozen eggs so there is still one dozen left for sale. Hopefully, my hens are laying some right now so we will have several dozen for Monday.

Shay has been here with me all day long. Shay has been taking a lot of people out to the greenhouse for seedlings today. Almost everyone who came in today wanted to see our seedlings. Also, they want to be planting green beans because I have cleared out a lot of our bush beans.
We did not have any customers from 3pm to 4pm which is unusual. But then again, it is Fiesta.

Matt and David are up in Natalia setting up to give away free food to the concert goers. If you are in the area, go out. There is fresh brisket, hamburgers, hot dogs, chips, sodas, and water all courtesy of David's Garden Seeds®. Concert starts at 5:30pm. Food will be served starting at 5pm.

---
Free Concert With Free Food Tonight!

If you are looking for something to do that does not involve crowds and is free including free food, we are sponsoring a free concert out at the Natalia Football Field starting at 5:30pm tonight. See this Facebook page for details.
---
So several on the David's Garden Seeds® team including David and Matt left here at 1pm for the Nadia Football Stadium to set up. David had some others come to help set up and barbecue plus 14 teens that he paid to be there. Some of the teens that go to our church were there and David asked them to help but they said they were not allowed and went to watch the concert. Strange...Each teen that helped was given $100 so their loss. Jay, Brendon, Caleb, Kathy, and John from David's Garden Seeds® as well as David and Matt were there. We bought all of the food and drinks and hired someone to barbecue it all.
David took some misting fans and 12 chairs for his team of helpers and set them up in the shade of the U-Haul truck that we rented to move tables and chairs and food. During the proceedings, some of the people told David and the team to get up and let the old people sit in the chairs. Keep in mind that there was a whole football stadium for them to sit in. Then some people actually came and grabbed some of the chairs and took them off to sit in so our people couldn't. What on earth? When it was time to leave, Matt had to go hunt the chairs down. They belong to our business.
David had a good time. He got home around 10pm. I went to take a shower and by the time I was done, David was asleep.
When I went out to put the chickens away for the night, I noticed there was a chicken lying in a hole. I thought she was taking a dust bath but she would not get up. She was alive. I picked her up and put her away. She seemed okay when I did.

---
Sunday, April 3, 2022 - Planting Green Beans

This morning, we went to church. At first, it was comfortable in there and then the air conditioning came on over and over and over. I did not take a jacket because it will be 90° today. I froze in there for no reason. Also, I could barely hear. The microphone and speakers are not working well. There was a guest worship leader and a guest speaker. I barely knew what was going on.
This afternoon, we have been catching up on Fear The Walking Dead. It is so disgusting. The puppies are taking a nap. One is in the kennel and the other is on the floor at David's feet. They are so cute.
I should be out planting green beans but here I am, sitting in the air conditioning.
When I went out this evening to take care of the chickens the chicken who was ill last night was dead. She was just one year old. She was not in the doorway by the beam that the other two hit.

---
Return from Planting Green Beans to Business Growth

---
Watch Our TV Commercial!
Sing Along To Our Jingle

 ♪♫♪♪ ♫ ♪ ♫♪♫♫
 ♪♫♪♪♫♫
Peppers and peas
And lots of yummy greens
You can't go wrong
With Squash This Long
At David's Garden Seeds
♪ ♫ ♪ ♫

Please like and subscribe on YouTube and come visit us at our Farm Store! The music on our TV ad was written, played, and sung by our son, Matthew Schulze. You can meet him when you come to the farm. He just might give you a tour. Ask him to grab a guitar and sing our jingle that he wrote.

---
We are David's Garden Seeds®. If you need great seeds, we've got over 2,000 varieties to choose from.

---
Subscribe To Mrs. David's Garden Seeds® Newsletter For FREE!

Find out what is going on down on the farm by reading our blog and by subscribing to our free newsletter for all of the information going down at David's Garden Seeds® and on the farm. I love to share helpful information with you. Please let your friends know and y'all come on down for a visit when you get the chance. We would love to meet you!