David's Garden Seeds®
---
Green Bean Casserole Recipe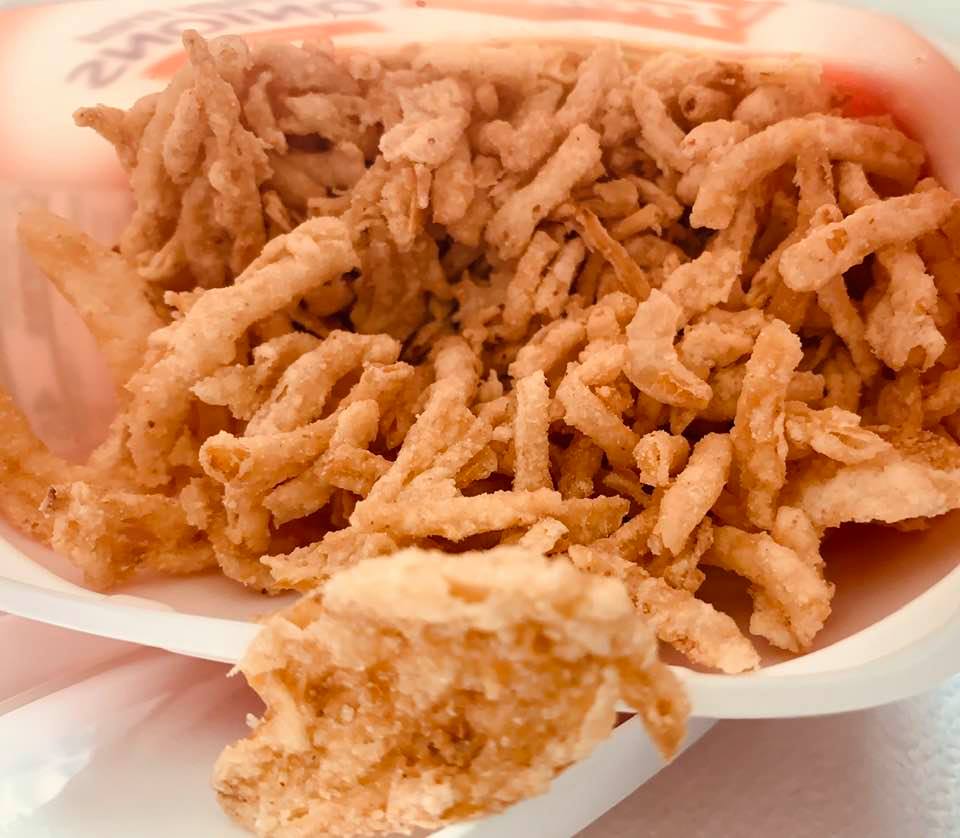 French Fried Crispy Onions are the main ingredient in the Green Bean Casserole Recipe. They can be found in your grocery store in the canned goods aisle.
Each Thanksgiving and Christmas, I make the Green Bean Casserole Recipe. Usually, I go out to the garden and pick fresh green beans for the holidays. This year, the green beans were not yet growing on the plants for Thanksgiving, but they are forming now so I think we will have fresh green beans for Christmas! David loves this recipe. I have made it for many years. Yes, you can find the recipe on the back of crispy fried onions at the grocery store but I have made modifications over the years that our family loves.
You can actually serve this casserole as a one dish casserole meal by adding two cups of meat like chicken, turkey, or even ham before you bake. Sometimes, David likes to add grated cheese to the top during the last five minutes of baking. Your family will love this dish.
Green bean casserole is a great way to get your kids to eat vegetables. Plant green beans in your garden and have your children help you with them. They will be more willing to try veggies that they help to grow. You can get wonderful green bean seeds from David's Garden Seeds® here to plant in the spring and again in the fall if you live in a wonderful climate like Texas.

Green Bean Casserole Recipe
You will need:
4 cups cooked green beans (fresh from the garden is best but you can use frozen or canned)
1 can cream of golden mushroom soup

1 jar sliced mushrooms, drained
3/4 cup milk
1/8 teaspoon black pepper
1 and 1/3 cups crispy fried onions
In a bowl, mix together the soup, milk and black pepper. Stir in the cooked green beans, mushrooms, and 2/3 cup of the crispy fried onions.
Pour into a sprayed 1 and 1/2 quart baking dish and bake at 350°F for 30 minutes. Stir and then top with another 2/3 cup of crispy fried onions. Bake for five more minutes and serve.
If you would like to make this a one dish meal casserole, add 2 cups of chicken or turkey when you add the green beans. It is delicious!

Note: I usually have to double this recipe to feed ten to twelve people each holiday. Keep several cans of the fried onions on hand because they are delicious to eat plain. Otherwise, you may not have enough for the green bean casserole recipe--your family will sneak in the pantry and munch on them.

Return from Green Bean Casserole Recipe to Favorite Recipes

---
Watch Our TV Commercial!
Sing Along To Our Jingle

♪ ♫ ♪ ♫

Peppers and peas
And lots of yummy greens
You can't go wrong
With Squash This Long
At David's Garden Seeds
♪ ♫ ♪ ♫

Please like and subscribe on YouTube and come visit us at our Farm Store! The music on our TV ad was written, played, and sung by our son, Matthew Schulze. You can meet him when you come to the farm. He just might give you a tour. Ask him to grab a guitar and sing our jingle that he wrote.

---
We are David's Garden Seeds®. If you need great seeds, we've got over 2,000 varieties to choose from.

---
Subscribe To Mrs. David's Garden Seeds® Newsletter For FREE!

Find out what is going on down on the farm by reading our blog and by subscribing to our free newsletter for all of the information going down at David's Garden Seeds® and on the farm. I love to share helpful information with you. Please let your friends know and y'all come on down for a visit when you get the chance. We would love to meet you!