Mrs. David's Garden Seeds®
---
Business On The Farm

We are so grateful to have our business on the farm. The commute is great. Instead of driving an hour one way, we walk for about 30 seconds or so and we are there! It takes me longer to get to my chickens than to get to our seed store.
This is a short week for us because it is Thanksgiving week. We work Monday, Tuesday, and Wednesday only. We will be closed Thursday, Friday, Saturday and Sunday for the holiday. Our store will open back up on Monday, November 30 from 9am to 5pm. Because of Covid, we've had very few guests to our store this fall. We are hoping our customers come back in to the store in the spring. We've been making lots of changes to our store and to our business on the farm.

---
Business On The Farm -
November 23-29, 2020

Monday, November 23, 2020
We planted a variety of fall flowers in the two new flowerbeds in front of our store. They look so pretty!
It was cool and breezy when I woke up this morning to do my usual business on the farm. The first thing I do is make coffee. Then I make sure everyone gets breakfast. I let the dogs out to go potty and then give fresh food and water to the cat and to the three dogs. Usually by then, I am starving so I cook eggs or some other breakfast food for us.
After that, I put on some decent farm clothes and go outside with some gallons of water to feed and water my 23 chickens and two guineas. This morning, I sprayed some of my hens with antibiotic spray as one of the hens has been pecking a bunch of them just above the tail. They jump, run, or fly when I spray them so I know it has to sting. They are looking better though.

David handles feeding the rabbits most of the time or he has Matthew feed them. Now that we have six or seven, possibly eight bunnies, it is important that we check on them. It is difficult to tell in the little nesting box just how many there are.
Once everyone is fed, I go inside and get dressed and ready for a work day, usually working in our retail store. Because there have not been many customers this fall, I have been doing a lot of computer business on the farm.
David just had about 12 new raised beds built so there is plenty of planting to do as well as computer work.
In the building directly across the parking lot from the Farm Store, are where all of the online  seed orders go to be filled. We get a ton of them every day. With the holiday season upon us, business on the farm is about to get busy.
This morning, David and I went to get our second and final Shingles Shots from Walgreens. We spent $400 in September and another $400.00 today. This is good for a lifetime. We sure don't want to get shingles.
After that, we drove further down the street in Pleasanton and found a small nursery with a ton of fall flowers. We picked up pansies, violas, and snapdragons to plant in the beds out in front of the store.

I spent a great deal of the day trying to straighten up the kitchen for Thanksgiving company. I also did a lot of laundry and it is all folded and put away right now. My legs and back and killing me.
A cleaning lady, who was supposed to be here at 9am today, is here now and it is 8pm. She called earlier and changed her time to 4pm but that didn't happen. At 5:15pm, she showed up and said she would leave by 8:30pm but she hasn't done the master bedroom and bathroom, the kitchen, or the living room yet so I doubt she will be going anywhere anytime soon. We don't normally get cleaning help. David ordered a cleaner online for me since it is a big week with Thanksgiving. We are having four feasts this week which will be exhausting.
The cleaning lady left at 10:20pm. She left the living room for last and only vacuumed in there. I was exhausted and upset that she did not finish the house and yet was here for five hours. The house wasn't that bad. It was just cleaned by a team of two from her company two weeks ago.
I went to take a shower and the bottom was still dirty and not wet. I had to clean the shower. I checked the tub. Lint was still in there and it was dry. I had to clean that, too.

---
Tuesday, November 24, 2020
This morning, I had to dust my living room since it did not get done last night. When I paid $250 last night for the whole house to be cleaned, it makes me mad. Also, I had to dust tables in the den that she missed.
Amazon just brought some goo to put on the chicken's backs so I need to go out and take care of that.
Business on the farm includes having our lawn care team here today. They planted all of the fall flowers we picked up yesterday from a local nursery. They also took all of the citronella  plants and mango trees from the store to the back. They transplanted them to bigger pots and put them in the still unfinished greenhouse.
Because Amazon is constantly changing rules, we have decided to diversify some more, besides selling on our own website. We are opening some alternative stores to sell our seeds on.
Business on the farm includes good news for shoppers who want to visit our farm store on Black Friday! We will be open for business from 9am to 5pm on Friday! Come on out and look at our seed collections. They make great gifts for any occasion. We always sell a lot of them for the Christmas holidays. With so much uncertainty due to covid and politics in the United States, don't be caught without enough food in the coming spring. Get your Non-GMO seeds now for you and your loved ones!
---
Wednesday, November 25, 2020

As part of business on the farm, we have an annual Thanksgiving celebration. Because we can't get into Salt Grass, we decided to have a potluck. We opened the door between our commercial kitchen and the breakroom and had a big potluck lunch. There was turkey with all of the trimmings. The food was very good. I made my mother-in-law's recipe for Jalapeno Potatoes. Matt made homemade yeast rolls. We also provided drinks.
I actually spent most of the day in the kitchen. I made the jalapeno potatoes so they would be hot and fresh for the luncheon. Then I started making sides for Thanksgiving Day.
Late tonight, I finished my work in the kitchen, knowing that tomorrow, I will be in it all day long again.

---
Thursday, November 26, 2020
We were up early this morning. David put the turkey in the commercial oven. I finished my sides and baked them as well as pumpkin pie. Our company was just David's father and one of his brothers. The other one decided he did not want to come. Fine with me!
So we had a good visit and a delicious meal and then Dad and Gene went back to Leakey, Texas, about a two hour drive. I began to clean up and get things ready for tomorrow, when David's son, Jeremy, and his family will be here for the weekend.
Business on the farm continued through the internet, although we did not do any work. Tomorrow, we have six of our employees coming in--their choice.

---
Friday, November 27, 2020
I spent the day preparing more food for Jeremy and his family. Tonight we are having prime rib and fixings. I spent another almost complete day in the kitchen. It rained in the morning.
We had six of our team members here working. Regarding business on the farm, Karen had the Farm Store open at 9am. These are six of our new employees who have not been here long enough to be paid for holidays. However, we are generous and paid everyone for Thanksgiving Day, no matter how long they have been here.

Jeremy and his family showed up at around 2:30pm. They were happy to be here. Holley and Max decided to spend the nights with us. Jeremy and Felisha are spending the nights at the hotel.
No shopping for us today. First, you could not convince me to leave the farm to go out and fight with crowds for some plastic junk. Second, I really like my seclusion times.
I took the kids out to collect the eggs and they had a good time doing it. We got 19 eggs.

So David made prime rib for dinner tonight and it was delicious. Max would not go to sleep until after 11pm and then I could not fall asleep. I woke up at 4am. It was ridiculous.

---
Saturday, November 28, 2020
Look at this adorable Rhode Island Red who would not get up when I came in to collect eggs. She is part of business on the farm because we are selling eggs in the store.
The grandkids got up early. By the time I made it out to the kitchen, Grandpa was giving them cereal and milk at the table. I put a breakfast casserole and a German pancake together and baked them. Both were very good. Then I got to do the clean up. It was pouring rain, so everyone stayed in most of the day. We didn't go anywhere except back and forth to the commercial kitchen because I have no refrigerator space in the house and because we needed to bake more than one thing at a time.
I was tired all day long because I got very little sleep.

I made vermicelli salad for dinner tonight while I talked to my sister on the phone this morning. The kids watched Christmas videos. For lunch, we had leftovers and macaroni and cheese. In the afternoon, Matthew made a fresh loaf of bread from scratch. I put a corn casserole together and I roasted carrots and potatoes for dinner. I also baked a spiral cut ham. We had mini fruit pies for dessert.
I collected 19 eggs in the chilly, wet weather. Then at 7pm, we watched Svengoolie. The movie was The Thing From Another World.

---
Sunday, November 29, 2020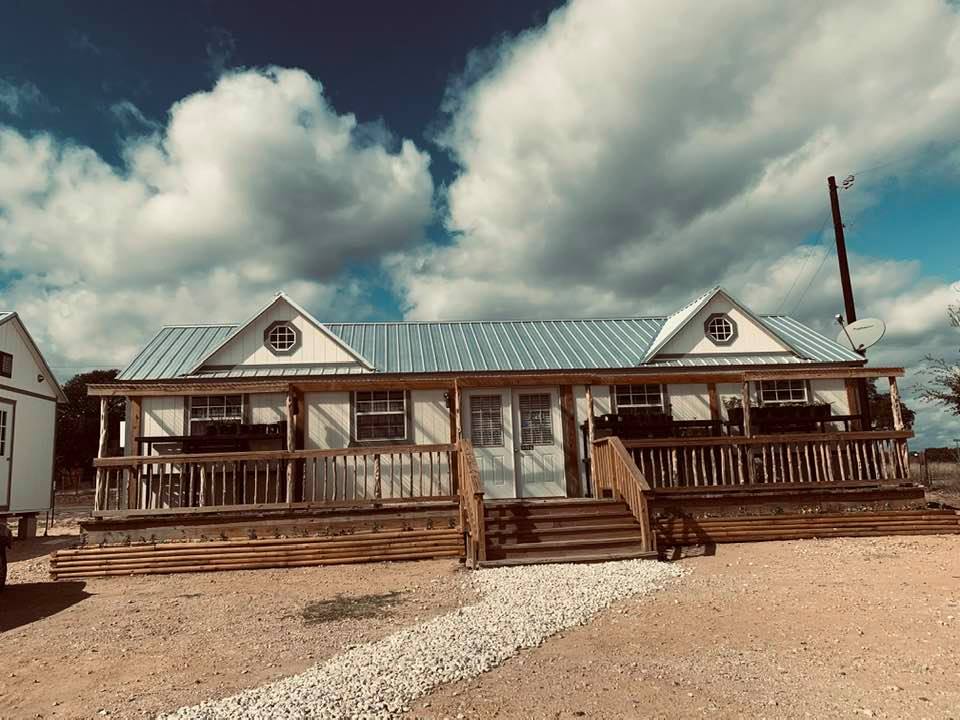 Business on the farm includes our retail store with its new flower planters on each side of the stairs. We planted fall flowers.
Happy Sunday! It is chilly out today. Started out at 48° Fahrenheit and it is in the 60s now. I had a difficult time sleeping last night. I finally fell asleep after midnight and I woke up at 4am with a very clogged nose. I could not fall back to sleep so I am drowsy now at 4pm.
I got out and took care of the chickens early. Then I came in and fed Holley and Max. After that, I made eggs for the adults and then got ready.
This morning, David preached at our church so he wanted to be there early. It went well and he did a good job. Several of our family members and team members from David's Garden Seeds® were there to hear him.
After church, Jeremy packed up his family and headed for home so our company is gone. I feel like I have never spent so much time in the kitchen as I have from Wednesday until this morning. I really don't feel like going back in the kitchen for a while.

---
Return from Business On The Farm to Our Farm And Business Life

David's Garden Seeds® Is A Trusted Brand
Since 2009, over 1,500,000 home gardeners, all across the USA, have relied on David's Garden Seeds® to grow beautiful gardens. Trust is at the heart of it. Our customers know David's Garden Seeds® stocks only the highest quality seeds available. Our mission is to become your lifetime supplier of quality seeds. It isn't just to serve you once; we want to earn your trust as your primary supplier.
---
Watch Our TV Commercial!
Sing Along To Our Jingle

 ♪♫♪♪ ♫ ♪ ♫♪♫♫
 ♪♫♪♪♫♫
Peppers and peas
And lots of yummy greens
You can't go wrong
With Squash This Long
At David's Garden Seeds
♪ ♫ ♪ ♫

Please like and subscribe on YouTube and come visit us at our Farm Store! The music on our TV ad was written, played, and sung by our son, Matthew Schulze. You can meet him when you come to the farm. He just might give you a tour. Ask him to grab a guitar and sing our jingle that he wrote.

---
We are David's Garden Seeds®. If you need great seeds, we've got over 1600 varieties to choose from.

---
Subscribe To Mrs. David's Garden Seeds® Newsletter For FREE!

Find out what is going on down on the farm by reading our blog and by subscribing to our free newsletter for all of the information going down at David's Garden Seeds® and on the farm. I love to share helpful information with you. Please let your friends know and y'all come on down for a visit when you get the chance. We would love to meet you!