Mrs. David's Garden Seeds®
---
Drought Facts

This week, we will talk about drought facts. As you may know, we are in the middle of a drought in Texas. This week, we have a chance for rain on Monday, Tuesday, and Wednesday.
Usually, the weatherman says there is a chance of rain and it just goes on by without any moisture. I am hoping for some rain because things are dying here. Even though we water our orchard and gardens with well water, God's rain is so much more effective.

---
Drought Facts - June 27-July 3, 2022
Monday, June 27, 2022 - Drought Facts
Good Monday morning to you! Today is supposed to be the day that we have a 50% chance of rain by 4pm. That has already changed to 30% at 5pm. The sky is bright blue with lots of hot sun. I hope we get the rain, but there is no sign of it whatsoever. So since we are talking about drought facts this week, the first of the drought facts is that here in South Central Texas, we are in a drought. There is a burn ban and we cannot even do fireworks this year. Last year, we set them off in the parking lot and it was fun.
This morning, I had to deal with two pretend marketers on the chat again. How they could be marketers is beyond me. They could not even spell so how can they communicate with people? There were also regular customers on the chat as well. We had a mother and son come in from Poteet. This was their first visit. Very friendly, nice folk, the kind you would expect from such a fine community! We had a good visit together.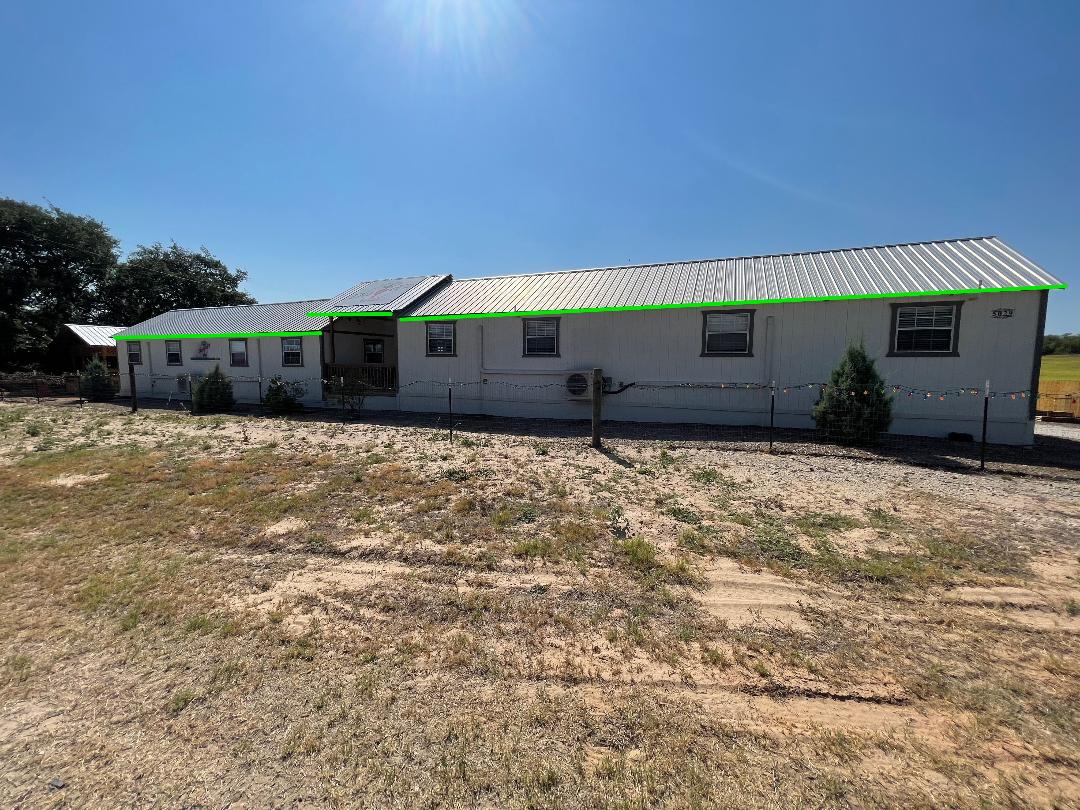 The green line on the buildings is where the Trimlights will go. Note the dry, brown grass and sand, one of the drought facts of our area. Everything is crispy.
A representative from Trimlight came to talk to us about front lighting by the road. Right now, we have embarrassing Christmas tree lights across the front fence. This lady is local and gave us a demonstration of how they work and how they look. It is just what we want. She is working on an estimate right now. She said we can have them up in about three weeks. I am excited. The lights can be changed everyday or for whatever holiday is coming up.
The water company cut our water off to fix a leak and now it is running yellow in the bath. Gross.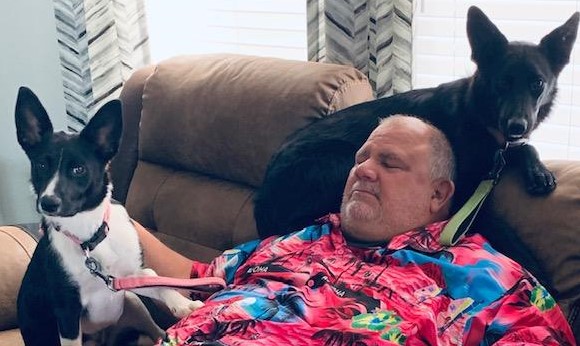 Left to right, Sue Ellen, David, and Pamela on a hot summer day. Drought facts don't matter to the puppies.
Matt took Pamela and Sue Ellen to the vet for a nail trim, some sort of shot, and preoperative blood work. They will be getting spayed next week. These are rescue dogs so they have to be spayed or they can be repossessed. They are back and the vet called to say the blood work is fine so they are on for surgery, both on the same day.
It is now 2pm and the clouds are beginning to come across the sky. But will they bring rain?
Trimlight got their quotes to us. We picked one and we are moving ahead with getting these awesome lights. This will attract people who normally go by after we are closed. You can change them right from your phone so I am excited!
It is now 3:30pm and rain chances for 5pm have dropped down to just 18%. I guess we are not getting any rain. Amazon, FedEx, and the mailman have all come and gone.
Nacho showed up here to work at 4pm. He will be putting up wood skirting under the buildings and porches that still have openings so we don't have anymore stray cat or skunk problems as we did last week.
The clouds grew darker and just after 5pm, it started raining, along with some thunder and lightning. I was excited! The rain never got heavy and after about 20 minutes, that was it. Nacho worked right on through it. He left just before 8pm and there was no more rain for the night.

Drought Facts
Around 80% of the entire state of Texas is in a severe drought with no or very little rain in months. It is bad. We desperately need that rain today. We have had more than three weeks of 100 degree plus temperatures and everything is dried out. Lawns and gardens have died or are on their way up North.
Drought facts from the Drought.Gov website state that Atascosa County (where we are located in Texas) is having its fourth driest year to date over the past 128 years. That is pretty dry. We are down 7.18 inches in rain which may not seem like a lot, but is a lot when you don't get much rain to begin with. Texas is not like back east. Back there it is always raining and it rains all day long most of the time. Here, we are lucky to get an hour or two. Over the last few years, it usually lasts ten to 20 minutes and that is it.
As of today, Atascosa County is divided up per the colorful map. They have part exceptional drought and part extreme drought. Where we are located, it is exceptional which is worse than extreme. This is why we cannot have fireworks this summer. That is too bad because I was looking forward to them.

---
Tuesday, June 28, 2022 - Drought Facts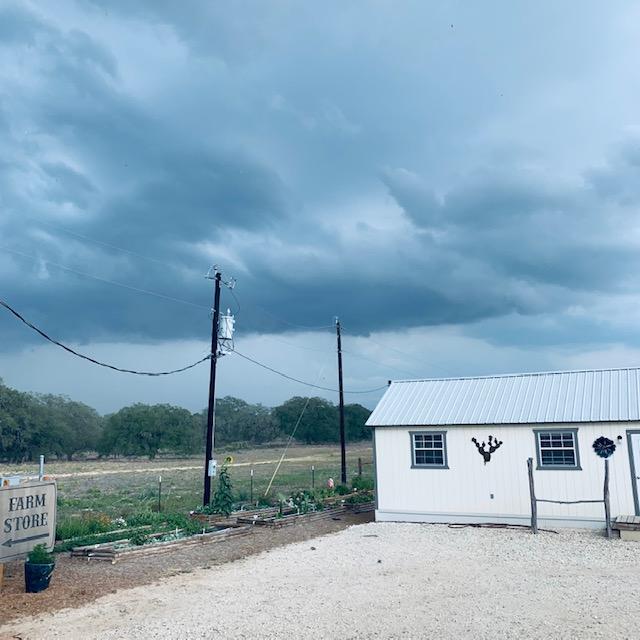 The dark clouds started moving in early this afternoon. Per drought facts, one rainstorm does not break a drought but we are so happy to get rain.
Hello and Happy Tuesday! David stepped on some things and drove a thorn deep into his foot again yesterday. He told me about it last night so I was on the phone with our podiatrist this morning. He made time for David to go into San Antonio at 10:45am. The doctor took it all out in three different layers with the deepest layer being a thorn. Not a drop of blood. David is on blood thinners so that would have been a mess. Anyway, we got that taken care of.
Now it is 1pm and the clouds are getting heavy with rumbles of thunder. Hopefully, we will get rain. Right now, there is a 50% chance and it is 93°. In fact, my computer tells me that it is raining in Poteet right now but we have not had a drop out here.
I just received a chat from a customer who placed an order for one pack of seeds eleven days ago. He says he used the wrong address and wants us to fix it. Tracking shows it is on our way back to us. When we get it back, I will refund the cost of seeds and he will need to reorder.
If I re-mail it, we have made no profit. In fact, we will lose money. We are required to send packages with tracking and that is around $4, not including the envelope, address label, ink, time, and employee pay to pull the order and mail it out. We used to remail and lose money but we are no longer a charity. If you move, it is your responsibility to remember that and give us your new address. This person had never ordered from us so he had to put an address in the computer and he gave us his old address.
We just had two lovely local ladies come by for the first time to pick up a few seeds. We are so excited that more local residents are beginning to come by the farm store and meet us. We have found that our local neighbors are the most genuine, down to earth people and we are always happy to meet them.
Praise the Lord! It is pouring right now here on the farm! It started at 2:37pm and is coming down hard and the wind is blowing it around. I just hope it lasts longer than usual. It would be nice to have the drought facts say that we are no longer in a drought!
After 20 minutes, it has slowed down to a drizzle now. How disappointing. We are so far in a drought that it will take a lot of rain to come out of it.
It is now 3:52pm and it is still raining. The drizzle changed to rain again, not as hard as at the beginning, but precipitation is falling on our very dry, sandy soil and the thunder is still rumbling.

Drought Facts

Today's drought facts include:

What drought is -- an extended period of time with little to no precipitation. This can go on for years.
Also, here is an interesting one. Only 0.003% of the earth's water that is available to humans is fresh water. This one of the drought facts boggles my mind. It seems like a ridiculously small amount of water, yet there are billions of us on planet earth.

---
Wednesday, June 29, 2022 - Drought Facts

Good Wednesday morning. No rain today. It is currently 6am and 72°. Already being harassed on the website Chat by a Nigerian "marketer" who works for Fiverr and who won't take no for an answer. She wants to speak with the owner of the website. I told her I am the owner. Does she really think that at 6am employees are here talking to her? Actually, I do the chat, not our employees. Our employees are already doing their jobs that we pay them well to do.

The problem is with Shopify, you cannot block people so I have a continual stream of Nigerians who think they know how to make our website better. Professional marketers built it from our old website and we paid a lot of money to them. We like it the way it is. We ship out thousands of orders each week. How is someone who can't even write one grammatically correct sentence in English going to make it more successful?
May I recommend that if you have a website that you not add chat? I hate it because it has been nothing but harassment in the few short days we have had it.
On a more pleasant note, David made breakfast tacos and the dogs and cat are all fed and happy. Nacho will be here to work on some more projects that David has around the farm.

It is already 4:45pm! This has been a busy day. I have had at least ten chats with customers throughout the day. This morning, around 10am, we went to a place in LaCoste called Miller Farms for some raw milk fresh off the farm. It is a self serve pay by honor place. $4 for half a gallon of milk, $8 for a half gallon of chocolate, and $8 for a pint of cream. We got some of each to try as we have never had raw milk before. They want $6 for a dozen eggs that look just like mine. We sell them for $3.50 so come on over to our farm store and get a bargain! There is another place in Devine that sells farm fresh chickens and she is wanting $4 for a dozen. So we have the bargain!
This year, I planted the Orangeglo Watermelon. We just cut into our first and it is so sweet and tasty, the best watermelon I have ever had in my whole life! It is truly incredible. Yes, we still have the seeds for sale. I was here at the store and David texted and told me to go to the house right away. I thought maybe something bad had happened with one of the contractors here today. No. David had sliced into our first Orangeglo and said it was really good. It truly is delicious!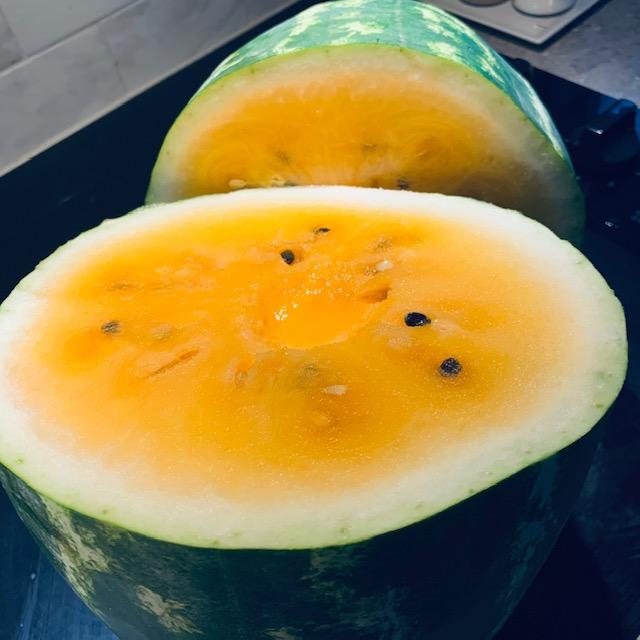 This Orangeglo watermelon is our first of this variety and it is the sweetest I have ever eaten. So good!
Nacho with Top Notch Lawn Care is here again today doing projects.

Daniel from Comfort Commander came to fix a thermostat that he installed. For some reason, it is not working. So he called it in and they got it fixed. Daniel just got engaged to be married this past weekend so congratulations, Daniel!

The Texas Fall Seed Sets are going fast. I have 20 left! We will have to make more soon! I have 18 Texas Spring Seed Sets left. They are disappearing as well.

Drought Facts
Today's drought facts:
Did you know that a drought can lead to a famine? A famine is when there is no food growing.
Droughts are cyclical, meaning that for a period of years, everything is fine with more than enough rain. Then the weather patterns change and you have a drought. Sometimes it lasts one season and then is over. Other times, it can last for five to eight years, like here in Texas. Since we have lived here, we have had flooding some years with houses washing on down rivers and other years, everything is brown and dead and the garden won't grow. We cannot control it.

---
Thursday, June 30, 2022 - Drought Facts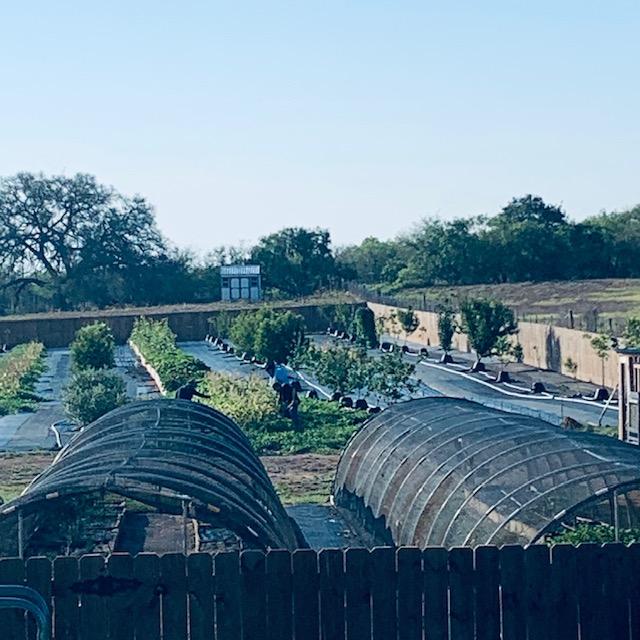 Our team harvested some corn this morning in the orchard. Matt pulled three of our guys to help him. I think it is good to get our team out and involved since none of them have gardens.
Good Thursday morning! The Nigerian marketers started this morning at 2:25am on Chat wanting to take care of my sight, new marketers. How many can there be and aren't there any websites in Nigeria that they can deal with?
I also just had a guy ask a question but I was busy doing things and did not have my phone in hand. So after about ten minutes he wrote, "Not a live chat."
I saw it about 15 minutes later. First, I answered his question. Then I let him know it is live when I get a chance to sit down at my computer to answer people. We are running a farm, the business with employees, a store with customers, plus I am dealing with animals, a husband, home, laundry, dishes, cooking, and more. People just amaze me how they think. We are not a huge 24 hour a day company with hundreds of people that we pay. Plus what he was asking is right on the website on the top left corner. All he had to do was read. Meanwhile, I have been busy on my feet since 6am so that I could get over to the store and sit down for a few minutes to work on my computer.
I knew this chat thing would make me crazy...
Right now, I have nine dozen farm fresh eggs in my store fridge for $3.50 a dozen. I have not sold any eggs at all this week. Some weeks we sell all we have. Other weeks, one or two dozen. It is feast or famine now that the hot summer is here.
At 8am, Matt chose for three men from our team to help him harvest some corn out of the orchard. I think it is good for them to get out in the garden once in a while. They were there for 30 minutes.

I now have zero dozen eggs in my fridge! One of my San Antonio customers came in and bought all of them this morning. Thank you! He also told me today that he has a koi pond and then told me some things we should be doing with it. I had no idea. It has been getting a lot of algae and the water is not very clear. We are working on it now. I sure appreciate the information.

Drought Facts

Over the past 50 years, the western and southwestern United States has experienced the most droughts of the entire country. It seems that back East, everyone gets all the rain they need. When I was a kid back in upstate New York, when it rained, it normally rained all day long, not for 20 minutes like it does in Texas.

---
Friday, July 1, 2022 - Drought Facts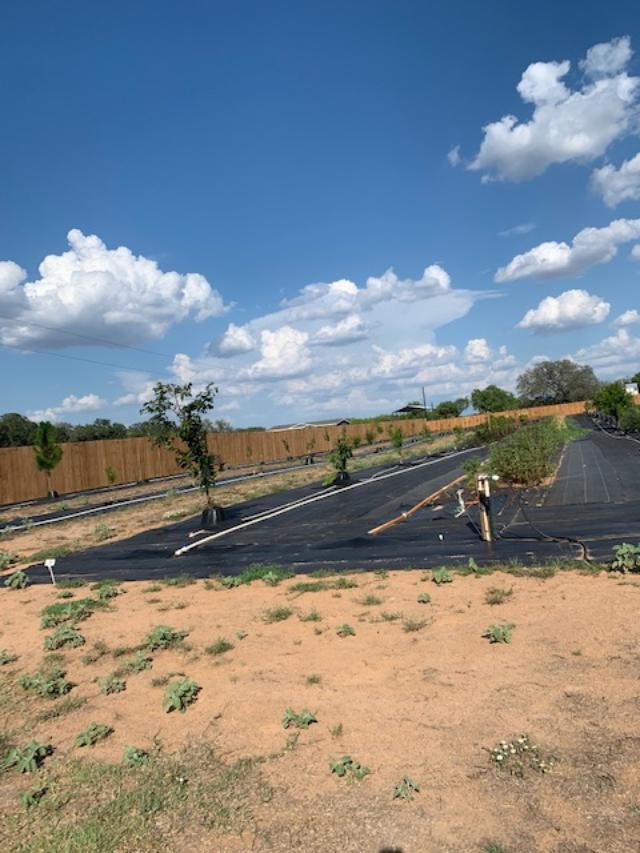 Dry sand, fluffy clouds, trees that should be big and healthy all are part of drought facts. Part of our orchard.
Good Friday morning! I have spent the whole morning setting up our new sale. I learned of the new sale before 7am.

---
---
50% Off Seed Sale Now!
Yes, David has nearly lost his mind. He told me this morning that we are have a 50% off seed sale starting now! This is for online orders as well as in our Farm Store. Use code JULYBLOWOUT to get 50% off of your seed order including all of our seed sets!

---
---
We have had a bunch of customers in our store this morning which is a nice start to the weekend. Again, we are open today until 5pm and tomorrow we will be open from 10am-4pm so come on out and visit us. Get your fall seeds, eggs, fresh Texas 1015Y onions, canned and pickled goods that are homemade by David, strawberry preserves and pecan coffees to start with.
It is 2pm and 98° right now. David and I ran to Walmart this afternoon to pick up a few groceries. Matt hung blinds in the Farm Store. We gave a bunch of produce out to our team members to take home. We are open tomorrow, but not Monday. Starting tomorrow, we will extend the 50% off sale to include the seeds in the store, but no other items.
The pond guy called me and he will try to come out next week and take a look. Thank you, Randy, for referring him to me. I was so busy all day long with the new sale and chats, etc., that I completely forgot to call him. I put more algae killer in the pond and this afternoon, I filled it up again as it was getting low.
Yes, our Farm Store is open tomorrow from 10am to 4pm. David has been rearranging the store all week and he is about half way done.

Drought Facts
Drought Facts - There are four kinds of classified droughts.



Agricultural drought – This is due to a lack of wetness in the soil.
Hydrological drought – This is due to very low levels of water in bodies of water like ponds, rivers, wells, and lakes.
Meteorological drought – This is due to little or no rainfall.
Socioeconomic drought – This is due to a shortage of tap water from the faucet that is potable (drinkable).
So right now we are in a meteorological drought. We have had so little rain in comparison to the last three years (almost) that we have lived here.

---
Saturday, July 2, 2022 - Drought Facts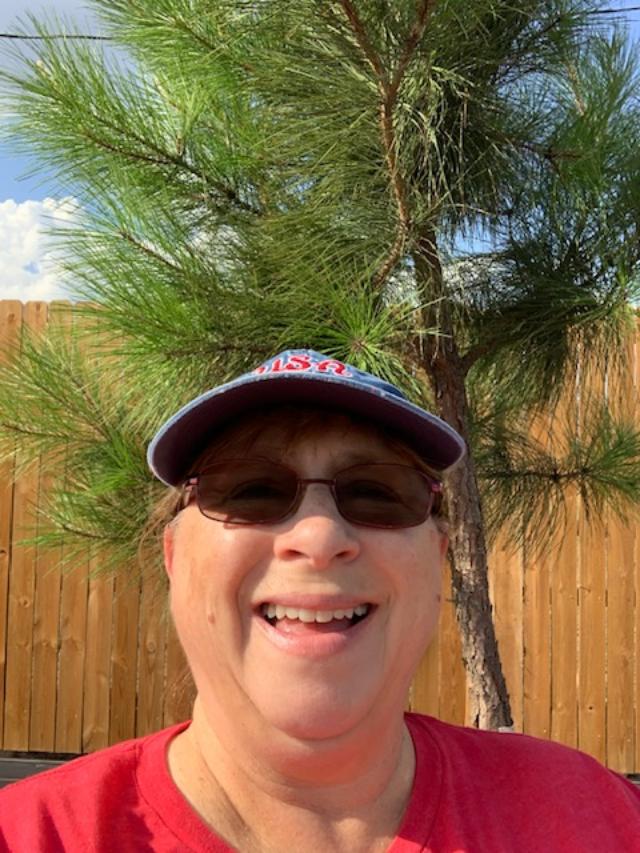 Our pine trees are getting big despite the lack of water. Drought facts mean watering almost every day during the 100° plus temps.
Happy Saturday. The air does not feel humid right now. I had to go unlock all of the buildings and feed the fish and it felt great. I still have to go out back and feed the rest of the animals. We open the business in less than an hour. We don't open the store until 10am. Don't forget to come out to the Farm Store at 10am and save 50% on all of our seeds!
So I got over to the store right before 10am and the cash register would not open and there was no option to print receipts. The entire Shopify system was offline somehow. I messed with it for 40 minutes to no avail. Finally, I called Shopify Support. I was on hold for about ten minutes when David came in. I told him what was going on. He did a few things and bam! The cash register opened and everything was working again. I hung up on Support who still had not answered my call.
Of course, the first set of customers came in before this was fixed. Fortunately, they wanted a tour so Shay took them. It turns out, they are from Monterrey, Mexico and the one lady reads my website. She came to buy a lot of seeds for her ranch there. We had a good visit. Throughout the morning, more came. We had good sales.
Meanwhile, over on chat, people were messaging me left and right. Some had questions, there were a few marketers, and others did not know how to use our sale code or use their credit card online. One lady had filled her cart with seeds and then could not get to it. I helped them as best as I could. Another customer wanted me to call her in Florida and give her advice on running a cut flower business. No. I have no idea how to do that.
As I was dealing with customers in person and on chat, I was also trying to get some product information done on the online store and adding product. I had to go through all of the pulled orders and check them, signing off on them when they are right so they could be shipped. I was totally busy the entire day but I never got to do the things I need to do for the business.
This afternoon, once the store closed, I took a swim and then picked apples for the first time in our orchard. One of our trees is loaded down and was dropping them. Some are ripe but tiny. Many have brown spots or have been bitten.

This evening, Matt came over and grilled steaks. David made potato salad. We turned on Svengoolie and again, it was not on. San Antonio TV decided to put on another one of those arena football games that no one wants to watch. So we watched a few episodes of The Closer, the latest TV show we are going through. I love this show. Brenda is hilarious and so good at what she does. We stopped watching Medium because it is just so dark.
Drought Facts
Our drought facts for today were mentioned on Wednesday. Droughts recur often. All weather patterns are cyclical. When I was in elementary school, we were taught that another Ice Age was on its way. That was in the late 1960s. Now it is 2022 and still no Ice Age has arrived. Then Al Gore decided the earth was heating up with global warming back in 2006 and shared it with America. I looked it up and scientists were saying in the 1800s that there was global warming. Then the Ice Age in the 1960s that never occurred. Then Al Gore's global warm again. My point is, weather is cyclical.
Some years, it floods in our area and other years we have droughts. These are drought facts.

---
Sunday, July 3, 2022 - Drought Facts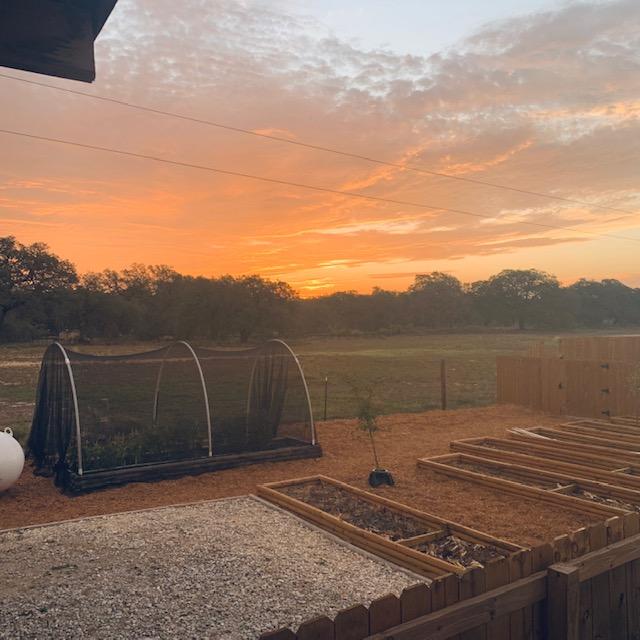 God gave us a beautiful sunrise this morning. Drought facts = clouds do not mean rain unfortunately.
Good Sunday morning. It is already so hot and humid outside. I just got back in from feeding the chickens, guineas, and rabbits. I filled up the chicken A/C with water and got that going.

We need to make a Tractor Supply run since we are almost out of food again. Chicken feed is not cheap so $3.50 a dozen for my eggs helps, but definitely does not cover the price for layer feed, scratch, grit, hay, worms, and oyster shells plus the cost of egg cartons and stickers that the county makes me put on the cartons. No wonder some of these places are charging $5 and $6 for a dozen eggs.
We were going to try a new church out here today but decided to take today as a holiday and I am glad. I am tired and I need some rest. Having a sale is exhausting. The sales are mounting. We are having a 50% off sale on seeds. It started two days ago and we are getting a lot of sales. If you would like to take part, go to David's Garden Seeds® and use code JULYBLOWOUT at checkout. This code is for seeds only.

If you have never before gardened but you are concerned about store shelves and high prices, this website and the David's Garden Seeds® website have a lot of helpful articles to give you the information you need to get started. David and I write the articles ourselves. We don't pay people to research and write articles. We write from our experiences with gardening.

Drought Facts
So the drought facts say that a soaking rain is needed to break a drought, not just a day or two of quick rainstorms. That is right. One or two thunderstorms will not break a drought.

---
Return from Drought Facts to Our Fourth Year

David's Garden Seeds® Is A Trusted Brand
Since 2009, over 1,500,000 home gardeners, all across the USA, have relied on David's Garden Seeds® to grow beautiful gardens. Trust is at the heart of it. Our customers know David's Garden Seeds® stocks only the highest quality seeds available. Our mission is to become your lifetime supplier of quality seeds. It isn't just to serve you once; we want to earn your trust as your primary supplier.
---
Watch Our TV Commercial!
Sing Along To Our Jingle

 ♪♫♪♪ ♫ ♪ ♫♪♫♫
 ♪♫♪♪♫♫
Peppers and peas
And lots of yummy greens
You can't go wrong
With Squash This Long
At David's Garden Seeds
♪ ♫ ♪ ♫

Please like and subscribe on YouTube and come visit us at our Farm Store! The music on our TV ad was written, played, and sung by our son, Matthew Schulze. You can meet him when you come to the farm. He just might give you a tour. Ask him to grab a guitar and sing our jingle that he wrote.

---
We are David's Garden Seeds®. If you need great seeds, we've got over 1600 varieties to choose from.

Your second block of text...
---
Subscribe To Mrs. David's Garden Seeds® Newsletter For FREE!

Find out what is going on down on the farm by reading our blog and by subscribing to our free newsletter for all of the information going down at David's Garden Seeds® and on the farm. I love to share helpful information with you. Please let your friends know and y'all come on down for a visit when you get the chance. We would love to meet you!