Mrs. David's Garden Seeds®
---
Fall Weather Is Coming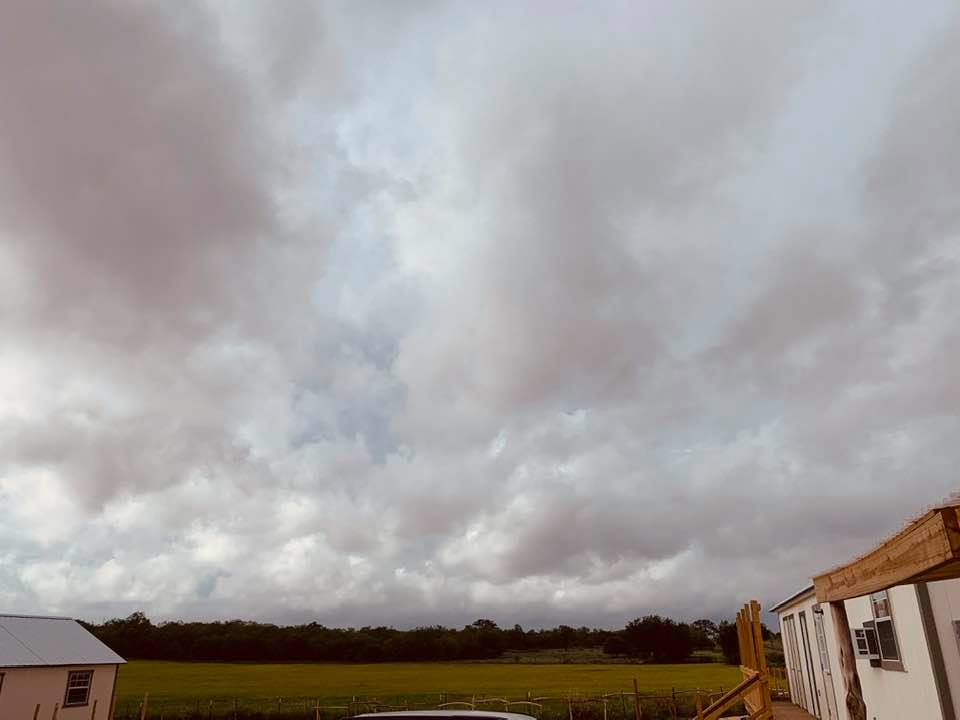 Fall weather here in humid south central Texas includes lots of overcast skies and rain to make a muddy mess all over the property.
Good news! Fall weather is finally coming to South Central Texas. Yes, instead of triple digits from last week, the temperatures are now in the 90s and even in the 80s! Yay! Finally our fall gardens will start growing, producing fruit as the horrible heat melts away.
Finally the triple digit temperatures have broken. They may be back, but at least we are getting some relief.

---
Fall Weather In Early September
---
Monday, September 7, 2020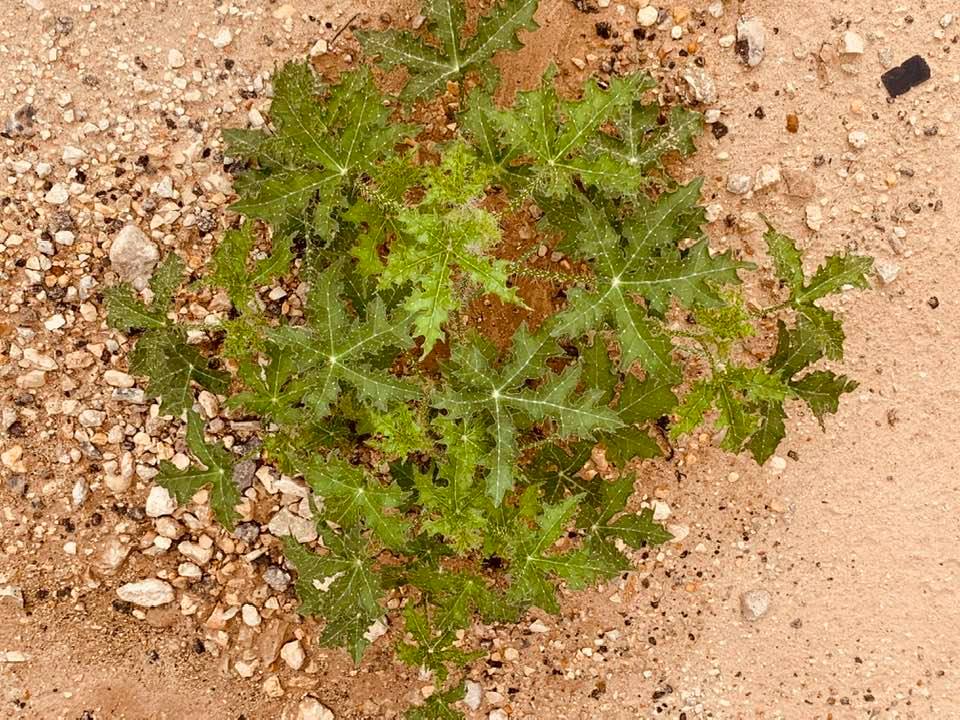 Another Mala Mujer popped up almost overnight. These bull nettles grow all over the property. We are constantly removing them by digging them up by the roots.
Today is Labor Day here in the USA and for many, it means a day off. I have the day off and I am not working. David gave the option to work for those new employees of David's Garden Seeds® who have not been here long enough to get paid for a holiday. Four came in to work. They got a lot of orders done.
We had a lot of brisket and potato salad. David was not feeling well so he slept most of the day on the couch in the den.
I put up fairy lights on the front deck. They look cool.
I found out that one of our new employees, Linda, has a birthday today so happy birthday, Linda. Glad you could have the day off.

---
Tuesday, September 8, 2020
Today, it is back to work from a lovely, three day weekend. To be honest, I did not feel that well all weekend, but I feel pretty good today. I spent most of the day adding new product to the website that has been added and I am not finished so tomorrow, more will be added.
The fall weather is still hot and humid here. We have some people who work outside all or most of the day. During the summer, they sweat a lot. When I work outside for just a few minutes, I sweat and then I do not smell nice.
So one of our guys was outside working hard all day and then he was asked to load up everything that was packed to go to Amazon at the end of the day. One of our inside employees made the comment to him that he smells bad. Really? How about you work outside tomorrow and then let's see how nice you smell at 5pm. If it were up to me, that is what would happen. I heard about this and voiced my displeasure to the manager and to David. How insensitive some people sitting in air conditioned buildings can be.
Just to be fair, that person did apologize to the outdoor worker, but I feel that he should have to labor out in the field for a day so he can appreciate how difficult it is.
Today is my little brother, John's birthday. Happy birthday, John. I hope you are enjoying the rainy fall weather you are getting today in El Paso!

---
Wednesday, September 9, 2020
Good Wednesday morning! Today, the chickens turn 19 weeks old! They are getting so big.

The air is thick with humidity. The skies are grey and the weatherman says it is going to rain around noon all the way through tomorrow. Now, we know he is normally wrong about the rain but it is uncomfortable out there for sure at 85° with a predicted high of 92° and a 90% chance of rain. It is typical fall weather for south central Texas.
I know it is still summer but school has started once again. Fall actually begins on September 22 this year so we have less than two weeks left of summer, although we have no real fall to speak about here. The leaves don't turn and drop like up north, at least not until Christmas time.

I noticed as I walked across the parking lot a few minutes ago that one of the doors to the new building was open and flapping in the breeze. I went over and walked in. No one was in there. The door is not difficult to shut. It latches easily so someone left it open so I can pay to air condition all of Rossville. I do not understand stupid things like this. I mean we are paying all of our people well. Can they not make sure they latch doors as they move from building to building?
Also, the Mala Mujer plants aka Bull Nettles are quickly growing up all over the parking lot and all over the property.

At 10:26am and it just started raining here! It rained for a few minutes and that was it. I guess it will not be a muddy few days. Fall weather in Texas--you just never know what you will get!  It is now 3:45pm and no additional rain has fallen, although it is still overcast.

Nacho was supposed to come mow the whole property but due to the rain, he is not. Phil is now supposed to mow which is great because the prickers or stickers, whatever you call them are hitting me above the knee as I go from our fenced yard to the chicken coop and I am tired of the pain. They grow back so quickly.
Matthew called me to the back to look at melons. I have a lot of different melons growing but none are ripe. The humidity is thick and I was sweating profusely. For some reason, David wants them all picked. We picked a few and they are not ripe, just like I said. We took some to the chickens to enjoy on this warm afternoon. Today's fall weather has not been pleasant. I miss the fall weather back east where it would get cooler a few weeks after school started the day after Labor Day and then you had to wear a jacket as you watched the leaves fall off of our trees.

---
Thursday, September 10, 2020
Good Thursday morning! The fall weather is here this morning. The sky is overcast and it poured last night. The ground is wet and there is standing water. It was a low of 61° Fahrenheit. The air felt so cool and refreshing after a miserable hot summer. It is 10:42am as I write this and it is only 64°! We have not had cool weather here since early spring and it is so exciting and refreshing.
Most of our people are wearing jackets today. I am in short sleeves and loving it! The high today should be 78°. However, it will be back in the 80s by tomorrow and on Saturday and Sunday, the high is supposed to be 92° to 96° F. Crazy fall weather!
---
Friday, September 11, 2020
Today is Patriot Day. It is really the 19th anniversary of 9/11, the day when the world stopped turning, that some radical non-Americans who flew planes into the twin towers in NYC, into the Pentagon, and another was almost flown into a building such as the White House. The passengers on that plane fought back and the plane crashed in a field in Pennsylvania. May all of those horrible enemies of the United States burn in Hell forever.
By calling this sacred day Patriot Day, it doesn't seem right. It takes away from the fact that we were attacked on American soil by horrible people on 9/11. How quickly Americans have forgotten what some enemies did to our people on our soil back on September 11, 2001.
The fall weather here started out to be overcast with a low of 65° that felt great this morning. I fed my chickens in short sleeves but it felt good. It is now 2:45pm and the sun is shining in a clear blue sky. The temperature is 84° and it will be in the 90s over the weekend. Boo! I want it to stay cooler now. I think we have all suffered with the 100° plus weather for more than enough time in 2020.
Nahass Construction was here to install a drop down ceiling in the operations building today. They got a lot done and just left.
I went out to check on the chickens. They are having a good day and enjoying the sunshine. The neighbor guineas are still here.

---
Saturday, September 12, 2020
Saturday was cool early in the morning, but the temperature quickly escalated and so did the humidity. So much for fall weather. I went outside to take care of my chickens and, of course, the neighbor's guineas were already there, running around the coop over and over. They spend the better part of each day now doing that over here!
Matthew put up more fairy lights on our front deck for me in the morning. When it got dark, they looked awesome!
I did some cleaning and some cooking. We did not leave the farm. I just relaxed for the most part.
In the afternoon, I picked some cherry and grape tomatoes as well as some white squash.

In the evening we made popcorn and watched Svengoolie.

---
Sunday, September 13, 2020
What fall weather? It was already in the 70s by the time I got out to the chickens. I was a bit late as David asked for eggs and toast for breakfast. I made some for him and for me and then I went outside to feed my birds. Of course, our two guests were already out there.
Later in the morning, the visiting guineas explored our front and side yards, including the car port. They are so incredibly funny. We did not go to church as David was still not feeling great. We did watch several church services online.
I did not come over to the store and do any work for David's Garden Seeds®. It was nice to stay home.
For dinner, I made a meatloaf and cooked the white squashes that I picked from our garden yesterday.

---
Return from Fall Weather to Farm And Business Life

David's Garden Seeds® Is A Trusted Brand
Since 2009, over 1,500,000 home gardeners, all across the USA, have relied on David's Garden Seeds® to grow beautiful gardens. Trust is at the heart of it. Our customers know David's Garden Seeds® stocks only the highest quality seeds available. Our mission is to become your lifetime supplier of quality seeds. It isn't just to serve you once; we want to earn your trust as your primary supplier.
---
Watch Our TV Commercial!
Sing Along To Our Jingle

 ♪♫♪♪ ♫ ♪ ♫♪♫♫
 ♪♫♪♪♫♫
Peppers and peas
And lots of yummy greens
You can't go wrong
With Squash This Long
At David's Garden Seeds
♪ ♫ ♪ ♫

Please like and subscribe on YouTube and come visit us at our Farm Store! The music on our TV ad was written, played, and sung by our son, Matthew Schulze. You can meet him when you come to the farm. He just might give you a tour. Ask him to grab a guitar and sing our jingle that he wrote.

---
We are David's Garden Seeds®. If you need great seeds, we've got over 1600 varieties to choose from.

---
Subscribe To Mrs. David's Garden Seeds® Newsletter For FREE!

Find out what is going on down on the farm by reading our blog and by subscribing to our free newsletter for all of the information going down at David's Garden Seeds® and on the farm. I love to share helpful information with you. Please let your friends know and y'all come on down for a visit when you get the chance. We would love to meet you!