Mrs. David's Garden Seeds®
---
Finding Chicken Eggs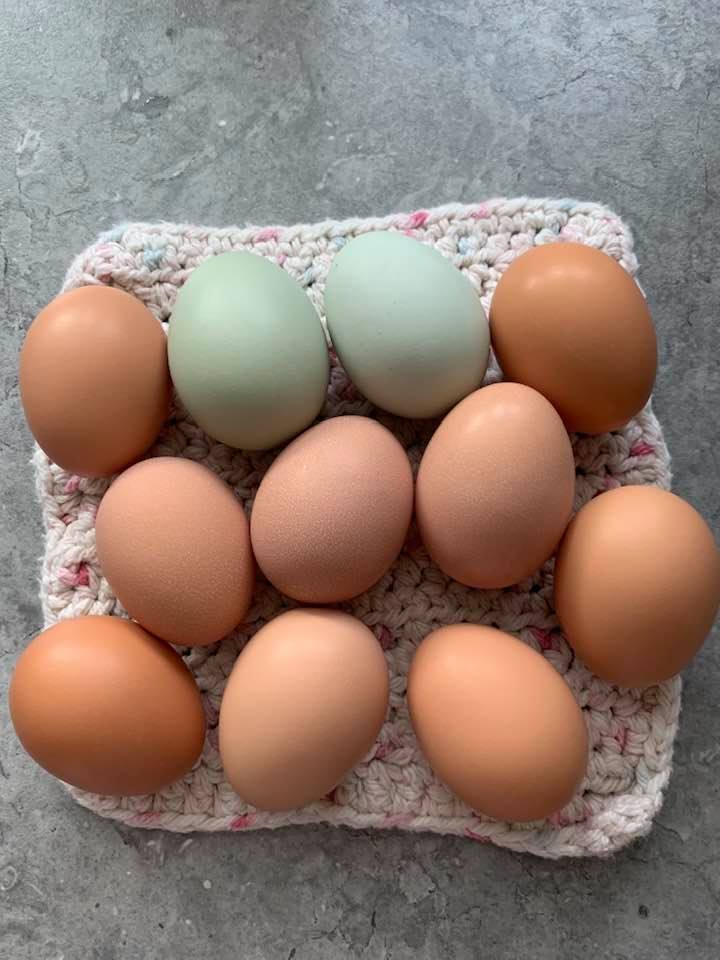 Finding chicken eggs is getting a bit easier now. The chickens let me get in there but they follow me and nip at my boots and legs. I am getting about 11 per day.
Now that some of the chickens are laying, I am finding chicken eggs everywhere out in the coop complex. They may be on the floor in the coop or out in the new run in the middle of everything. Most are on top of the nesting boxes like they should be. A few days ago, one was laid on the roost ladder and fell down a step, smashed with the yolk hanging onto the shells. So sad after all of that work.

Finding Chicken Eggs
Monday, October 12, 2020
I have learned that finding chicken eggs is rewarded in the afternoons, around 5pm. Sometimes, earlier in the day, I will find three or four, but if I wait until 5pm, so far I can find up to eleven eggs. At least that is the biggest number of eggs I have found yet.
This morning, we had to take Annabelle to the vet for her preoperative blood draw. She has surgery tomorrow morning to remove an abdominal tumor growing on the outside of her belly. It is bloody and nasty and just appeared last week. We also had to take Lucy, Ethel, and Kitty for their rabies vaccines. We got all of them in October. Annabelle gets hers in April.
We got the pets all over there at 11:20am and everything went well. Ha ha ha! Not really! They wanted Annabelle first so David went in with her. They told me I had to wait in the car because if two of us go in, everybody gets the Covid.
I normally put Kitty in her nice, new cat carrier but it was gone. I looked all over for it and then I mentioned it to David. Turns out David threw it out as he thought we didn't need it so I had to bring her in her cube bed. She is bad at the vet's office  every time. When the assistant came to get her, Kitty was already giving attitude.
When it was over, the vet came out with Kitty in one of their carriers saying that Kitty would run away from me if I tried to get her out. I explained that my cat carrier was forever gone. Then I opened her carrier and picked Kitty up, putting her back in her cube that the assistant carried out for me. Now I have to spend another $50 to buy her another cat carrier...The vet said she would not allow a temperature or going on the scale. If they had allowed me to go in with her, they would have had both but the Covid would not allow it.

Lucy and Ethel did fine and so did Annabelle at the new vet's office.

Annabelle ate a bit early this afternoon. She could not have food after 6pm so I gave her nighttime dental treat to her after her dinner. She was happy.
I was finding chicken eggs during her regular dinnertime. I found 11 again. Soon we will have enough eggs to start selling them in the David's Garden Seeds® Farm Store.

---
Tuesday, October 13, 2020
This morning, we were up bright and early so we could leave the farm by 7am with Annabelle for her surgery. We stopped by McDonald's for Egg McMuffins and then arrived at the vet's office in Lytle by 7:45am. We had to wait until 8am to drop Annabelle off.
Matthew took care of the chickens and the rabbits for us so we could leave early.

The vet called about two hours later while we were back at work. She said Annabelle did fine but that we must assume she has cancer until we hear otherwise. We could hear this Friday or next Monday. I am a bit freaked out by the fact that said we must assume it is cancer. So much for keeping a positive attitude. The vet said we could pick her up at 4pm.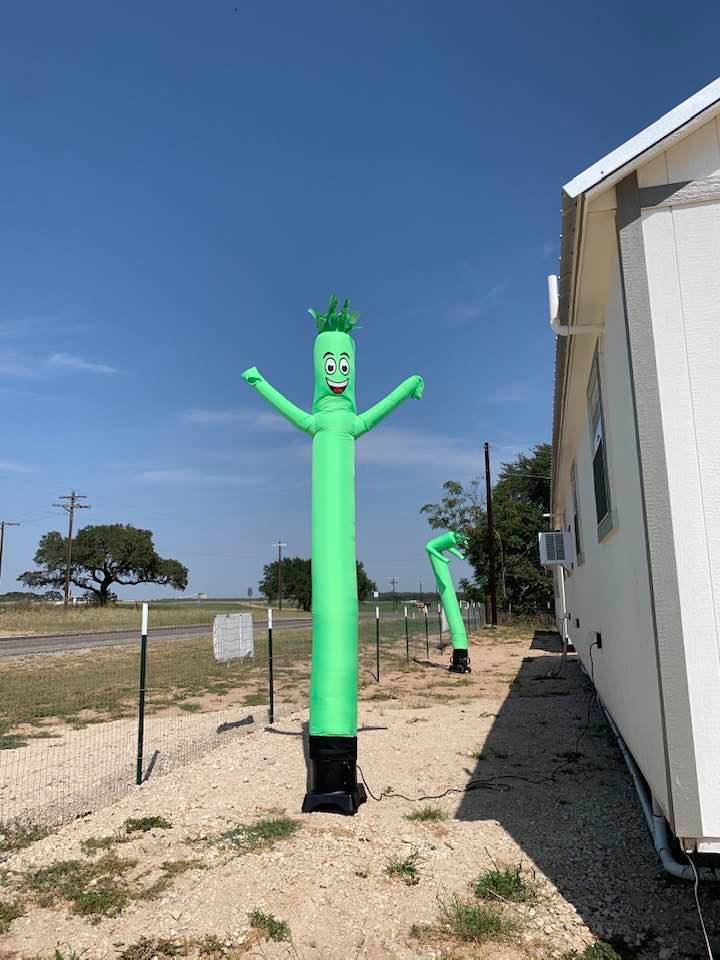 The green dancing men are on the highway that goes by our store. Hopefully, they will attract some attention. So far, they have not.
At lunchtime, Karen told me that a blowup guy was dancing in the breeze outside of the store. I have been waiting two months for those to be put up!
Later in the morning, David called me into the commercial kitchen area of our business. The electrician hooked up the oven and the vent and it looks great. It is also a convection oven which I have never used before. I have to read the book.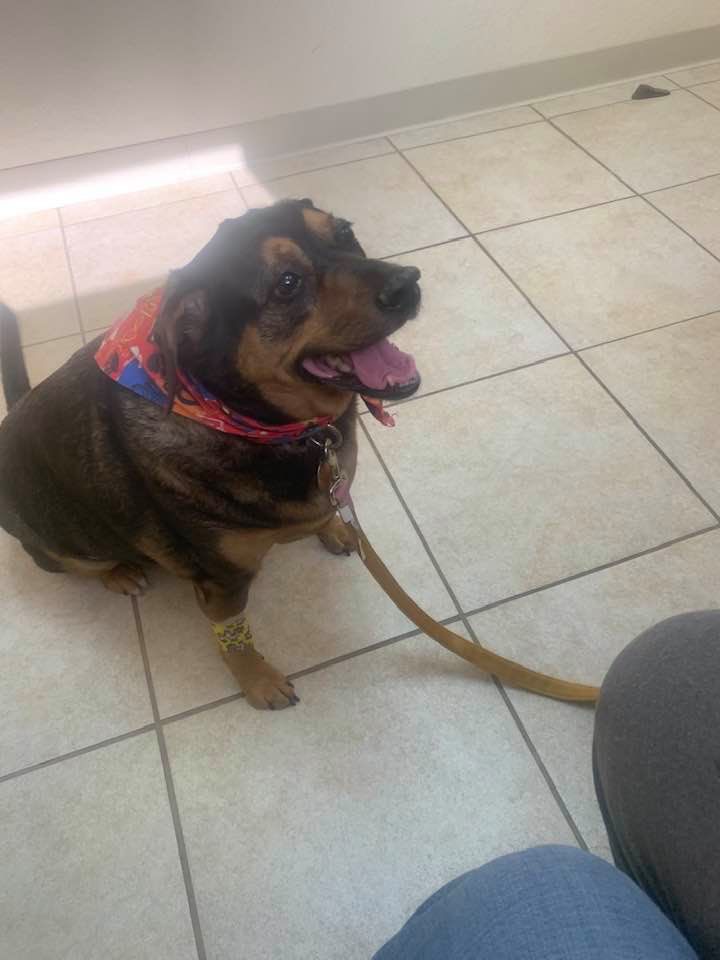 After surgery, Annabelle sat on the cool floor while we both got to go inside to hear about it. Covid was apparently not a concern here but when we had 4 animals at once, it was.
When we got to the vet's office, they took us into an exam room and brought Annabelle to us. Note that they wanted both of us in the office, not just one of us. I thought that was strange but the Covid germs were temporarily suspended as we were both told how to care for Annabelle post surgery...The vet never came in. One of her attendants came in with two medications for Annabelle. We have to take her back on October 23 in the afternoon for stitch removal.
Finding chicken eggs in the amount of 11 has started happening every day now. There is almost always one blue egg.

---
Wednesday, October 14, 2020
Today, I have not been on my usual finding chicken eggs quest. It is almost 5pm and I am finally at my work desk trying to get some things done. This morning, I fed and watered the chicks. Then we left. Our main reason for going to San Antonio this morning was to go to Chama Gaucha Brazilian Steak House with a party of ten. October is Pastor Appreciation month. Every October, we take our pastor out for a nice lunch. For the past four years, we have taken the pastor and his wife to Chama Gaucha just to appreciate their work. We pastored for a while and it is a hard job.
This year was our first to take Schell and Marcella Smith there. We also took two of their children, one of whom works for us, our son Matthew, the church pianist, and Jay and his brother Rock because it is Jay's birthday. It took well over an hour to get there. We had a blast and the food is so good. The meats are incredible and the desserts are to die for.
On the way back home, we stopped by David's cardiologist to return his halter monitor in San Antonio. He was supposed to wear it until this afternoon, but on Monday night it was coming off so he pulled it off since it was ripping his skin on his chest.

Earlier today, I gave Annabelle her medication and she did very well overnight. She seems fine and is acting normally.
Today, the plumber came by to pick up the very small three compartment commercial kitchen sink that he brought us weeks ago. It was way too small so he ordered a much bigger commercial sink from China. It arrived today and was all beat up. Obviously we are not going to accept it. Now he says he will find one locally, like David told him to do about six weeks ago. It seems everyone wants to hold up our business doing things their way. We are the customers, yet they are not listening.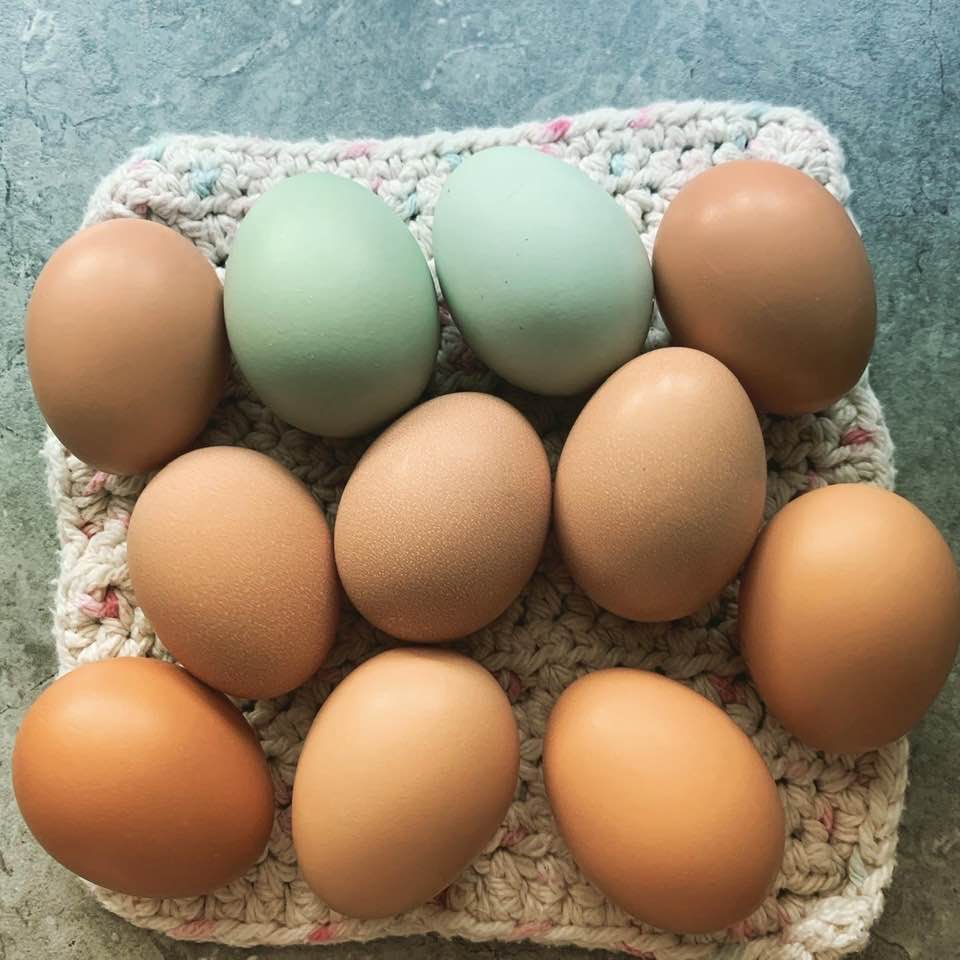 I got a green, a blue, and the others are various shades of brown eggs today. Finding chicken eggs is fun.
Around 6pm, I went out to do the work of finding chicken eggs. I found eleven including one blue one. I sliced up a bunch of melons from the garden and gave some to the chickens. They turned 24 weeks old today. Finding chicken eggs has become a fun daily challenge.

---
Thursday, October 15, 2020
Good Thursday morning. Finding chicken eggs in the morning is no longer a priority as I very seldom find any then. David decided to try and mate the rabbits for the first time this morning. I don't think it was successful as the male rabbit did not fall over (see below). He appeared to go to town seven times, but sometimes it was in her side or her face...David will try again later today.
The man from whom we bought the rabbits said that unless the male falls over, it was not a successful mating.
For some Amazon package-related stuff that happened today, jump down and read Sunday's post.
Yes, finding chicken eggs was a part of my late afternoon, after the Amazon call and I found 11.

---
Friday, October 16, 2020

This morning, it was amazingly cool and barely any humidity. It stayed lovely all day long. Karen and I worked on product updates on the computer and in the store all day.
The vet never called about Annabelle and her assumed cancer today so we still have no information except that we are to assume the worst. Who even says that to anyone?

For some Amazon package-related stuff that happened today, jump down and read Sunday's post.
I went egg hunting after work and finding chicken eggs times 11 every day seems to be the new norm.
David mated the other female this evening with our happy boy bunny. Maybe in 23 days, we will have some baby bunnies.

---
Saturday, October 17, 2020 - Cleaning The Coop & Finding Chicken Eggs

Today, when I let the dogs out to go potty for the first time, it was foggy and a bit rainy. Everything was wet. I made breakfast and then went out to clean the chicken coop. I scraped chicken poo off of the wood, all over the coop and shoveled out chicken manure with wood shavings. After that, I put clean wood shavings in the 20 nesting boxes and went in the house to clean up.
For some Amazon package-related stuff that happened today, jump down and read Sunday's post. I put all of the things related to Amazon from Thursday, Friday, and Saturday in Sunday's post thinking all was finally right with the world of Amazon deliveries! Ha!
There was a lot of zucchini and winter squash sitting on the counter. I baked it and processed it, placed it in ziplock bags and put it in the freezer. I made a delicious potato soup for lunch and enjoyed it while the weather was still cool.

For the rest of the day, I did laundry and some house cleaning. Matthew made us a delicious loaf of crusty bread that we enjoyed with the steaks he grilled for us. I roasted a pan of veggies in the oven.
Finding Chicken Eggs was the activity for 6pm tonight and again, I found 11. Interestingly, I have to use my iPhone when finding chicken eggs because I cannot see the top row of nesting boxes. That is the row where finding chicken eggs is best because most of the girls lay their eggs up there, especially in the first box on the right. This time, there were two blue eggs so at least two of the Ameraucana hens are laying.

We watched a weird Svengoolie movie, The Devil Doll, with Lionel Barrymore dressed as a woman. He is the mean guy in the wheelchair in one of my favorite movies, It's A Wonderful Life.

---
Sunday, October 18, 2020
This morning started out foggy again. I took care of the chickens and they were fine. No attempt at finding chicken eggs was made this morning. That will be for late this afternoon.
After eating a pretty bad barbecue plate that we bought locally, the afternoon got interesting...

---
Our Amazon Delivery Story For This Week
So, as you know, we have been having Amazon delivery problems since our Amazon packages are being brought by Amazon drivers instead of them using USPS, UPS, or FedEx. For a whole year, we have not had problems getting our Amazon packages. Then, two weeks ago, they started sending Amazon drivers all the way out here to get lost and to deliver our packages to various neighbors.
This past Thursday, I got notification that my package containing three items and costing more than $160 had been delivered at 1:30pm. I searched all over our complex and asked everyone in each building if they had seen a box for me. I was told that no one even saw a delivery truck or driver. I even checked our mailbox. It was empty.

So I called Amazon. They told me the package had not yet been delivered but that the driver marks it delivered when they don't have time to deliver it that day. Then they deliver it the next day. What?
I spoke with two different agents from Amazon on Thursday. I was told that I would get the package by Friday at 5pm.
All day on Friday, I kept looking and 5pm came and went and still no package. So at 5:30pm, I called Amazon and spoke with two more agents who told me that I had to wait until 5:00pm Pacific Time, 7pm our time. Really?
At 7pm on Friday, I called Amazon and spoke to another two agents. They both said that it showed it was delivered on Thursday and was I sure that I checked in all of our secure locations...Wow. David told me he was also missing an Amazon package that should have come on Thursday but he had not called.

The last person I spoke with said she would reship...By this time, I had canceled all of my Amazon subscription items that I get every month. I am so disgusted with them.
Now comes Saturday morning...The doorbell rings and it was one of my farm neighbors with two packages, cardboard soaking wet and both are opened. She said she hadn't checked for packages in a few days down by her locked gate and found our packages which she opened as she thought they were for her. So our packages were delivered on Thursday afternoon, just not to our property. Of course, the driver did not take photos like they are supposed to. So now we know to go check the gates of all of our many neighbors up and down this Farm to Market road when we do not receive our Amazon packages.
I said all of the above to let you know that a package was supposed to be delivered today, Sunday. My doorbell rang and there was the Amazon man with my package. I was delighted that he had found our home until he pointed to the right and asked for a shovel so he could dig his van out of the sand. What? We have a large driveway and a parking lot for our business, but he pulled off of the driveway, away from our home and got stuck in the sand like 20 other not-too-smart people. Why? I asked him why and he said he thought he would have to drive all the way up our four acres of sand to deliver the package. What? Folks, I am not making this up.
I told him a shovel would not work and that he would have to call a tow truck. He said he called his boss. In the meantime, he was digging sand with his bare hands so we took him a shovel and told him again to call for a tow. He said his boss was coming. Now this driver was driving a Hertz van bigger than the Ford truck that his boss eventually showed up in. The boss made several attempts to pull the van out of the sand, tearing up our driveway even after we told him we were going to charge him for getting the driveway done a third time since he was tearing it up. He ignored us and kept going for it.
Finally, the boss drove his own Ford into the sand in front of the van, hooked it up and pulled the van all the way to the top of the hill, turned around and pulled the van back down and finally onto the driveway. We still don't know how, but they did not get stuck this time and they filled in holes on the driveway and left. Why would anyone drive to someone's home, pull off the driveway into the yard and proceed to tear it up? This is not normal behavior, especially when we have a full L shaped driveway that is long as well as a business parking lot. Yet, this is the 21st person to drive off the sand without four wheel drive and try to go across the sand when there was no call for it.

---
Goodness! Hopefully, the rest of today goes smoothly. It is almost time for the fun activity of finding chicken eggs today.
David found out that one of his high school buddies had a heart attack and is in the hospital in San Antonio. This is a thin guy who works out regularly so it is a shock. They played high school football together.

---
Return from Finding Chicken Eggs to Our Farm And Business Life

David's Garden Seeds® Is A Trusted Brand
Since 2009, over 1,500,000 home gardeners, all across the USA, have relied on David's Garden Seeds® to grow beautiful gardens. Trust is at the heart of it. Our customers know David's Garden Seeds® stocks only the highest quality seeds available. Our mission is to become your lifetime supplier of quality seeds. It isn't just to serve you once; we want to earn your trust as your primary supplier.
---
Watch Our TV Commercial!
Sing Along To Our Jingle

 ♪♫♪♪ ♫ ♪ ♫♪♫♫
 ♪♫♪♪♫♫
Peppers and peas
And lots of yummy greens
You can't go wrong
With Squash This Long
At David's Garden Seeds
♪ ♫ ♪ ♫

Please like and subscribe on YouTube and come visit us at our Farm Store! The music on our TV ad was written, played, and sung by our son, Matthew Schulze. You can meet him when you come to the farm. He just might give you a tour. Ask him to grab a guitar and sing our jingle that he wrote.

---
We are David's Garden Seeds®. If you need great seeds, we've got over 1200 varieties to choose from.

---
Subscribe To Mrs. David's Garden Seeds® Newsletter For FREE!

Find out what is going on down on the farm by reading our blog and by subscribing to our free newsletter for all of the information going down at David's Garden Seeds® and on the farm. I love to share helpful information with you. Please let your friends know and y'all come on down for a visit when you get the chance. We would love to meet you!