Fruit Cake Recipe aka
Fruit Cocktail Cake

Here is a fruit cake recipe that is not a Christmas fruitcake. It is called Fruit Cocktail Cake and is a great cake all year long. It is versatile so you can change it from fruit cocktail to pineapple or apple or cherry or madarin orange or pear or peach.
When I was little, I was at my grandmother's house after Christmas. She gave me a piece of brown cake with pretty colored fruits. It looked good but when I tasted the fruits, they were bitter and tasted just awful, although the cake wasn't bad. She said it was a fruit cake and had been a Christmas gift from one of her friends. I have always hated them since that.
Don't fear, this cake is not like that at all. You can use any canned fruit, including the liquid. Do not drain it. You can even use applesauce.
This cake was given to me by a co-worker back in 1987 when I needed an easy recipe for dessert as a young wife. Kathy gave me the recipe off the top of her head. I went home and made it. This fruit cake recipe was delicious.

I have made this cake many times over the years, changing up the type of fruit I use. I have taken them to work and church potlucks and have baked them as birthday cakes, dinner party desserts and yummy treats.

---
Fruit Cake Recipe - Fruit Cocktail Cake

You will need:
A 9 x 13 inch baking pan (I use a clear glass pan)
2 eggs, well beaten
2 cups flour, sifted
1/4 teaspoon salt
1 and 1/2 cups sugar
2 teaspoons baking soda
One 16 ounce can of fruit cocktail or other fruit that you love
1/2 cup brown sugar
1/2 cup chopped nuts, any variety

Preheat the oven to 325 degrees Fahrenheit.

In a large bowl, mix together the eggs, flour, salt, sugar, baking soda, and fruit with the liquid in the can.
I repeat: Do Not Drain the can of fruit.
Stir until well blended. Pour the mixture into the 9 inch by 13 inch baking pan without greasing it. Do not spray it with Pam or grease it.
Now, sprinkle the batter with 1/2 cup brown sugar and then sprinkle with the chopped nuts. If you don't want nuts on the cake, just sprinkle with brown sugar. Bake for 40 minutes. Stick a toothpick in the middle. If it comes out clean, it is finished. If not, put back in the oven for another five minutes and test it again.
This cake is moist enough to be served plain, which I have done many times. You can serve it with whipped cream, Cool Whip, or Ice Cream.

---
---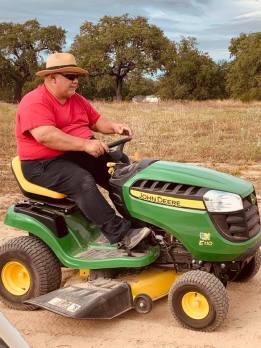 David of David's Garden Seeds® zipping along on his little tractor across the farm. He is having a blast!
---
We are David's Garden Seeds®. If you need great seeds, we've got about 1500 varieties to choose from.

Return from Fruit Cake Recipe to Favorite Recipes

---