Oatmeal Raisin Cookies With Chocolate Chips

Do you love to bake? I do. These moist oatmeal raisin cookies with white chocolate and dark chocolate are incredible, especially if you are a choca-holic like I am.
Remember that baking is a science so be sure to measure each ingredient correctly.

Oatmeal Raisin Cookies With Chocolate Chips

TIME TO PREPARE: 20 minutes
YIELDS: About 4 dozen cookies
You will need:
2 sticks semi-hard butter (still chilled from the fridge, not softened in the microwave, and don't over mix the butter with the sugars, eggs, and vanilla)
1 cup brown sugar
1/2 cup white sugar
2 eggs
1 teaspoon vanilla
1 ½ cup flour
1 teaspoon baking soda
½ teaspoon salt
1 teaspoon cinnamon
a few pinches of allspice
3 cups uncooked oatmeal
1 cup raisins
1 cup white chocolate chips
1 cup dark chocolate chips
1 cup pecans, chopped

1. Preheat your oven to 350º F.
2. In a large mixing bowl, mix together the butter, brown sugar, white sugar, eggs, and vanilla. Add the flour, baking soda, and salt. Fold in the oatmeal, white chocolate chips, chocolate chips, raisins, and pecans.
You can chill the cookie dough in the fridge before scooping it out with a medium-sized ice-cream scoop, but it's not necessary. Scoop the dough onto ungreased cookie sheets.
3. Bake for about only 8 minutes.

NOTE: The cookies have to be gooey soft, almost raw in the center. They'll harden a bit as they cool on the counter.
Enjoy!
Return from Oatmeal Raisin Cookies to Favorite Recipes

---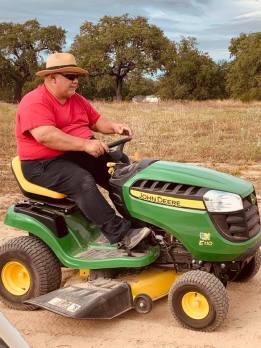 David of David's Garden Seeds® zipping along on his little tractor across the farm. He is having a blast!
---
We are David's Garden Seeds®. If you need great seeds, we've got about 1500 varieties to choose from.

---