Mrs. David's Garden Seeds®
---
October Gardening Tips

If you live in a warm climate, you will be interested in my October gardening tips. If you are up north, you are watching the leaves come down in buckets, waiting for the first freeze which will happen within a matter of weeks, if not already. But down here in South Central Texas, we are having heat and humidity with a few cooler temps every now and then. We are still growing things in our gardens. I hope our October gardening tips help all over the country. What are your favorite October gardening tips?
Come by David's Garden Seeds® and visit us at the Farm Store.

---
October Gardening Tips
One of the best October gardening tips I can tell you is to plant cover crops to put nutrients back into your garden that has been depleted over time. This is David's Garden Seeds Fall Green Manure.
Monday, October 19, 2020

Happy Monday. This was a very busy day at work. David and I left at 1pm to drive into Pleasanton, a 50 mile round trip, to have our eyes examined. It had been a long time, several years, so we went to the eye doctor at Walmart and had our exams. Then we went next door for eyeglasses at Walmart Vision Center. The lady said it would be five days so we shall see. In San Antonio, they say ten days. We really like this eye doctor and plan to go to him from now on.
We picked up a few needed things in Pleasanton and then got home right at 5pm. Amazingly, I had four Amazon deliveries today and they all made it to my front porch while we were gone. There were no stuck vehicles in the sand and no packages delivered on the side of the road for me at a neighbor's gate. How did they manage that after last week's two fiasco deliveries?
As I said last week, I have already canceled all Amazon subscriptions but I do have a few deliveries that were ordered a while ago. I have two left to go. One should have come yesterday but Amazon says it is arriving late, code for we don't know where the heck it is, and the other one will be delivered on Thursday, probably when we will be away at our monthly birthday party.
We heard some good news from the vet finally. She said Annabelle does not have cancer! But why did we have to be put through all of that sadness and worry? Whatever happened to doctors having a good "bedside manner"? Some people are just not good at helping other people with not so good news. Telling us to assume it is cancer is one of the meanest things we could have been told.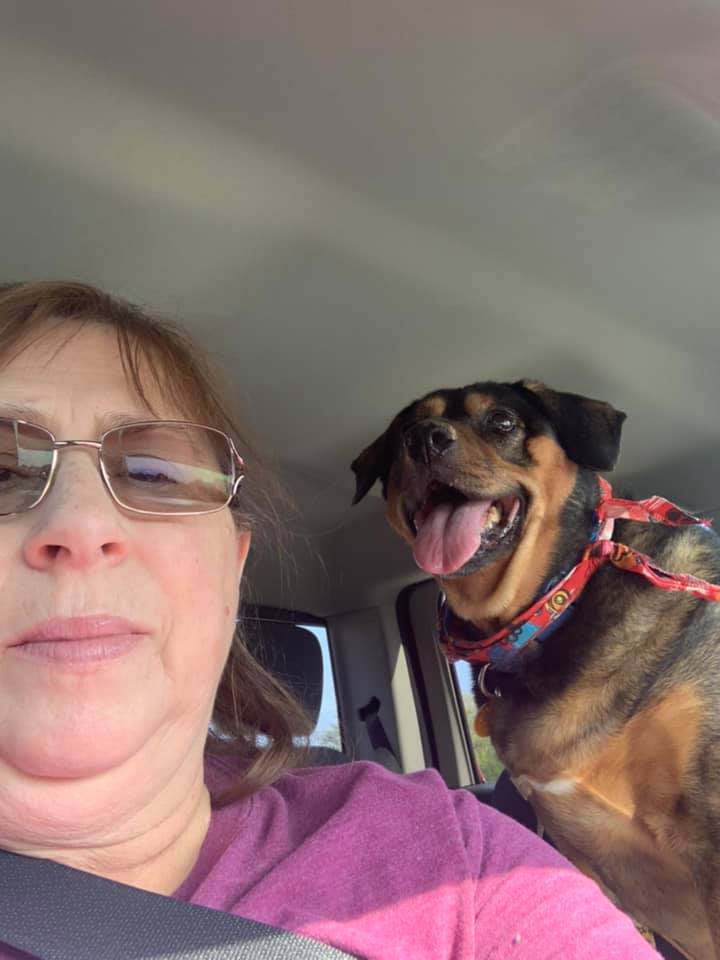 Annabelle and me after being told to assume she has cancer by vet's office after surgery. Annabelle is fine now.
After work today, I went to collect eggs and guess what? For the first time, I collected 12 eggs!

My first dozen chicken egg collecting day! Aren't they pretty? The chickens are not all laying yet or I would have more.
October Gardening Tips For The Day

My first October gardening tips are to get your soil ready for early spring. Some of our garden areas are producing right now. We have strawberries, squash, zucchini, and green beans growing. But most of the 100 raised beds and the field out in our orchard are being made ready for spring. So how do you do that?
We pulled up all of the plants that were done producing and tossed them. Then we tilled the soil and added either rabbit manure or composted chicken manure and tilled it in again. Fortunately for us, we now have both on our property. The rabbit manure can be added right to the soil with no processing. The chicken manure must be composted or it will burn your plants. I clean the chicken coop out every week and get lots of manure. I add it to some sand as well as the wood shavings that the birds nest in and fill up buckets for it to compost. It will sit in the garden beds for the winter and be all ready to go for early spring planting here in South Central Texas.
Next, be sure as you plan out your spring garden, to rotate your crops. Do not plant your watermelons next spring in the same place you had them this past spring. This way, the soil is not depleted of all of its nutrients when you plant.
Third, plant some cover crops if your soil has been depleted. Grow them now and till them under in early spring to add back what your soil is lacking.
Hopefully, these three October Gardening Tips will begin to help you have a successful spring garden in 2021.
---
Tuesday, October 20, 2020
Good Tuesday morning! Electricians are here bright and early installing ceiling fans and vents and I do not know what else.
One of the contractors is here early. You can see the stone walking path so we don't get muddy when it rains.
The chickens and our guineas were excited to see me this morning, especially when I went out a second time and took them some produce and the worms they love to snack on. They are having a feast right now.
I noticed this afternoon, that two men were shoveling something black onto the parking lot out of a red truck. David was not in his office and he would not answer his phone. One of the men facetiously told me that he was giving us asphalt out of the kindness of his heart when I tried to get to David's office. What a clown. No one seems to take me seriously anymore. The funny thing is that I did not say a word to them until one asked me how I was. Then I asked who they were and what they were doing.

October Gardening Tips
Late this afternoon, I got just nine eggs. I don't think they are all laying yet. I got just one blue egg again.

October gardening tips for today: Make your own compost. Order a real compost bin or use a barrel. Put a little dirt in it and start putting your scraps like coffee grounds, eggshells, and veggie and fruit scraps in and cover with a small amount of dirt each time you put some in. Take a shovel and stir it up from time to time.

---
Wednesday, October 21, 2020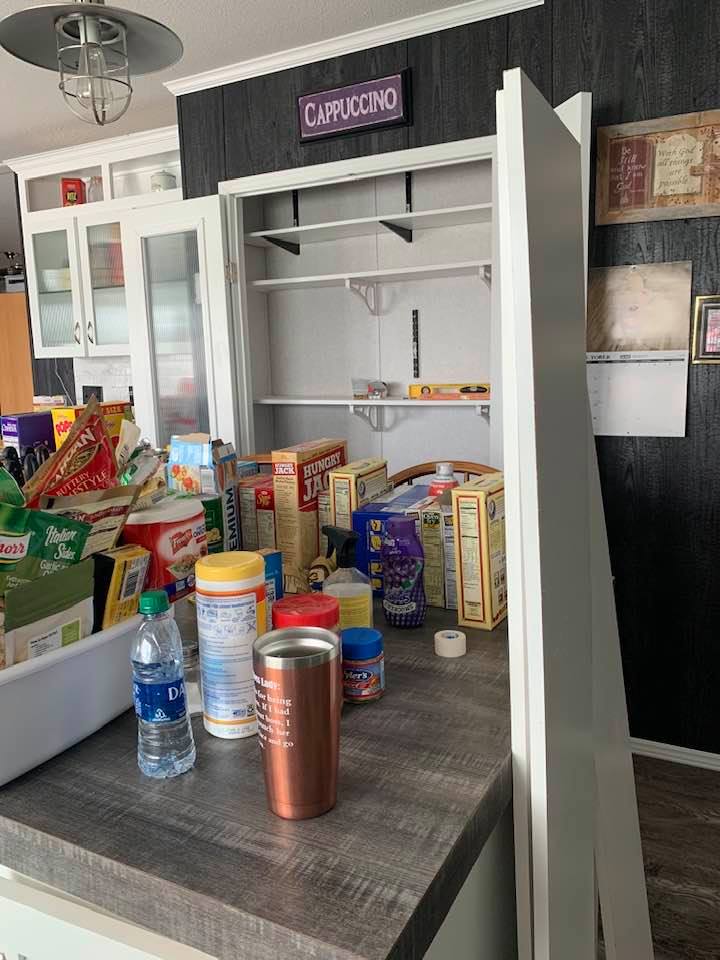 We had to empty the tiny pantry today as David said we were getting new shelves put in. We went from three to six so it holds a lot more and looks neater.
Today, some of the guys put new shelving into my tiny pantry. It had three shelves with several feet between each one. No can is 24 to 36 inches high. So after 13 months of living with little pantry space, six shelves were installed. Food is everywhere in the kitchen, living room, and den as we had to empty the pantry completely. It took several hours in the morning, and some time after lunch before the shelves were all installed.
While all of this was going on, we had some customers in the store. This past Saturday, David had me send out a newsletter saying that the first five folks who emailed or came by the store could have some free bread and butter pickles that David had made. All he asked in return was some feedback on the taste and texture. Today, one of our favorite customers, in fact the first customer of the new store when we opened back in June, came in to purchase some items and asked for a jar of pickles. He had already emailed David. He was told next time he came in he could have some. This was incorrect but I was not called so I had no idea this was happening.
I want to apologize to the customers who came in for pickles and did not get them because of a misunderstanding. I know it is an inconvenience but if you will come back, you will get a jar of pickles.
Today, I got just 11 eggs again from the chickens. I got two blue eggs. One was misshapen so that means it was a new hen who laid her first egg if my chicken books are correct.
Later, I took some expired oats out to the chickens and found one with her head and some of her body stretching out under the gate of the new run. No framed wood was put there during construction. The chickens are digging sand down to make a decent sized hole under the gate. I put some rocks there, but the chickens moved the rocks. David said he will have someone put some boards there and get it fixed so the girls cannot escape.
October Gardening Tips
October gardening tips: Put down some weed barrier and in the spring, you can either leave it and cut holes in it and do your planting, or lift it and no weeds will be there. If you lift it, weeds will grow back and you will still have to weed. We do both of these October gardening tips on our farm.

---
Thursday, October 22, 2020
This morning, I noticed that it is almost 7:30am before it gets light enough outside to feed the chickens. What a waste of time waiting to go outside. We have spiders and snakes all over the place so there is no way I am going in the dark. I have walked my face into too many spider webs already.
So I fed and watered my chickens and I have one half of a bag of chicken feed left which they will go through so quickly. Looks like we will make a Tractor Supply run today. It was raining while I was out there but now it has stopped. However, there are dark clouds overhead.
We are going into town to look at some buildings with a realtor. David wants to buy a property and move the main operation as we are quickly running out of room here. We are growing so fast that it is making my head spin.
The building we saw was gigantic and they wanted $785,000.00 for it. It is by an auto repair shop and there is grease on the floor. Less than half of it is air conditioned. It is a no go. If we are out here in Rossville, why on earth do we want to buy a dirty building in Devine? This makes no sense to me. We need something right here in our own community.
Today's October Gardening Tips are number one, don't spend more money than you have on your garden. Do not go into debt for things you cannot afford to pay for. Save up and pay cash. Start small with pots or a small ground plot.
One of our guys put some framing boards and cement down in our chicken coop so that helps a lot.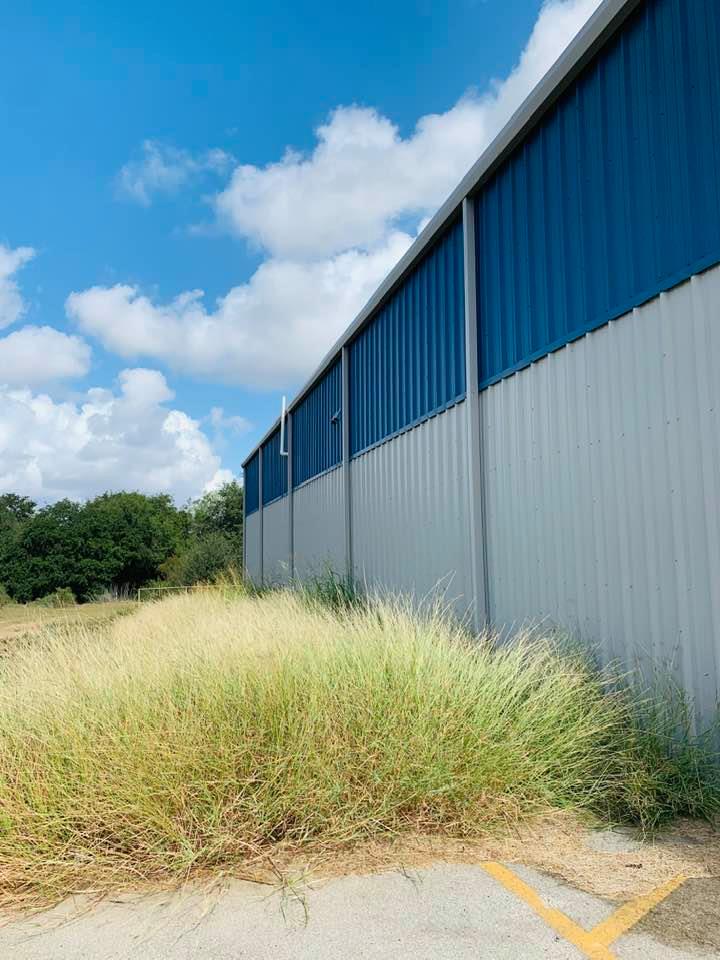 Vacant building in Lytle was just too big and crazy expensive for the amount of money they are asking. It is just a prefab metal building and they want close to $1 million for it.
---
Friday, October 23, 2020
We had our monthly birthday lunch at Fly By's in Devine today. Happy Birthday to our manager, Jay. The food wasn't that good. I had the egg burger and the egg was fried hard with no life. I think we will see what else we can find out there.
The David's Garden Seeds® website changes are going slowly. Every time I get a chance to work on them, I have to go somewhere or do something.

This afternoon, we took Annabelle to the vet to get her stitches out. I cannot believe they put me through all of this "assume cancer until you hear otherwise" for a whole week. Who does that? She is just fine.
I got eleven eggs from the girls, including just one blue. We have seven hens who can lay blue eggs. I guess only one or two are laying. I thought by now they all would be laying. I wonder if all of the Barred Rock and Rhode Island Reds are laying yet...
No October Gardening Tips today.

---
Saturday, October 24, 2020

Happy Saturday morning. I went out to take care of the chickens. The weather was cool and not humid. I loved it but did not feel like scraping poo so I skipped that. Tomorrow is another day.
I used our farm fresh eggs to make French toast and scrambled eggs while David made some delicious bacon that he ordered online. It was so good.

Twenty-nine years ago today, my father, Richard Peter Yorgensen, passed away at the young age of 60 of heart failure in the ICU at one of the hospitals in El Paso. He had bypass surgery two days earlier but his heart was just too damaged to recover. It was so sad that he died so young.
I cleaned and finished putting away pantry items. The place looks much better but there is still not enough room for all of the food we got during the coronavirus panic when grocery store shelves were bare.
I stayed home all day and did things around the house like changing bed sheets and laundry. I cleaned up a ridiculous amount of stickers aka prickers all over the carpet.
Late this afternoon, I collected a dozen eggs from the girls, including two blue ones!
No October Gardening Tips today.

---
Sunday, October 25, 2020
Happy Sunday morning. I made scrambled eggs. They were so good! I went out to feed the chickens and to scrape the number two above the nesting boxes. That was disgusting. No matter how clean I get it, I hate the idea that by the next weekend, it will be just as thick as ever. They are up there sleeping on their own poo. But they were trying to cozy up to me while I was scraping on the stepladder.

The heat and humidity started to come back today. It started feeling ugly before we left for church. In church, it was freezing and my arms were icy cold by the time we were dismissed. I did not mind the outside for quite a while.
In the afternoon, I took a treat out for the chicks and collected eggs. There were only eleven again. As I was leaving, three hens got out. I got them all back in, squawking. Putting them to bed was not bad. All except one hen was in the nesting area when we got out there. One was trapped under the sand bath tub. There is always something with chickens.
Now see below for today's October Gardening Tips about mint.

October Gardening Tips - Mint
Today's October gardening tips are about mint. I grow lots of varieties of mint and then I root it and sell mini mint plants. People love it. What they don't realize is that in the fall, the mint plant goes dormant. It looks dead. Don't pull it up and throw it away. Just leave it alone. It will come back, usually in the spring, but sometimes it will come back a few weeks later. Just keep the soil moist and whenever it feels like it, your mint plants will start growing new ones. Then you can remove the dead vines. I go through this every fall and have for years.

One of my new chocolate mint plants died from not getting enough water just two weeks ago. It was out in the heat and I thought our people were watering it out on the gardening table but they did not. I got it out of the horrible sunlight and heat and put it on the side porch and started watering it. In less than a week, new little mint plants have come up.
---
Return from October Gardening Tips to Our Farm And Business Life

David's Garden Seeds® Is A Trusted Brand
Since 2009, over 1,500,000 home gardeners, all across the USA, have relied on David's Garden Seeds® to grow beautiful gardens. Trust is at the heart of it. Our customers know David's Garden Seeds® stocks only the highest quality seeds available. Our mission is to become your lifetime supplier of quality seeds. It isn't just to serve you once; we want to earn your trust as your primary supplier.
---
Watch Our TV Commercial!
Sing Along To Our Jingle

 ♪♫♪♪ ♫ ♪ ♫♪♫♫
 ♪♫♪♪♫♫
Peppers and peas
And lots of yummy greens
You can't go wrong
With Squash This Long
At David's Garden Seeds
♪ ♫ ♪ ♫

Please like and subscribe on YouTube and come visit us at our Farm Store! The music on our TV ad was written, played, and sung by our son, Matthew Schulze. You can meet him when you come to the farm. He just might give you a tour. Ask him to grab a guitar and sing our jingle that he wrote.

---
We are David's Garden Seeds®. If you need great seeds, we've got over 1200 varieties to choose from.

---
Subscribe To Mrs. David's Garden Seeds® Newsletter For FREE!

Find out what is going on down on the farm by reading our blog and by subscribing to our free newsletter for all of the information going down at David's Garden Seeds® and on the farm. I love to share helpful information with you. Please let your friends know and y'all come on down for a visit when you get the chance. We would love to meet you!