Squash Casserole Recipe

This is a page of Squash Casserole Recipes for your garden fresh enjoyment. Squash from your garden will make these dishes taste better!
Squash Casserole Recipe #1

---
This first recipe was given to me by my mother-in-law, Anna Schulze. She gave me a lot of recipes when I first married David and I still use them more than 32 years later.
You will need:

2 pounds of yellow summer squash
8 ounces sour cream
1/2 cup butter
grated cheese (any kind you like)
1/2 chopped yellow onion
1 can cream of chicken soup
1 (8 ounce) package of stuffing mix like Stove Top
paprika to taste

Preheat your oven to 350 degrees Fahrenheit. Spray a large square baking dish with cooking spray.
Wash and cut up squash and cook until tender. Drain.
Mix seasoning mix with Stove Top stuffing and spread on bottom of square pan.
Put squash in a large pan or bowl. Add sour cream, butter, onion, and cream of chicken soup to squash and stir together.  Pour this over the stuffing mix. Top with grated cheese.
Bake at 350 degrees for about 25 minutes, until bubbly. Sprinkle with paprika.

---
Squash Casserole Recipe #2
This recipe is from a friend I went to church with years ago who is from the deep South.
You will need:

6 medium yellow squash, coarsely chopped
1/2 stick butter
salt and pepper to taste
1 white onion, coarsely chopped
1/2 cup milk
1/2 cup grated cheddar cheese
2 eggs
3/4 cup bread crumbs

Preheat oven to 350 degrees Fahrenheit. Spray a 9 inch by 9 inch baking dish with cooking spray. Melt butter in the baking dish.
In a medium saucepan, add enough water to cover the squash pieces. Add the onion and cook until squash is almost tender. Drain. Add milk, melted butter,  1/4 cup of the grated cheese, salt and pepper. Mix well. Add the eggs and bread crumbs and mix well.
Pour into the greased baking dish. Sprinkle with the remaining 1/4 cup grated cheese and bake at 350 degrees for 30 minutes or until lightly browned.

---
Return from Squash Casserole Recipe to Favorite Recipes

---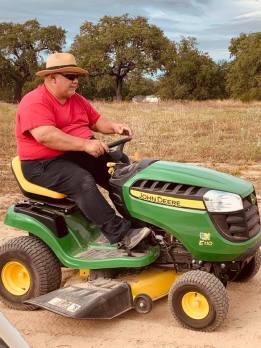 David of David's Garden Seeds® zipping along on his little tractor across the farm. He is having a blast!
---
We are David's Garden Seeds®. If you need great seeds, we've got about 1500 varieties to choose from.

---