Mrs. David's Garden Seeds®
---
Get Ready For Thanksgiving

This is the week we need to get ready for Thanksgiving and for the Black Friday shopping push. Actually, we got ready for that weeks ago with Amazon.
David bought two large blow up turkeys to put outside of our store. I think they should already have been put up but we got busy last week dealing with Amazon changes.

---
Get Ready For Thanksgiving 11/16-11/22/2020
---
Monday, November 16, 2020 - Get Ready For Thanksgiving

Good Monday morning! Time to get ready for Thanksgiving! We started with a company wide meeting and discussed our Thanksgiving potluck as well as several business items. I then asked if we could have our two brand new blowup turkeys put up this morning.
The guys put them up and they look awesome. Now David's Garden Seeds® is about to get ready for Thanksgiving!

David and I have some San Antonio errands today, including getting someone special a certain birthday gift...Yes! Tomorrow is my birthday!
The outdoor team will attempt to finish the greenhouse/high tunnel today but they cannot find the plastic. One of the team is not here today and he usually knows where everything is.
Several others are still working on the "Organic" project both on and off of Amazon.
It is a bright and cool day. When I got up, it was 49° Fahrenheit. I had to wear sweatpants and a light jacket when I took care of the chickens this morning.
We may try to find a prime rib to get ready for Thanksgiving while we are in San Antonio today.

---
Tuesday, November 17, 2020 - Happy Birthday To Me!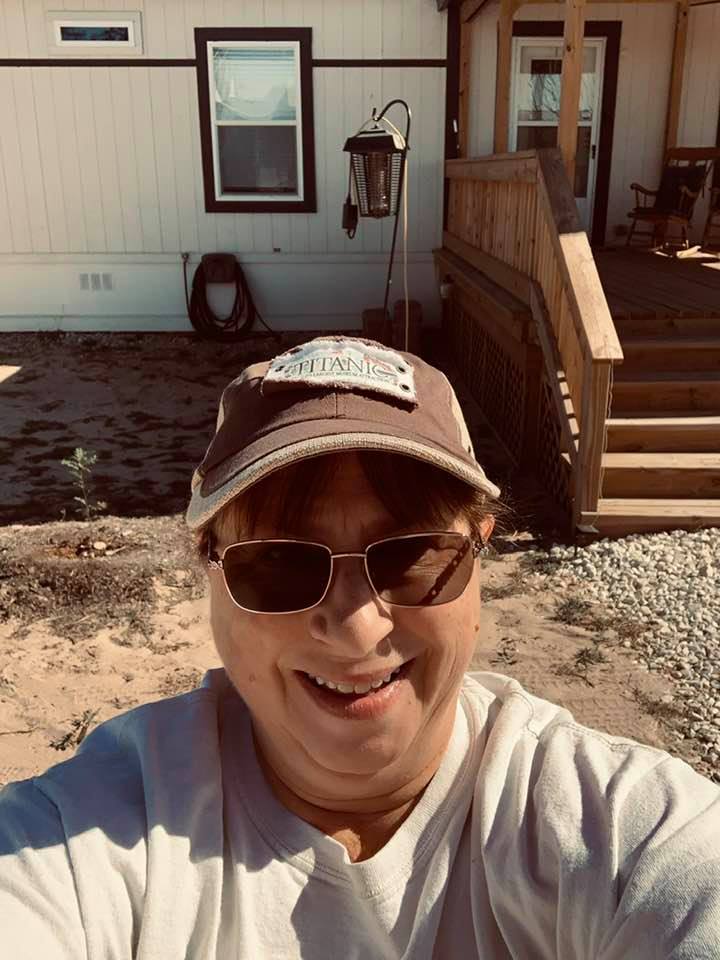 Me on my birthday early in the morning. I wore my Titanic shirt with matching hat that I got at the Titanic Museum in Branson, MO last year.
It's my birthday! Good morning and welcome to my birthday! This morning for breakfast I made a huge delicious German pancake. It came out great!

Look at this incredible German pancake that I made! It was delicious and so easy to make! It takes six eggs.
Today is the day that the David's Garden Seeds® team is going out to a late lunch to celebrate both Phil's birthday and mine. We have chosen a Mexican restaurant in Devine, Las Palomas, for our meal. They told us they would seat our whole team in the meeting room they have if we would wait until 2pm for lunch. So we made the reservation a few weeks ago.
At 2pm, we went and they had us set up at two tables out in the regular eating area instead of in the small room. We asked about it. They said they used it earlier in the day so they set us up here. That was that. I don't think they realized that they won't be getting our business every month. Feeding at least 20 once a month is a big amount of income for them...
I like things to be done the way we were told and they did not seem to think it was a big deal. The food was okay; nothing to write home about. The service wasn't really that great either.
For instance, they brought out my plate and I told them it was mine and they said no and took it back to the kitchen. They brought it back a while later, which I thought was very strange. I ordered chicken fajitas so they gave me the plate (finally) but with no tortillas. The waitress told me I would have to share tortillas with the guy sitting two seats down from me instead of bringing me my own tortillas. I am an owner of David's Garden Seeds® and as one who is paying for everyone and tipping, I should have been treated a bit better, especially when it is my birthday. I was not impressed and we won't go back as team very often.

One of our team members high fived a deer on the way home with her bumper. When we got there, another team member was already there helping but David got in there, too.
David and I got the oil on the truck changed at the dealership where we bought the truck back in May and then headed back to the office. It was close to 5pm by the time we got back. At 5pm, everyone left and I went to see David about some work things. A few minutes later, one of our team members called saying she clipped a deer down the road and it destroyed her front bumper. There were three deer. She managed to avoid the first two, but the third deer insisted on making contact with her car. We drove down with some wire to secure it and she was on her way. The deer ran off. Another team member had stopped to help her before we got there. We have good people.
I got lots of Happy Birthday greetings throughout the day and David gave me my new ring yesterday. Matthew gave me a sack of yummy treats. Karen gave me an awesome boss coffee mug. The team gave me some treats, a yummy smelling candle, and an Echo Dot, which I will set up in the store.

---
Wednesday, November 18, 2020
This morning at 6am, it was 49° Fahrenheit, yet it did not feel that cold when I fed the chickens. I made farm fresh eggs for breakfast and thought about how to get ready for Thanksgiving.
I think I will plan out specific meals by day, writing each item down for each day. Then I should make a copy of the recipes for each day. Finally, I need to gather all of the non-perishable ingredients for each recipe, as well as the pans I will cook them in. This should make my meal making much easier. Right now, I have way too many groceries out all over the place because we shopped the other day for Thanksgiving. I like to get ready for Thanksgiving early.
I got to our store and set up the Echo Dot so now we can be entertained by it during the day. Alexa, what is the temperature? This will probably be the most asked question it gets each day.
Today David has a dental appointment in San Antonio. Tomorrow, we have to go to a funeral near Austin as David's Aunt Eva passed away a few days ago.
The pest control guy came today to spray the commercial kitchen building. Nacho is here now, filling the new raised garden beds. Then he and his helper will be sinking the stone steps that they put in earlier in the fall in the back forty.
One of the diamonds in my wedding band fell out. I noticed it around 4pm at my desk in the store. I looked everywhere but no tiny diamond. It must have loosened when the lady at Americus cleaned it for me on Monday. David bought me that ring two years ago for my birthday after my original wedding ring was stolen by four scumbags who kicked the door down at our house in San Antonio and stole all of my jewelry. Of course, they were not looked for. The police did not even try.
This afternoon after work, Matt and I were in the kitchen. David came in and said the bunnies were here but all but two were on the floor of the rabbit hutch and the two that were not on the floor were stuck in the cage bars. David rescued them all and all are doing well. It looks like we have seven or eight.

---
Thursday, November 19, 2020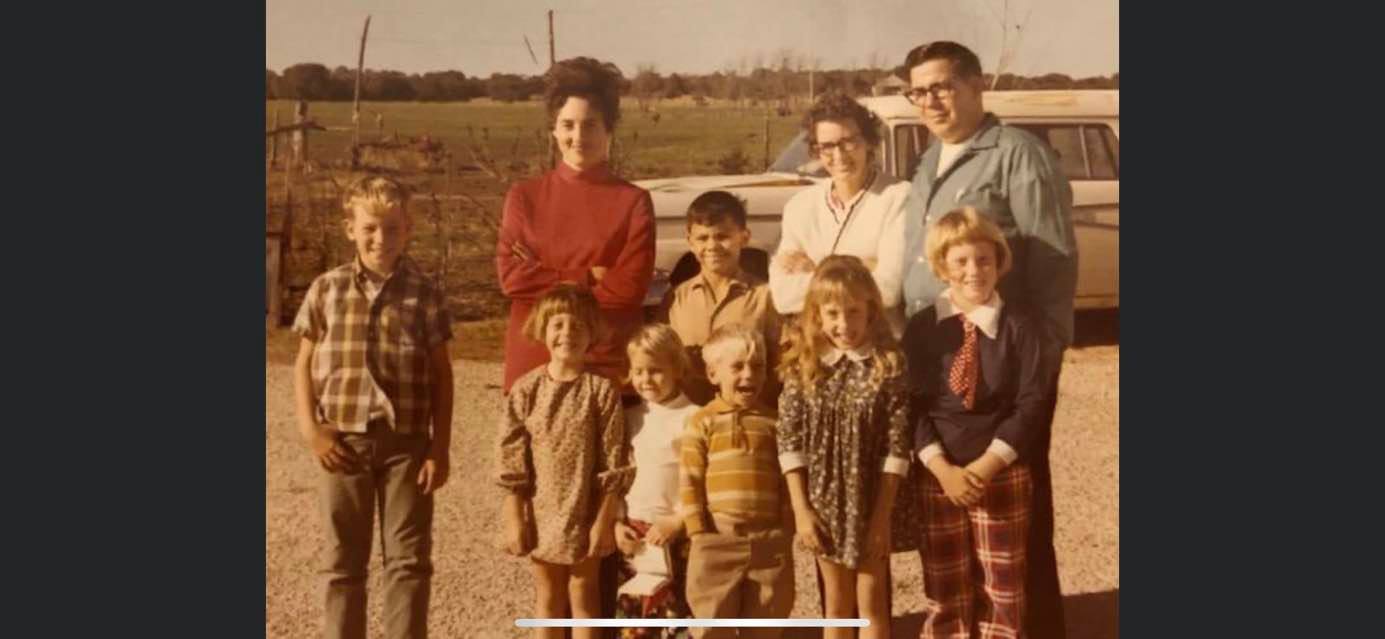 Bottom Row: Robin, Lois, Gene, Crystal, Reba. Top Row: Johnny Jr., Aunt Eva, David, Mom Schulze, Dad Schulze This photo was shown at the service today. David is so cute!
This morning, we got dressed for Aunt Eva's funeral and drove over two hours to Leander, Texas. David wrote a remembrance of how she helped him and his siblings after their birth mother left them when David was only four years old. The minister interrupted him twice and David did not speak very long. Five more people spoke and the minister did not interrupt them at all. He was very rude for the profession he is in to a grieving nephew and a fellow pastor. The funeral was at 2pm.
We left for home around 4pm and followed GPS for a while. Then David went rogue and we got lost. My legs were hurting because they were all swollen. We finally stopped at a fast food place to use the bathroom and get something to eat. We got home around 7pm. I hate to be lost in the dark in the country.
There was no time this evening for me to think about how to get ready for Thanksgiving.

---
Friday, November 20, 2020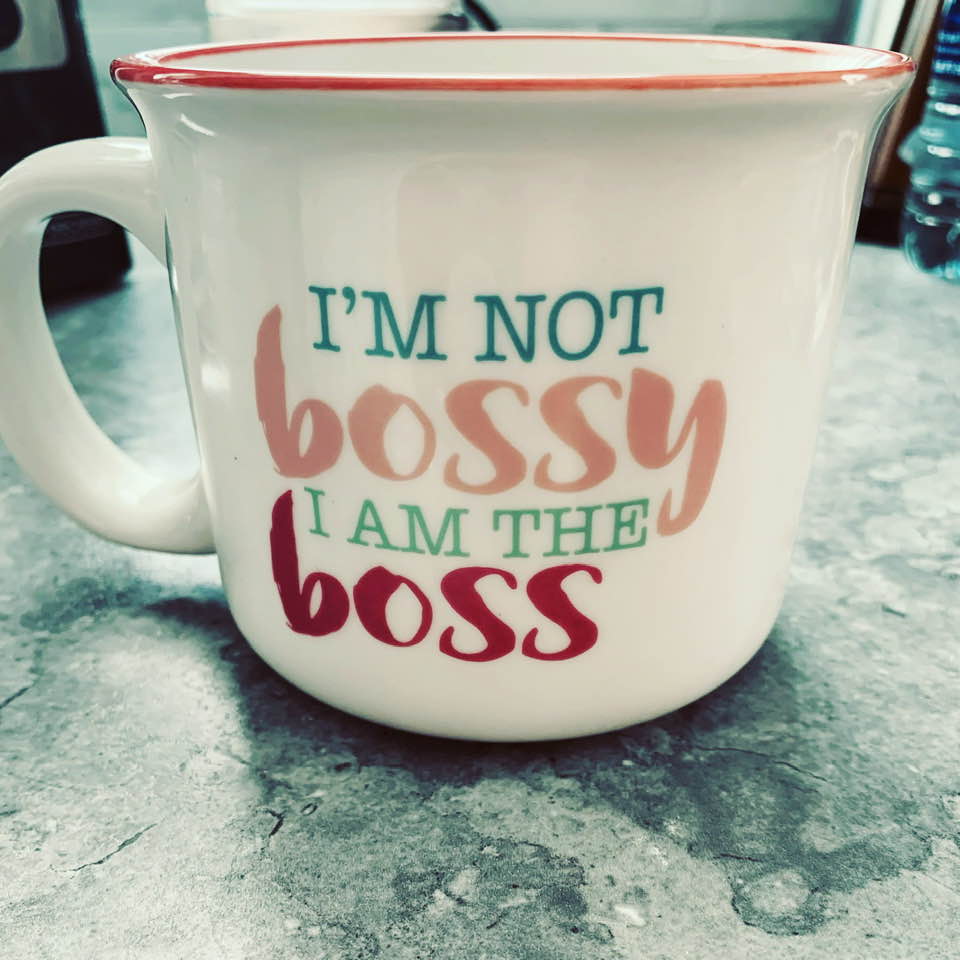 Friday morning was busy. We had to correct more Amazon problems. I continued to build other online stores. We will provide links when they are all done.
David scheduled an appointment with a new hairstylist for this afternoon. I went and I really liked her. David found her yesterday when he went to get a shave and a haircut and noticed that it is both a barber shop and a salon. I made myself a color appointment in three weeks. All of these years since I got my first grey hairs, I have been coloring my own hair. Now, for the first time ever, I will get my hair colored professionally. She said the DIY box coloring does a lot of damage...I must have tons.
Today marked the day that we left New York forever and moved to Texas 45 years ago. I was a young teen back then, so upset to move so far away from everything I knew and loved. We went to El Paso which was nothing like beautiful, green New York. El Paso has its own beauty but it is a desert. I did grow to love the brown mountains against the cloudless blue sky that El Paso normally has. Today, I am thankful that we got out of the craziness that is now New York with Cuomo as governor. I am proud to be a Texan who is free.

---
Saturday, November 21, 2020
Today, Matthew and I headed off to Walmart in Devine to get ready for Thanksgiving perishable-wise. We picked up things like drinks, bell peppers, onions, celery, green onions, milk, etc. Hopefully, we have everything we need now for the feasting week.
Early this morning, I made eggs for breakfast and then on scrape chicken number two out of the chicken coop. I found four new eggs this morning while working out there.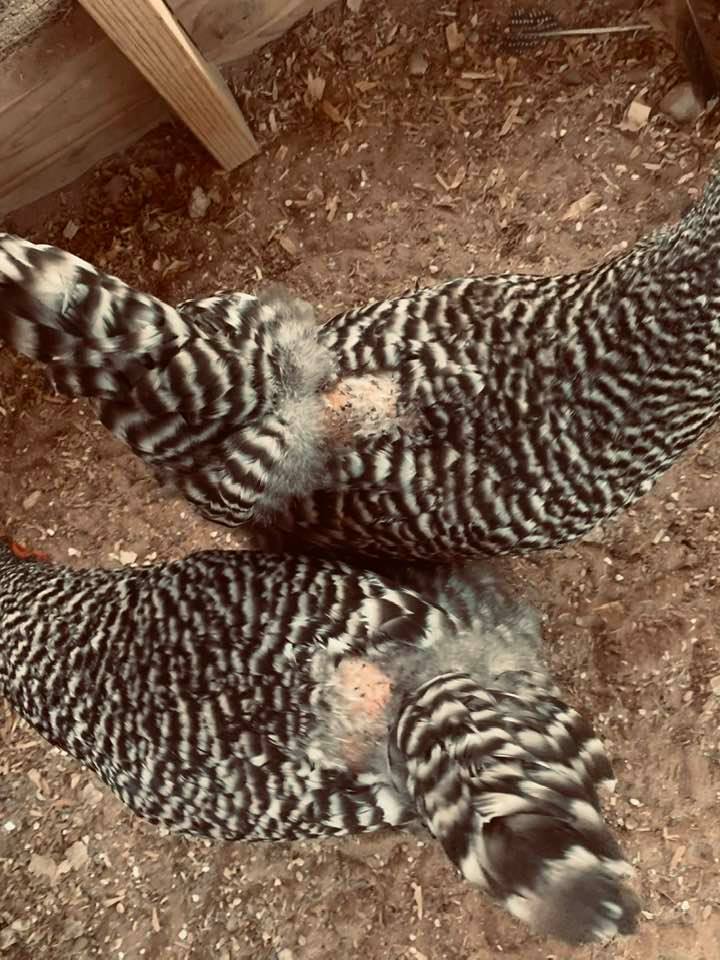 Showing you some of the pecked bare places on many of our hens. We have since sprayed them and have more meds coming for them.
Most of our hens have been pecked above the tail so many feathers are out. I have not seen it being done but David said he saw a Rhode Island Red pecking one of the hens. Some of them are very raw and red. I went online and found some No Peck type meds. I ordered three off of Amazon. One will be here tomorrow.
While I was at it, I also ordered some food and treats for the dogs and cat from Chewy. Last time I tried using Chewy, they would not let me order saying I had to update my order in order to verify I was not a robot. After multiple tries, I deleted them. So I re-added to try again. It worked.

I also started organizing the kitchen clutter but did not complete it, before we went for groceries. I have been cleaning and doing laundry to get ready for Thanksgiving.
In the mail, we all got letters from our Primary Care Physician that he is moving to a new clinic far from where his current office is. We have been trying to get hold of him for some appointments for a few weeks and we have never received an answer or a call back. Now we know why. He will start seeing patients in a week.

This afternoon, Matthew made homemade rolls and they are so good. He is practicing as he will be making rolls three times this coming week to get ready for Thanksgiving.
These are the yeast rolls that Matt made from scratch today. They were his best yet. Delicious and soft. He was practicing to get ready for Thanksgiving.
I took a lot of leftover treats out to my flock at 5pm. They loved it all and I collected a total of 18 eggs today.

I made a tortilla soup for tonight. Svengoolie is showing Abbott and Costello Meet Frankenstein so that ought to be a good time. This is one of my father's favorite movies. He loved Abbott and Costello in anything.
---
Sunday, November 22, 2020
Happy Sunday! I fed the chickens and they still look raw right above their tails. As soon as the medicine gets here, I will put some on each of my affected hens. I put away the dishes in the dishwasher, reloaded from late last night and this morning and turned it on again.

We got ready, went to church, and then came home and ate soup for lunch. After eating, I heard a delivery driver. It was Fed Ex and she brought two heave Chewy boxes so the kitty and dogs can eat again! I was almost out of their foods.
I did dishes and then the Amazon driver finally came. I rushed out and collected boxes. I found two bottles of wound spray for chickens. Matt and I went out and sprayed all of the affected hens. They hated it so it must have burned a bit going on. The rest of the meds come on Wednesday. One of those is supposed to have a pecking inhibitor so they should not get pecked anymore, hopefully.
Each day, I check for eggs around 5pm and put the chicks to bed at 6pm as it gets very dark right after 6pm here. Today, I found 20 eggs, a record for me but not for my chicks. While we were at the ocean, Matt found 21 eggs one day and that is the record so far.
Now I am tweaking my holiday menus for next week as we will be having folks in most of the week. Since we have so many eggs, I will be making some deviled eggs to get ready for Thanksgiving. How are you going to get ready for Thanksgiving?

David preaches at our church next Sunday so I know family will be coming for that as well.

---
Return from Get Ready For Thanksgiving to Farm And Business Life

David's Garden Seeds® Is A Trusted Brand
Since 2009, over 1,500,000 home gardeners, all across the USA, have relied on David's Garden Seeds® to grow beautiful gardens. Trust is at the heart of it. Our customers know David's Garden Seeds® stocks only the highest quality seeds available. Our mission is to become your lifetime supplier of quality seeds. It isn't just to serve you once; we want to earn your trust as your primary supplier.
---
Watch Our TV Commercial!
Sing Along To Our Jingle

 ♪♫♪♪ ♫ ♪ ♫♪♫♫
 ♪♫♪♪♫♫
Peppers and peas
And lots of yummy greens
You can't go wrong
With Squash This Long
At David's Garden Seeds
♪ ♫ ♪ ♫

Please like and subscribe on YouTube and come visit us at our Farm Store! The music on our TV ad was written, played, and sung by our son, Matthew Schulze. You can meet him when you come to the farm. He just might give you a tour. Ask him to grab a guitar and sing our jingle that he wrote.

---
We are David's Garden Seeds®. If you need great seeds, we've got over 1600 varieties to choose from.

---
Subscribe To Mrs. David's Garden Seeds® Newsletter For FREE!

Find out what is going on down on the farm by reading our blog and by subscribing to our free newsletter for all of the information going down at David's Garden Seeds® and on the farm. I love to share helpful information with you. Please let your friends know and y'all come on down for a visit when you get the chance. We would love to meet you!