Mrs. David's Garden Seeds®
---
October Gardening Jobs

There are plenty of October gardening jobs in South Central Texas. The month is closing out so we need to hurry and get them all finished.

October Gardening Jobs To Do
Monday, October 26, 2020

This morning started out quite warm and humid. By the afternoon, the humidity was gone and it was windy and overcast. Everyone was excited about the prospect of cooler weather.
David had some diagnostic testing in San Antonio done in the afternoon. It was raining and very cold for us (40s) by the time we got to San Antonio. We drove home and it was cold and starting to rain at the farm.

Three chickens got out when I went to collect the eggs in the afternoon. I got them back in and collected 11 eggs and for the first time, I got three blue eggs!
We had cheese omelets for dinner. We have a ton of eggs. I need to start packing them into cartons and selling them.
Today's October Gardening Jobs
Plant the wildflowers so we can have pretty blooms in early spring, like bluebonnets and lots of other flowers.
Plant some more cold hearty vegetables as we may still have time to harvest things with short growing periods like lettuce, spinach, and other greens here in South Central Texas.

---
Tuesday, October 27, 2020
This morning, the low was 46° and it was so cold. The chickens were huddled up in the nesting room, yet they were thrilled to get out into their run.
We found another restaurant in Devine that is off the beaten path. David went there for breakfast with a friend this morning and said it was good. So we ordered some lunch plates from there to try it and the food was pretty good.
I got the cheese enchilada plate and it was good. The beans were very flavorful. The rice did not have the yummy flavor that some Mexican cafes have but it was good. They put potatoes and carrots in their rice. I think we will try eating there for our next company birthday lunch sometime in November.

We got a call from the vision center to get our glasses. David and I went at noon. There was one person working. We had to stand and wait our turn, about 20 minutes. I thought we would get to go in and sit down in some of the six empty chairs to try on the glasses and have them adjusted but the girl would not allow us in. I bought two pairs of glasses, spent $814.00 just on me, so I expected to sit down but she said no. I demonstrated for the girl that they were both loose on me. She asked if I wanted them adjusted. Really? No, I will wear them like this until they fall off and fall to the ground...So she finally adjusted both pairs and brought them out to me. Unbelievable. David did not get his adjusted but he can actually see out of the new glasses when he drives.
From there, we went to a commercial kitchen supplier in San Antonio so David could get some supplies for his commercial kitchen.
We arrived back at the farm at 5:18pm and there was a strange car. We quickly found out that it belongs to DJ! We heard his laugh and went to the party...DJ used to work for us in San Antonio and came for a visit. We had a good visit with him. I had forgotten how fun he is.
Then it was time to make dinner and it was cold...Matthew came through for me and made a delicious tuna salad which we enjoyed. That means I have to cook tomorrow night.
My sister texted me that it snowed in El Paso and was 28° there. It rained here on and off throughout the day and into the night.

October Gardening Jobs
Someone needs to pull up all of the plants that are no longer producing. Don't just leave them there to deal with in the spring. Get them gone. This is one of the most important October gardening jobs to do.

Another important October gardening job is to till the soil and mix in compost from your compost pile. No home garden should be without a compost pile in their backyard.
Here is one of the easy October gardening jobs. If you don't have one, start a compost pile so you can have rich garden soil in the spring when you plant your spring garden. Put all of your kitchen scraps into it. This includes fruit and veggie scraps, coffee grounds, and eggshells. Every time you add to the pile, cover the scraps with some dirt. This enriches your soil which you can add to your garden bed next spring before you plant.

---
Wednesday, October 28, 2020
Good Wednesday morning. I nearly froze when I went out to feed the chickens. I fed and watered them. Today, the chicks and guineas are 26 weeks old. I have now had them for six months. Happy birthday, girls and rooster! I actually think the white guinea is a girl but the dark one with polka dots and stripes is a boy. He rules the roost in no uncertain terms.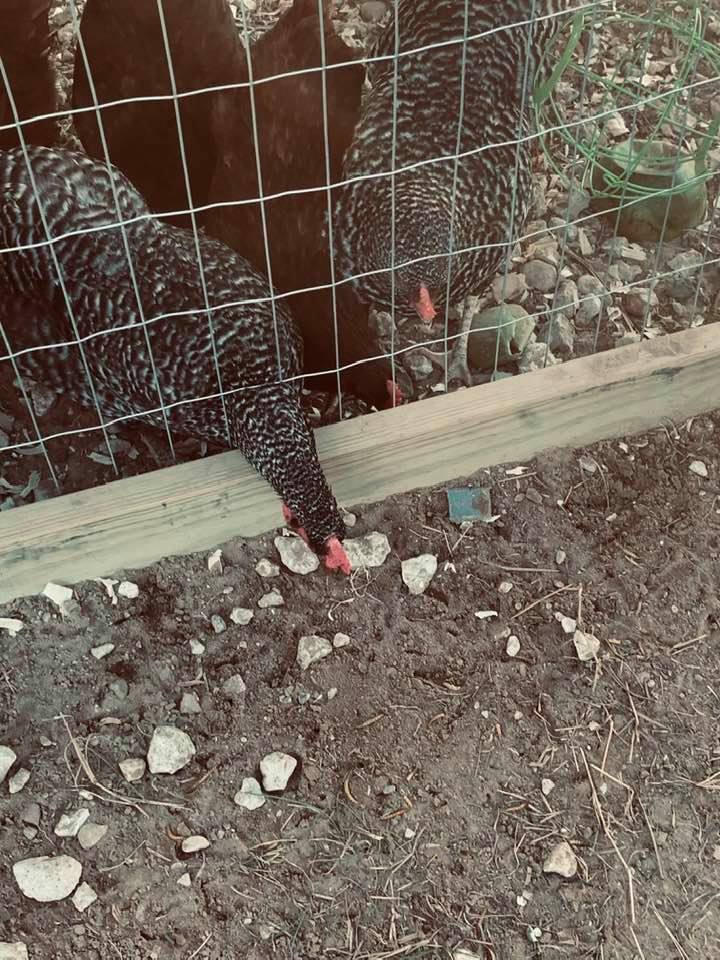 One of the Barred Rock chicks poking her neck through the wires of the new run to get a bug. They really stretch!
There are a lot of wind gusts that feel so cold. But we all know it is temporary. It never stays cold in Texas.

I had to stay in the store this afternoon as Karen had to leave early. She did come back around 3pm. While she was gone, I had one customer. She purchased three separate transactions so I was busy for a while with her and then I went back to updating.

Yes, we are still working on doing updating and price changing on the website. It is quite a job, especially since we now have over 1600 varieties of seeds.
So after work, I went to collect my eggs and got a big surprise!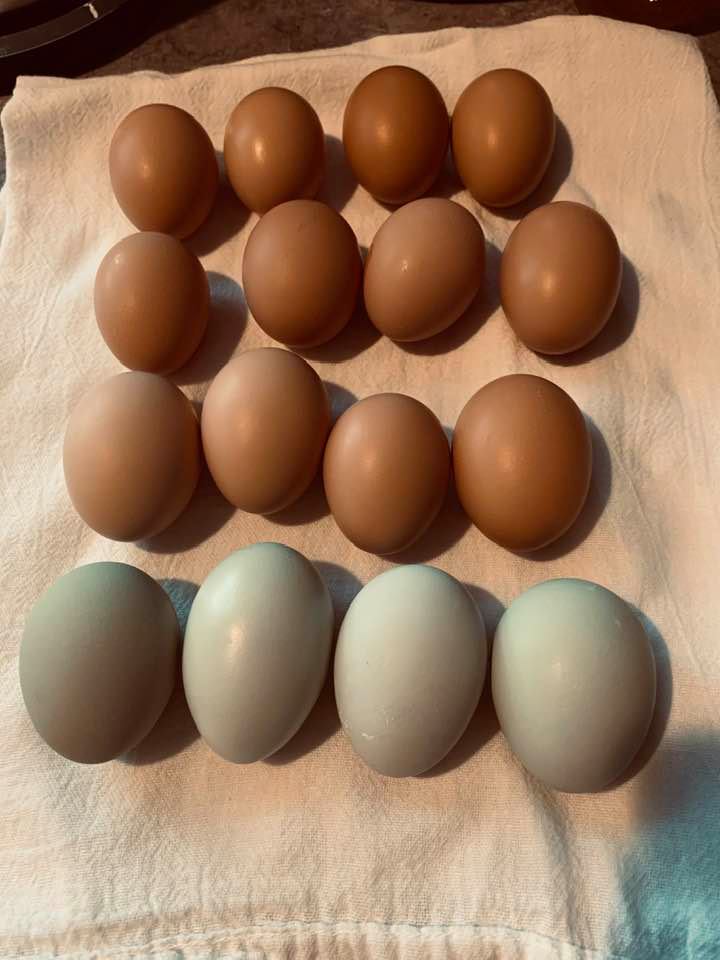 Yes! For the first time ever, I collected 16 eggs in one day and for the first time ever, four of them were blue! I could not believe it. Two of the eggs were bloody which is a sign that they were the first eggs ever laid by a chicken so they are finally starting to produce.
Our field guys were doing October gardening jobs today during work hours like fixing watering lines and planting seeds and garlic bulbs.

October Gardening Jobs
Pull up any weeds you have been ignoring. Make sure you get the roots to minimize their return.

Plant your fall cover crops, let them grow, and then you can till them under in early spring to enrich your soil.

---
Thursday, October 29, 2020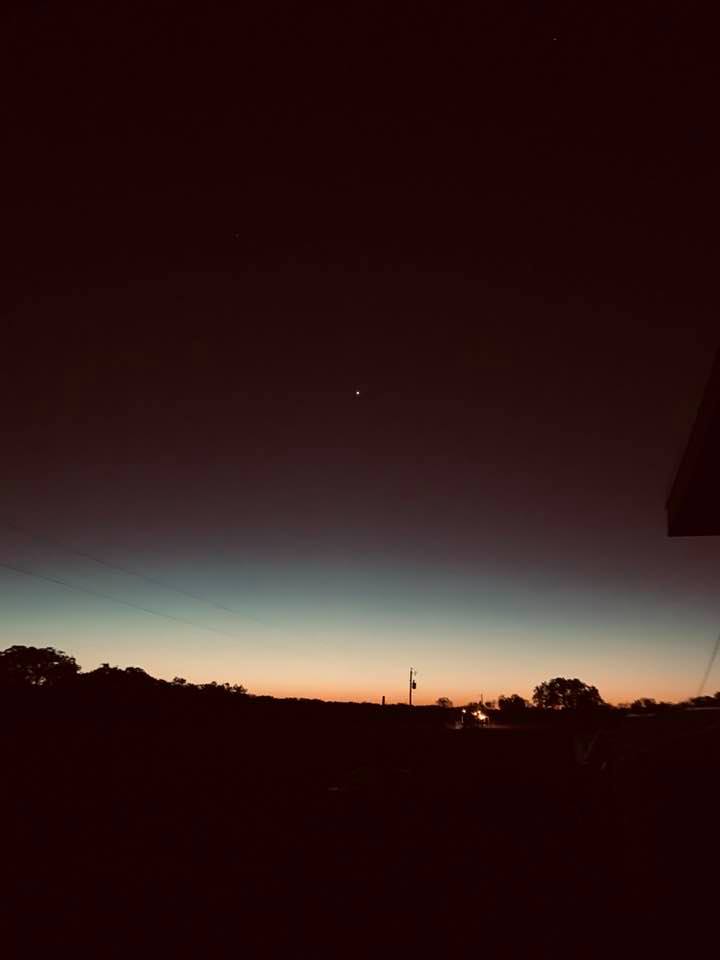 I took this photo today at 7am from my side deck. It is 46° F. and feels so cold. Waiting on light to go feed the chicks.
Good morning, everyone and welcome to Thursday! It is so cold out there. Hopefully, our fall plants won't be fazed by this crazy, cold snap.
This afternoon, I collected 14 eggs with three of them blue. The chickens are having a blast running around in their new run. When I go to the gate to get in, they all press against the door and it is hard to keep them contained. Some get out and I have to grab them all individually. It is difficult because they are so fast.

---
Friday, October 30, 2020
Happy Friday! David got a call from his mechanic saying he has a Toyota vehicle for $1500.00 that he thought we might like for the farm. So we drove over an hour this morning to get there in San Antonio. Turns out it is a 1986 Toyota truck that is coated with rust and a ripped up seat. It still runs okay but we don't want anything falling apart on our farm. We are trying to build a decent brand and we have two running vehicles so we are good.
Price changes and updates on the website continue slowly so eventually we will get it all done.
I got 14 eggs from the chickens, with three blue ones so that is good. We had so many in the fridge that I ended up giving away four dozen eggs to some of our employees. We will start selling them on Monday. I just have to make the required labels in order to sell eggs in Texas without a license.
If we get a license, the state gets so much money from each dozen and we have to send in a report every month. Since we are selling directly from the farm to the customer, it is not necessary. However, we are not allowed to use the word "fresh" or "organic", just "chicken eggs" which seems crazy.

David's Garden Seeds® Farm - 5029 FM 2504 - Poteet, TX 78065


Ungraded

Not USDA inspected

Chicken eggs

Keep refrigerated

We eat what we sell. Consume at your own risk.

This notice has to go inside the carton:
SAFE HANDLING INSTRUCTIONS: To prevent illness from bacteria: keep eggs refrigerated, cook eggs until yolks are firm, and cook foods containing eggs thoroughly.
---
Saturday, October 31, 2020
Happy Halloween! The chickens will get a cleaned out cage for Halloween today. I hate scraping poo and shoveling it out, but the chickens need a nice, clean cage. I will give them some of those mealy worms that they love as a treat.
I was out in the chicken coop scraping and fighting with chickens who would not stay out of the boxes before I refilled them for about two hours. It was 46° F. but I was hot doing all of that work and constantly carrying chickens out. They kept coming back in and they are quick.

Next year, be sure that you grow your own pumpkin patch. David's Garden Seeds® has a ridiculous amount of pumpkin varieties!
I went shopping and found a new hunting jacket for winter. My coat seems to have shrunk in the closet. I also found some new socks and gloves for when the cold hits. Let's face it. We are in South Central Texas and it rarely gets cold, but when it does, I will be prepared. I did a lot of laundry but there are still two loads that did not get folded. How is that possible?

This evening, do not forget to set your clocks back an hour or tomorrow, you will be early, very early, for church. Yes, tomorrow Daylight Savings Time ends but you have to change your clocks back tonight or you will be all messed up in the morning.
I feel cheated because I only got 11 eggs today, and only one blue one. I guess the chickens are prepping for Halloween instead of doing their job.

We closed our gates around 6pm this evening. At 7:00pm. Svengoolie came on and at 7:15pm, I went out to put the chickens away and saw the moon coming up behind the distant trees. It was a huge orange ball that was gorgeous but I could not capture a decent photo.
Happy last day of October. October gardening jobs include getting weeding done in spring planting places, planning out your spring garden layouts, and ordering your garden seeds for spring. We recommend David's Garden Seeds® Non-GMO seeds for all of your gardening needs.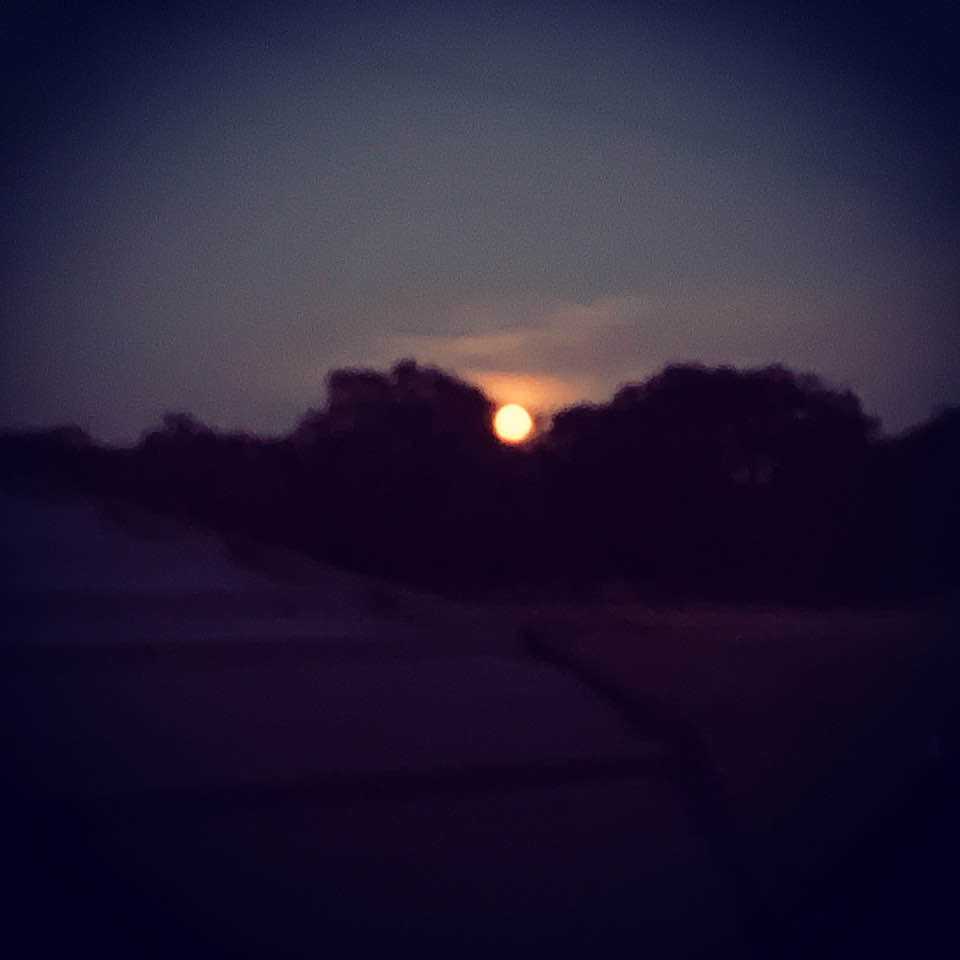 The full moon came up here at the farm tonight around 7:30pm. It was incredibly orange and bright but it doesn't translate to the photo.
---
Sunday, November 1, 2020
Good morning and Happy November! Yes, it's my birthday month, the most important Election Day in my lifetime, Thanksgiving, Veteran's Day, and the biggest shopping day of the Christmas season, all rolled into one big celebration! David and I are talking about going to the ocean as well. It will be a great month!
Happy Sunday and did you enjoy the extra hour of sleep? I didn't think morning would get here. I woke up at 5am starving. I finally got up at 5:55am and made coffee and heated up some of yesterday's French toast. David is still sleeping. We have church today and then I will get caught up on a lot of things including some October gardening jobs.
This evening, I collected 14 eggs with 4 being blue. Two were bloody so I wonder if they were first time eggs as well. As far as I know, they should all be laying by now since they are 26 and a half weeks old.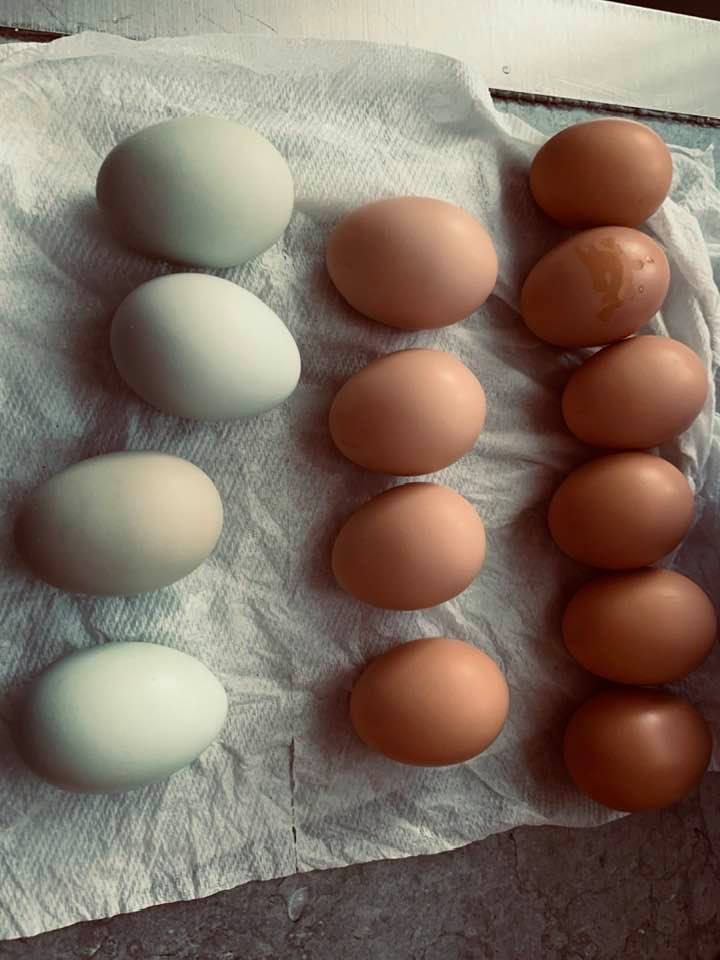 Today's egg take. I wash them because in Texas, you cannot sell them without washing them. Tomorrow, we start selling our eggs.
Ooops! It is November but some October gardening jobs still need to get done. For instance, Nacho was supposed to build some raised garden beds by the store. He still has not gotten out here to do it. When he does, we still have to plant some wildflower seeds so customers can see the flowers when they come here to shop. Now that we have the buildings in, we need to make pretty areas where customers can come and relax and enjoy themselves on the farm.
October gardening jobs also include spreading more chicken manure compost in the unused raised beds so they will be ready for spring planting in February and early March.
October gardening jobs include putting weed barrier on the ground so no weeds grow where your garden will be in the spring.
If you like to wait until the last minute, get out and get your October gardening jobs done as the first frost will hit most of the country soon, if not already in your area.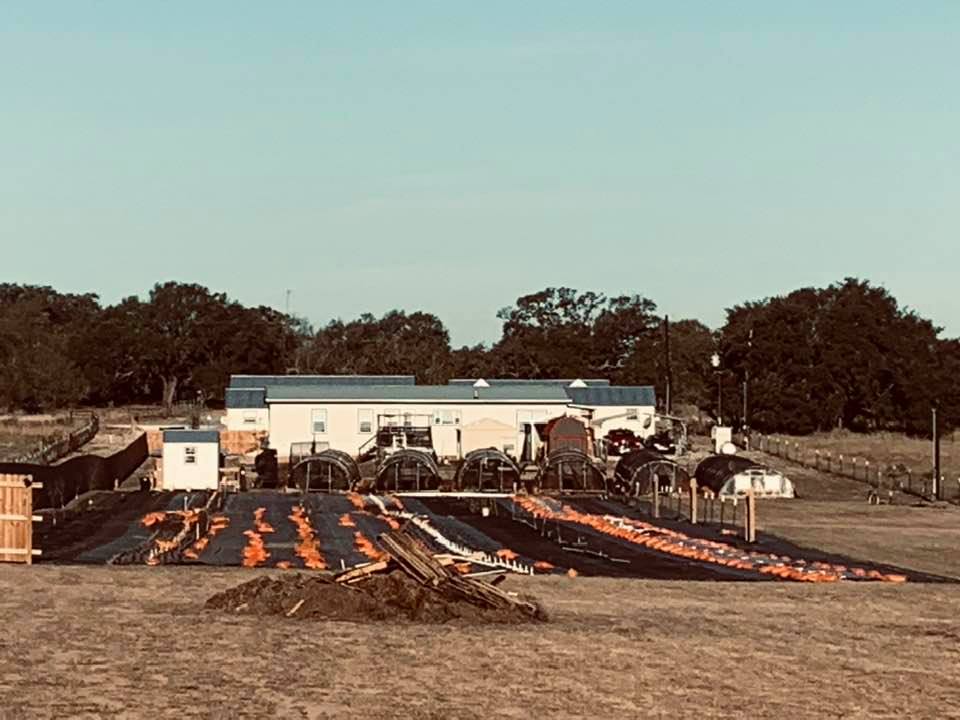 All of the black that you see across the field is weed barrier. The orange bags are sand bags to hold the weed barrier in place. It gets breezy here.
---
Return from October Gardening Jobs to Our Farm And Business Life

David's Garden Seeds® Is A Trusted Brand
Since 2009, over 1,500,000 home gardeners, all across the USA, have relied on David's Garden Seeds® to grow beautiful gardens. Trust is at the heart of it. Our customers know David's Garden Seeds® stocks only the highest quality seeds available. Our mission is to become your lifetime supplier of quality seeds. It isn't just to serve you once; we want to earn your trust as your primary supplier.
---
Watch Our TV Commercial!
Sing Along To Our Jingle

 ♪♫♪♪ ♫ ♪ ♫♪♫♫
 ♪♫♪♪♫♫
Peppers and peas
And lots of yummy greens
You can't go wrong
With Squash This Long
At David's Garden Seeds
♪ ♫ ♪ ♫

Please like and subscribe on YouTube and come visit us at our Farm Store! The music on our TV ad was written, played, and sung by our son, Matthew Schulze. You can meet him when you come to the farm. He just might give you a tour. Ask him to grab a guitar and sing our jingle that he wrote.

---
We are David's Garden Seeds®. If you need great seeds, we've got over 1200 varieties to choose from.

---
Subscribe To Mrs. David's Garden Seeds® Newsletter For FREE!

Find out what is going on down on the farm by reading our blog and by subscribing to our free newsletter for all of the information going down at David's Garden Seeds® and on the farm. I love to share helpful information with you. Please let your friends know and y'all come on down for a visit when you get the chance. We would love to meet you!