Ranch Chicken Dinner In One Pan

This delicious ranch chicken dinner in one pan is easy to make and tastes great. It should please your whole family. I have made this many times over the years. The nice thing about it is you bake chicken breast, potatoes, and fresh green beans all together on one pan in your oven.
Does your family love Ranch dressing? I remember when Hidden Valley had their first television commercial when I was a girl. We had never heard of ranch dressing before. We went to Grand Union grocery store and found Hidden Valley Ranch Dressing, bought a bottle, and it came became our family's favorite salad dressing. We no longer bought French, Italian, Russian, or Roquefort, just ranch! Yum!

Ranch dressing is America's favorite salad dressing. It comes in packets for you to make your own fresh dressing or to use in dips. You will need one of the dressing/dip packets to make this recipe. You can find them in the salad dressing aisle at your grocery store. This ranch chicken dinner turns out great every time and it will become a family favorite.

Ranch Chicken Dinner
You will need:
1 Packet of Hidden Valley Ranch Dressing or Dip Mix (there are several flavored varieties you can get. We try different ones.)

2 pounds of Boneless Skinless Uncooked Chicken Breasts, cut up into bite sized pieces
1/2 cup melted butter (not margarine)

8 red potatoes, washed and sliced up, not peeled
Fresh green beans (If you don't have fresh, you can use frozen, but it won't taste as good.)

Spray a 9 x 13 inch cookie sheet with cooking spray. Preheat your oven to 350° F.
On a clean cutting board, cut up your boneless, skinless, uncooked chicken breasts into bite sized pieces and place them longways down the center of your cookie sheet, all in one long line. Cut up your potatoes and place them on one side of the chicken all the way down the pan. Place your washed fresh green beans all the way down the other side.
Slowly pour the melted butter over everything. Open the packet of Ranch and sprinkle over all the food as evenly as possible. The butter helps the powdered salad dressing stick to each piece of food, insuring tasty morsels of food in every bite!

Cover the pan with foil and bake for one hour. Prepare to eat something special!

This recipe makes a fabulous meal, all in one pan, that tastes amazing.
Options:  Add fresh whole mushrooms in with the green beans for even more flavor.

Return from Ranch Chicken Dinner To Favorite Recipes

---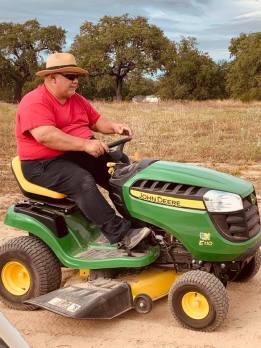 David of David's Garden Seeds® zipping along on his little tractor across the farm. He is having a blast!
---
We are David's Garden Seeds®. If you need great seeds, we've got about 1500 varieties to choose from.

---